Focus on Fireplace Photos!
Looking at fireplace photos is a great way to stir up the creative juices and stimulate your imagination while planning your new hearth design or  make-
over.     Given the vast range of options available today,  you are bound to discover some new and exciting design possibilities!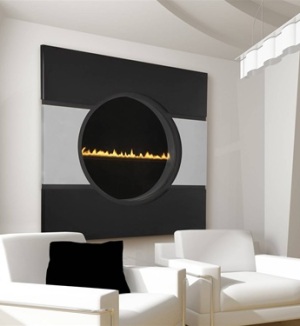 Pictured Above: The Solaris by Heat n Glo
Take  a  little time to pore over pictures of fireplaces to see the wide and varied  array  of  designs  and  products  currently  available  so  you'll be sure to get exactly what you're looking for. For example, the four pictures of fireplaces that follow are all contemporary in style.     However, each is distinctly  different  from the other and designed to appeal to a variety of tastes and preferences.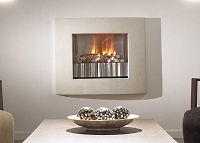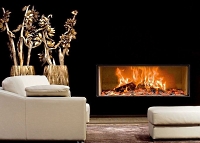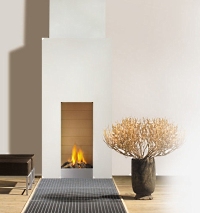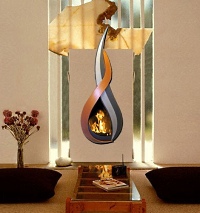 Covering a broad range of  architectural styles,  the  fireplace photos fea- tured here include numerous hearth designs for rustic retreats . . . . . to a multitude of more formal traditional styles for both city and country homes . . . to the latest in sleek and chic contemporary surrounds.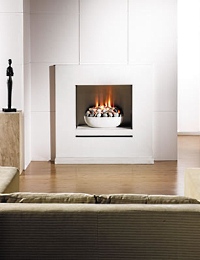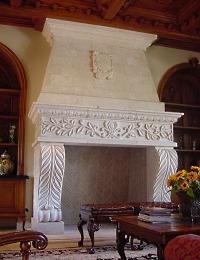 Whether traditional or contemporary in style, the fireplace designs featured here are crafted from a variety of materials including natural stone, cast stone, manufactured stone, and wood.  Further enhancing the available options are several varieties of natural stone and types of wood.  Adding to that is an extensive range of hues and colors, sizes, shapes, textures, and finishes . . . . . and a nearly infinitesimal range of potential combina- tions of all the above!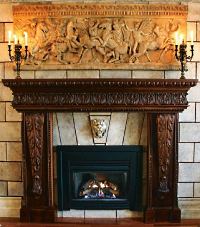 Browse at your leisure more than 200 fireplace images in  the  web pages listed below.  Hopefully, at least  a  few  of  the  fireplace  designs will "speak" to you and provide  additional  inspiration about how   to create a  special  fire space that is just  right  for  you and your home!
Please check back  often or subscribe to our RSS feed to  see  the  latest  and  most  innovative  and unique fireplace design ideas  and products  as they  become available.
More Fireplace Photos



Photos of Fireplaces -
Heartwarming Hearths!





Holiday Hearth Photos -
A Gilded Age Christmas!





Wood Fireplaces Pictures -
Lofty Ideas!





Photos Of Stone Fireplaces -
Classic Elegance!





Stacked Stone Fireplace Pictures -
Simply STUPENDOUS!





Standout River Rock Fireplace Pictures -
Real Rock Stars!




Standout Rock Fireplace Pictures -
Blocks Of Rocks!





Stone Fireplace Designs Pictures -
Cozy Classics!





Stone Fireplace Photos -
Cool Contemporary Creations!





Standout Fireplace Pictures Stone -
Art For The Ages!





Standout Corner Fireplace Pictures -
Stone Style!





Pictures Of Stone Fireplaces -
Handcrafted Hearths!





Stacked Stone Fireplace Pictures -
HIGH & dry!





Standout Stone Fireplaces Pictures -
Real STANDOUTS!





Stone Fireplace Pictures -
EXTRA Extraordinary Designs!





Fireplace Pictures -
Rock Solid Designs!





Pictures Of Fireplaces -
Present-Day Nostalgia!





Stone Fireplace Mantles -
A Formal Affair!





Over The Top Fireplace Mantels -
Regal And Dramatic!





MORE Over The Top
Fireplace Mantel Photos!


Return to Fireplace Design Ideas
Return to Fireplace Design Overview
Return to Standout Fireplace Designs Home Page
Didn't find what you were looking for?
Use this search feature to find it.
LIKE THIS PAGE?