Stone Fireplace Photos...
Cool Contemporary Creations!
The stone fireplace photos featured here reflect the latest and most in-
novative contemporary designs from around the world.  Often crafted from multiple varieties of stone, they employ contrasting colors and/or textures -- with an overall effect of a well-honed and predominately smooth finish. Though generally ordered, in varying degrees, in both composition and the use or placement of color, they often tend to be asymmetrical in form.
Notwithstanding the foregoing, there are, however, exceptions to the "rule," such as in the example pictured below from Italian manufacturer, Caminetti Montegrappa.  Though asymmetrical in form, the unique pattern with boldly contrasting textures and colors appears to scream out for attention, despite its rather diminutive size!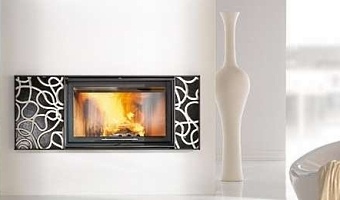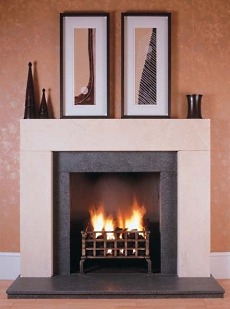 For the less adventurous,  the beau-
tifully-proportioned surround at right uses  two  types  of stone in starkly contrasting colors. This particular de-
sign will work well in transistional, as well as contemporary settings.
The designs in the two stone fireplace photos that follow, while a bit more avant-garde than the design above,  right,  continue to retain a symmetry and balance -- particularly the example below, left -- that lends itself well to a variety of settings.     Note the concave configuration of the stone in the more contemporary design on the right.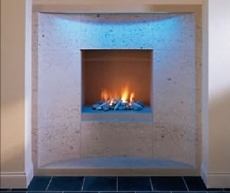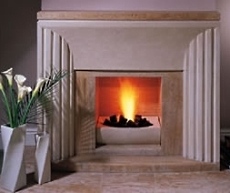 The progressive designs  in  the  images  below  (except second row, right) are, once again, from Italian manufacturer, Caminetti Montegrappa. Crafted from  a  variety of stone types and colors, they juxtapose simple geometric shapes,  i.e.,  squares,  rectangles and circles, to create unique and inter-
esting designs for contemporary fireplaces.    The striking sandstone design pictured in the second row at right is by Firecraft, a British manufacturer.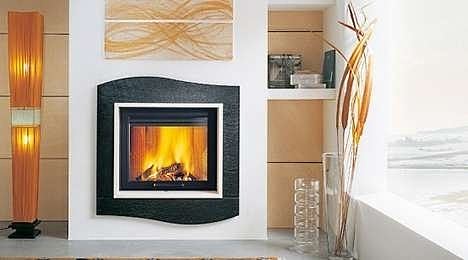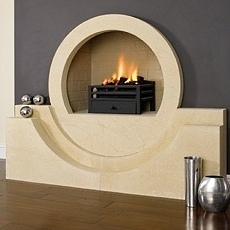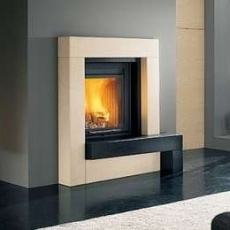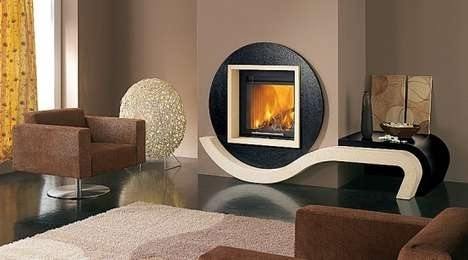 See More Innovative Designs from Caminetti Montegrappa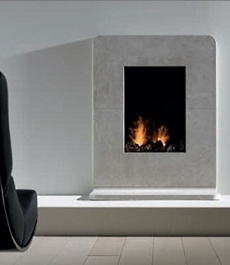 The  sleek  contemporary design  pic-
tured at right and below was created by Spanish designer,  Josep Guiu,  for British manufacturer, Firecraft. Craft-
ed from marble,  it  can be positioned vertically  or  horizontally, and is spe-
cifically designed to take up  very  lit-
tle space.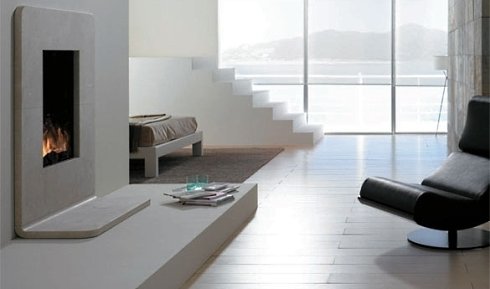 More Contemporary Stone Fireplace Photos
The stone fireplace photos that follow feature a variety of unique contem-
porary fireplace designs.   Once again, the example pictured below, left, is from Firecraft.   The surround on the right is crafted from travertine, as is the surround pictured directly beneath it.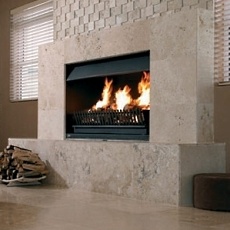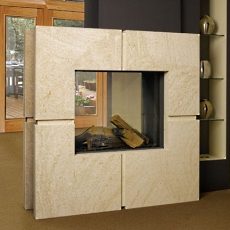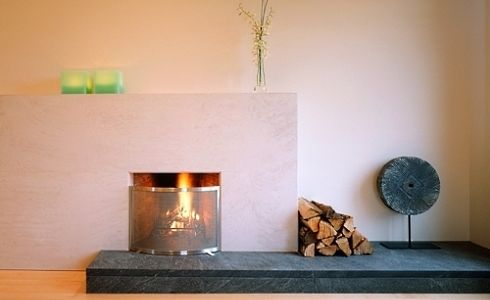 The following two designs, including the abstract corner fireplace design at right, below, employ a textured finish to the stone surfaces . . . . . in stark contrast to the smooth contemporary surrounds pictured above.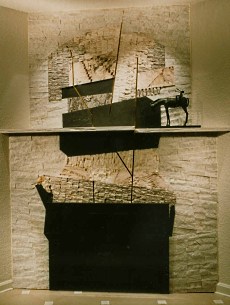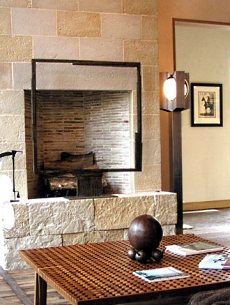 And finally,  the stunning stone and glass fireplace pictured below was de-
signed by BVZ Architects. One of many outstanding contemporary designs developed by the firm,  its  sleek,  smooth surfaces are set against a con-
trasting backdrop of rugged stone piers and an open timberwork ceiling.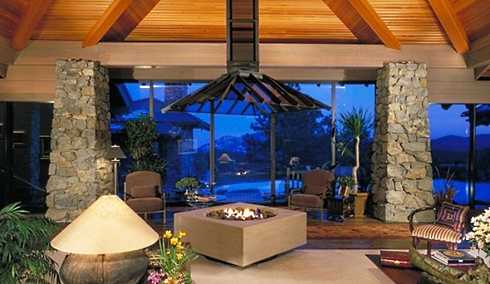 Please check back often or subscribe to our RSS feed, as we  fre- quently add contemporary stone fireplace designs to our site.
YOU MAY ALSO LIKE:





More Contemporary Stone Fireplace Photos -
Simply Stunning!
Back to Contemporary Fireplace Designs
Back to Standout Fireplace Designs Home Page
Didn't find what you were looking for?
Use this search feature to find it.
LIKE THIS PAGE?