The Standout Fire Pit...
Material Matters!
Today's fire pit is crafted from a vast and exciting array of materials in an ever-expanding palette of colors, shapes, textures, and finishes. The choices are virtually limitless to ensure you find the exact look you're aiming for!
Design above by Silva Studios
Fire pits  are currently available in clay, brick, natural stone, cast stone, concrete, stucco, metal, tile, and glass.   However, the look differs dra-
matically -- even within the same material category -- by simply varying
the color, texture or finish of the material.
For example, you can get it in stone, such as this natural rough faced granite built-in below . . .
however, though all are crafted from the same category of materials,
the end result is quite different when varying stone types, textures and finishing options are employed, as shown by this textured ledgestone facing (below left) and polished marble finish (below right).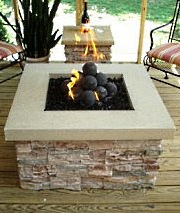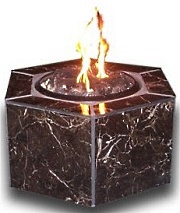 Similarly, the traditional style of the deep blue ceramic tiles on this example (below left) contrasts sharply with the shimmering iridescent glass tiles of the sleek contemporary ensemble in the photo next to it.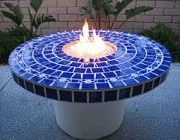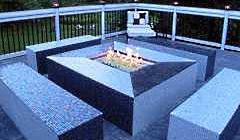 A broad range of metal types, colors, textures and finishes are also em-
ployed in today's designs. Copper, pewter, nickel, bronze, stainless steel, painted steel, and rusted steel are some of the options currently available, examples of which are pictured below.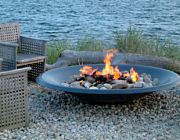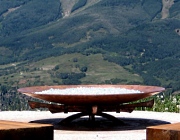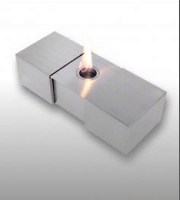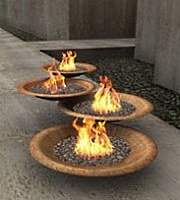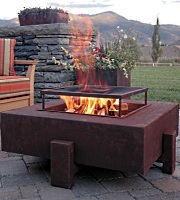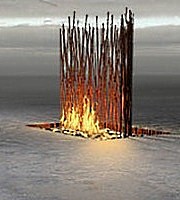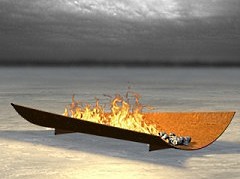 Those made of glass, or a combination of glass and other materials such as stainless steel, are also becoming extremely popular. The examples below reflect a sampling of innovative design possibilities with this material.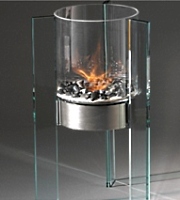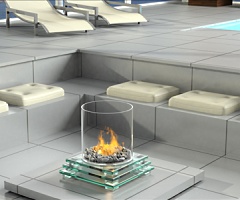 Another popular trend is to add water features. . .with spectacular results!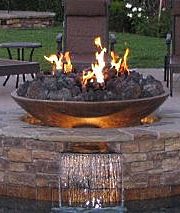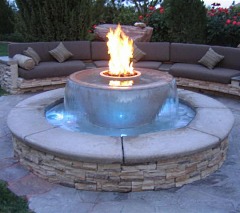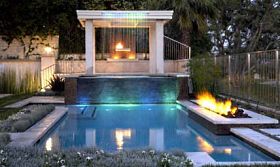 Please check back often or subscribe to our  RSS feed,  as we fre-
quently add new outdoor hearth designs to our site.
Gas Fired Models

Fire Table Designs

Outdoor Fireplace Designs

Overview of Outdoor Rooms
Back to Fire Pit Designs

Back to Standout Fireplace Designs Home Page
Didn't find what you were looking for?
Use this search feature to find it.
LIKE THIS PAGE?