The Kiva Fireplace...
Steppin' Up & Out, Southwest Style!
The Kiva fireplace comes from the American southwestern desert region. The  name,  itself,  is  actually derived from the traditional underground meeting places used for religious rituals and spiritual ceremonies by  the Pueblo Indians of the southwest. Pueblo architecture provided the inspi-
ration for this unique fireplace style.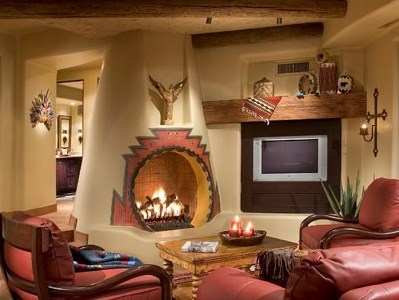 Kiva-Inspired Design above via Bess Jones Interiors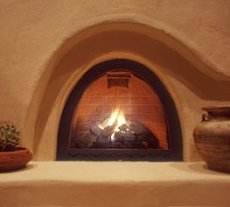 Historically,  the  Kiva fireplace  was constructed  of  adobe in the corner
of a room.  An inverted cone or bee-
hive  shape  was  the norm,  with  a distinctive  arched  firebox  opening, such as depicted in the examples at right and directly below.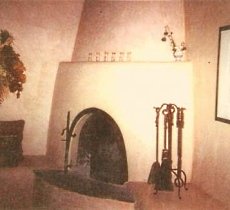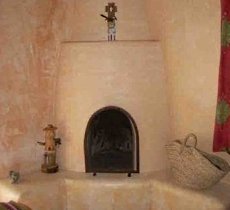 However,  though some are still made of adobe,  today's Kiva is steppin' up and out from its traditional construction material, look and location. Modern prefabs  faced with plaster or stucco over a metal wire frame, often with a stepped surround . . . . . they come complete with built-in benches,  called bancos, for seating . . . and nichos, or recessed shelves above the firebox, for displaying collectibles and other decorative or religious objects.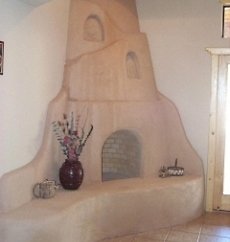 The Kiva is even coming out of the corner to take center stage, such as in the following example.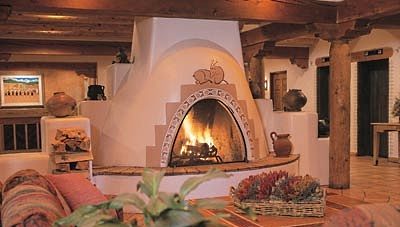 Although the traditional beehive shape pictured below continues to be popular . . . . . . .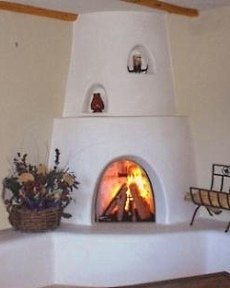 and deservedly so . . . . .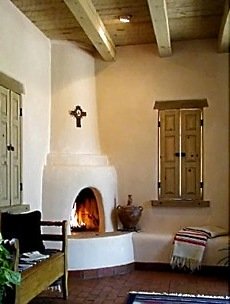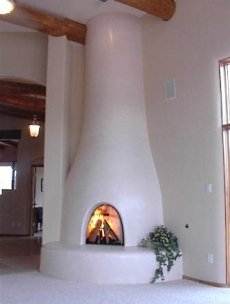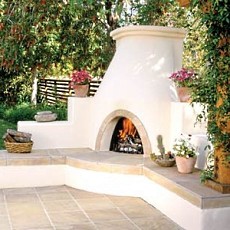 for both indoor and
outdoor rooms . . . . .
a wide array of exciting variations are being created to update the look, by adding a bit of flair . . . . .
a little bit here . . . . .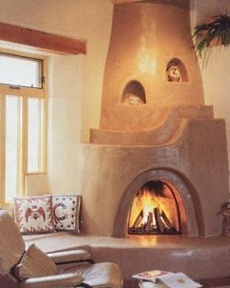 . . . . . and a little bit there.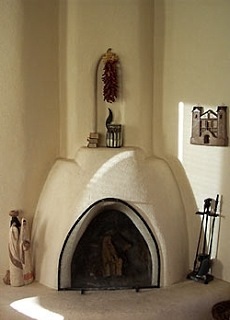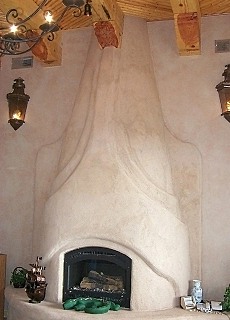 More Kiva Fireplace Designs
And then there are the avant-garde Kivas . . . those that dare to be dif-
ferent.  Those that are not afraid to stand apart from the crowd.  Those that step higher and farther than Kivas before them to show what is pos-
sible with a little imagination and creativity!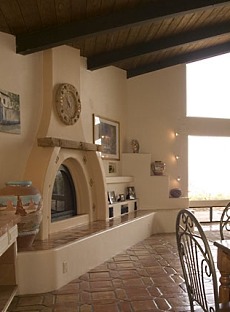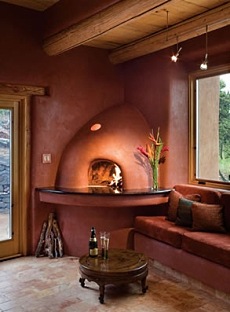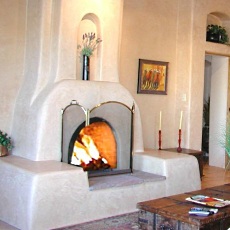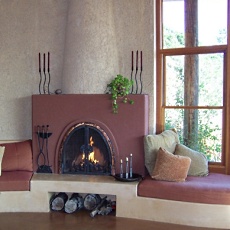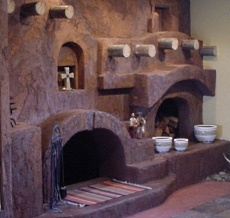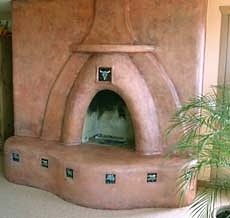 A  significant  influence in evolving Kiva fireplace design is the relatively large number of people of Spanish ancestry living in the American south-
west.  Since the Spanish Colonial era, they have had - and continue to have - a profound impact on Kiva design. By modifying the shape of the traditional  Kiva  in varying degrees and/or adding a splash of color with vibrant ceramic tiles, etc.,  as pictured below, they have infused it with their  own  centuries'  old  rich  heritage and culture to make it uniquely
their own.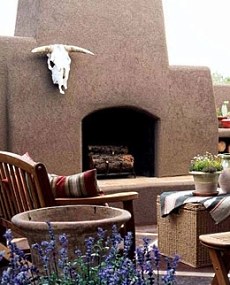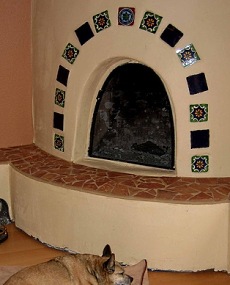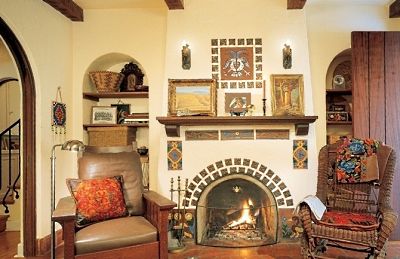 More Spanish Style Fireplace Designs
Whether  you  choose  a  very traditional Kiva hearth,  an avant-garde de-
sign . . . or anything in between . . . . . you'll be getting a piece of history. One that is deeply rooted in a rich and vibrant multi-cultural past.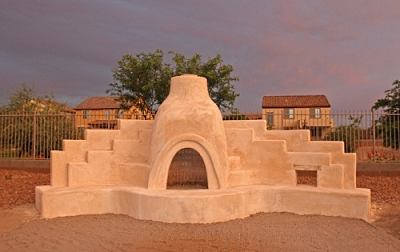 Please check back often or subscribe to our  RSS feed,  as  we  fre- quently add new southwest style fireplace designs to our site.
YOU MAY ALSO LIKE:





MORE Spanish-Inspired Kiva Fireplace Designs!
Back to Spanish Style Fireplace Designs

Back to Fireplace Mantel Designs
Back to Fireplace Design Overview
Back to Standout Fireplace Designs Home Page
Didn't find what you were looking for?
Use this search feature to find it.
LIKE THIS PAGE?