Get MORE Tips When You Subscribe to
our Fireplace Design Idea Newsletter!
Our Fireplace Design Idea e-newsletter brings you a vast array of ideas and tips to "heat up your hearth." Whether a new installation, a complete makeover, or something in between, each issue features a special design idea with beautiful photos to inspire you . . . and help you discover new and creative ways to personalize your OWN special Fire Space!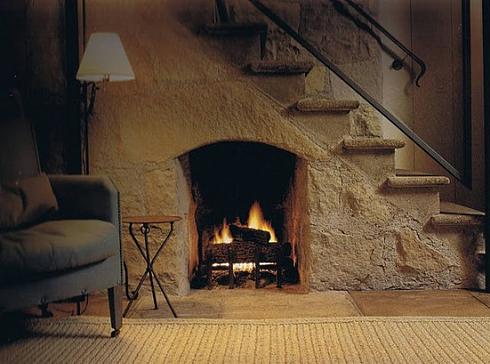 Design above by John Saladino

Something for Everyone!
Whether your taste is rustic or refined . . . casual or formal . . . sleek  and chic . . . or ultra unique . . . the fireplace hearth ideas profiled in upcoming issues will cover it all. In addition, each design idea or project includes a link to the architect,  designer,  builder,  or craftsman's website to give you an opportunity to learn more about the featured design.
Our Fireplace Design Idea e-newsletter encompasses a wide range of budgets, as well. From relatively simple and inexpensive projects for do-it-yourselfers to elaborate designs worthy of the Gilded Age, there is some-
thing here for nearly everyone.
Material choices and options are also considered to give you the  look  and feel  you are seeking without the expense or cost normally associated with it.    For example,  the "brick" fireplace design pictured below is not crafted from brick, at all -- despite its very realistic appearance. Rather, it is made of stucco and given a faux finish to make it look like antique brick!
This Fireplace Design Idea, As Well As Those That Follow,
Will Be Featured In Upcoming Issues!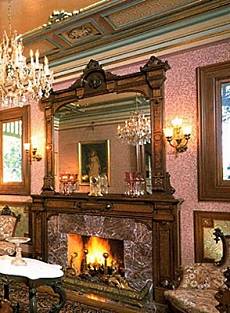 Pictured  at right is what appears to
be  a  magnificent  antique fireplace surround and overmantel mirror from  the Victorian era.   In reality,  it is a superbly  crafted 1870s Renaissance Revival reproduction by  one  of  to-
day's  highly  skilled and talented ar-
tisans!
Similarly,  the  cozy  alcove  pictured below  --  despite  its 'Old World' ap-
pearance  --  is a present-day incar-
nation  that includes meticulously de-
tailed  carving  on  both  the  mantel
legs  and the richly paneled overman-
tel above.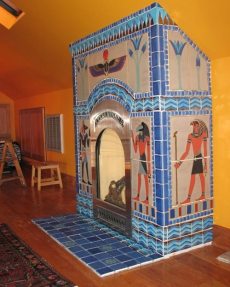 The highly unusual but equally colorful fireplace design pictured at right  fea-
tures a completely tiled surround with Egyptian motifs  --  sure to stand out
in any room!
Equally  unusual  but  colorful  is  the
tiled firebox pictured below. The tiles feature an intricate marigold motif.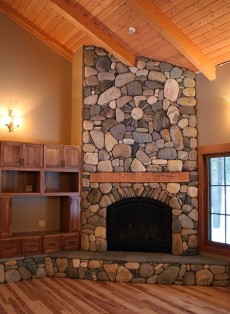 If  a rustic stone fireplace design is more your style,  you have a multi-
tude of options to make it uniquely  your own.  In the example pictured
at right and below, the homeowner incorporated  a  distinctive circular mosaic of small stones in the  cen-
ter  of  the facing above the wood mantel shelf.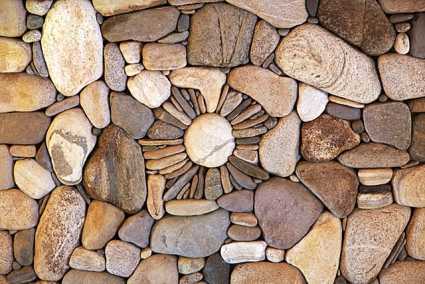 On the opposite end of the design spectrum is the highly formal composi-
tion pictured below. Looking like something out of The Great Gatsby, it is one  of several extraordinary fireplace designs in a monumental home de-
signed by a present-day architectural firm in the Atlanta area!
In  stark contrast to the fireplace above is the contemporary fireplace de-
sign pictured below.  Set against a plain white backdrop, this example fea-
tures three roughly textured pieces of stone that form a roughly triangular shape around the perimeter of the firebox opening.
And finally, if what you have in mind is ultra unique, the French design pic-
tured below is hard to beat!
Get these and more exciting fireplace design ideas by subscribing to our  free  e-newsletter.     Simply   enter   your   information   in   the form below and click on "Subscribe" so you won't miss out on a single future issue! Also, when you subscribe, you'll have access to all back issues!
YOU MAY ALSO LIKE:



MORE Fireplace Design Idea Inspiration!
Back to Fireplace Design Ideas

Back to Standout Fireplace Designs Home Page
LIKE THIS PAGE?