Standout Fireplace Tile Designs...
Signs of their Times!
Beautiful fireplace tile designs have enchanted us for centuries and con-
tinue  to be faithfully reproduced in the same painstaking manner as the originals that inspired them.     As an important architectural element -- generally the focal point of a room -- the fireplace has served as an ide-
al  canvas  for tile artisans to showcase their colorful and often magnifi-
cent creations!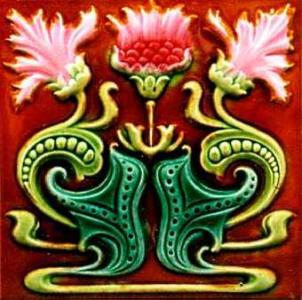 Antique Art Nouveau Tile from Belgium, ca. 1910
Frequently reflecting various aspects  of  the time and region in which they were produced, decorative tiles were infused with historic imagery and mo-
tifs,  artistic trends,  popular themes, stories and events related to the na-
tive cultures of the artisans who cre-
ated them.   That tradition continues today,  thanks  to the tireless efforts
of  a  dedicated  group  of  designers
and  manufacturers around the world committed  to preserving their cultur-
al  legacies  by  reproducing  some of
the outstanding creations of their im-
mensely talented forebears.
For  example,  the  Victorian  era pro-
duced  a  number  of outstanding de-
signers  whose  vast  range  of works
are  as  popular  today  as they were back  then.   People  such as William Morris  (1834-1896)  --  one  of  the founding fathers of the Arts & Crafts Movement in England. His close friend, William de Morgan  (1839-1917),  was one  of Britain's most talented pottery and tile designers.   Popular Victorian-
era   designs  manufactured  by  19th century tileworks such as Minton Hol-
lis  in England are,  once again, being faithfully reproduced today.
Alphonse Mucha (1860-1939), though born  in  Morovia,  became  famous in 1890's Paris as an illustrator and artist in the Art Nouveau style.  Many of his designs   are  currently  being   repro-
duced  in  the  form  of  exquisite fire-
place tiles,  such as those pictured at right from Historic Style (historicstyle
.com)  in Canada.     The five tile sets
flanking the  Victorian  cast  iron  fire-
place grate  pictured  below  are  also
from Historic Style.  
Art Nouveau Lily and Berry Tile Set in Brown from Historic Style


One of the leading designers and creators of Arts and Crafts tiles in Amer-
ica  was Ernest Batchelder (1875- 1957),  whose tileworks produced beau-
tifully  hand-crafted  art  tiles from 1912 to 1932.    Distinguished by their warm,  muted  colors,  design  quality,  and  variety  of  timeless  pictorial themes,  Batchelder  tiles  are  being reproduced today using many of the same  time-honored  techniques  and  materials  employed  by Batchelder, himself.
The following examples include historically accurate reproductions, as well as tiles in the style of those originally created by Ernest Batchelder.    The handwrought individuality and soft, natural tones make them equally suited for period and modern fireplace designs.  Their subtle, unglazed, and earthy surfaces flow with warmth and craftsmanship.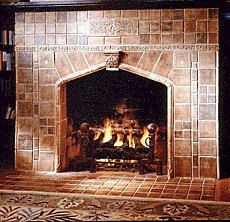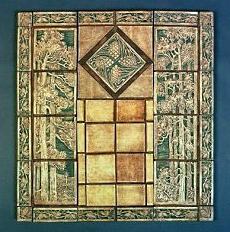 Just  as  beautiful -- albeit  with  a much different look -- are the following tile  reproductions,  the  first two (top row) of which are Edwardian arched fireplace  surrounds  popular  in  England.    The  brilliant sheen and striking variations in shading and tone are achieved with a special process in which the  tiles are hand dipped in glaze and fired at different angles in the kiln to recreate  an  authentic look.    When framed by a beautifully finished wood mantel, the result is absolutely stunning!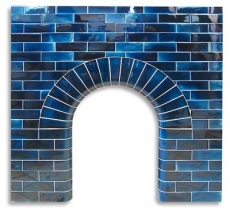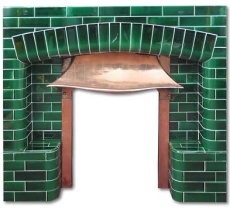 The  Art Deco Movement  produced  some  new  and  exciting fireplace tile designs  which  are  also being reproduced today.   The designs of the two examples below, manufactured in England, were inspired by the skyscraper
. . . . . a new building type coming into its own during that period.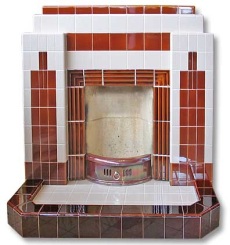 Moving, geographically, to another part of the world, the colorful talavera tiles pictured below are made in Mexico.  Talavera goes back to the 16th century in Mexico when it was introduced by the Spaniards.  The Old World antecedents of these hand-painted designs are closely related to the California art tiles of the 1930s.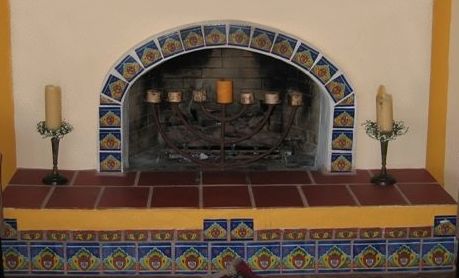 Please click here to see more Spanish-inspired fireplace tile designs.
More Fireplace Tile Designs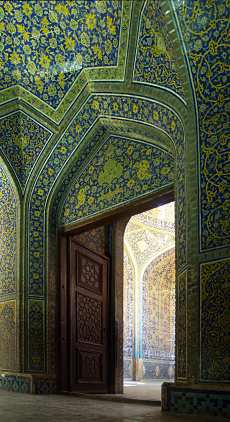 Switching  geographic  regions,   yet again,   the   beautiful  Turkish  tiles pictured  below  are  part  of  a  rich historical  legacy dating back several centuries. After the Islamic conquest  of Persia,  colored and often painted glazed  tiles  became an important el-
ement  in  Persian  architecture, and from  there spread to much of the Is-
lamic world,  notably  the  Ýznik  pot-
tery  of  Turkey  under  the Ottoman Empire in the 16th and  17th  centur-
ies.

Palaces, public buildings,  & mosques (right)  were  heavily decorated with dense,  often  massive  patterns and friezes of astonishing complexity,   in-
cluding  geometric  patterns  and cal-
ligraphy,  as well as floral motifs such  as  those  shown in the examples be-
low.   These and similar patterns con-
tinue to be reproduced today . . . not only  in  Turkey,  but  in  a number of
other  countries  that also border the
Mediterranean,  including  Tunisia and
Morocco.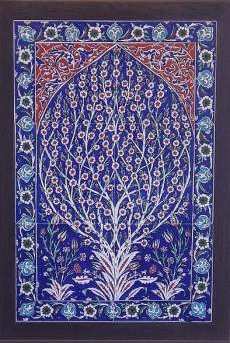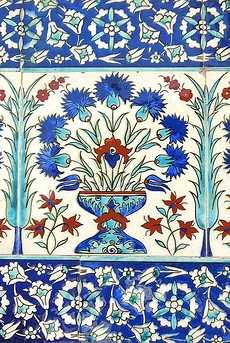 In addition to the reproduction and creation of traditionally styled fireplace tile designs, new designs, materials and looks are continually being created and  showcased  at  special  events held annually around the world.    The unique  designs  that  follow . . . jewel-like prism glass tiles on the left . . . small  mosaic  squares  enveloping  a  cylindrically-shaped  fireplace on the right . . . and  larger,  but  sleek Italian tiles on the contemporary surround below . . . are but a sampling of newer looks for fireplace tile designs . . . . . and, perhaps, just a hint at fresh and exciting designs yet to come!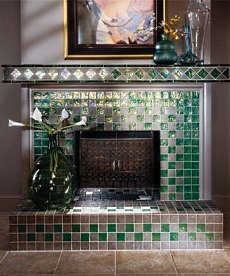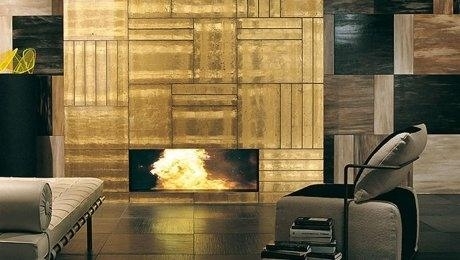 Please check back often or subscribe to our RSS feed, as  we  fre-
quently add new fireplace tile designs to our site.
YOU MAY ALSO LIKE:




The Tile Fireplace Surround -
Amazing Arts & Crafts Creations!





More Arts & Crafts Fireplace Tile Designs




Unique Arts & Crafts Style Tiles





Art Nouveau Tile Fireplace Designs




More Art Nouveau Tile Fireplace Designs





Spanish Inspired Fireplace Tile Designs


Return to Fireplace Mantel Designs
Return to Standout Fireplace Designs Home Page
Didn't find what you were looking for?
Use this search feature to find it.
LIKE THIS PAGE?