Chazelles Fireplaces...
Truly Distinctive & Unique!
Chazelles Fireplaces, a French manufacturer, creates contemporary fireplace surrounds like no other. Truly unique and distinctive, the designs incorporate innovative stone finishing techniques and configurations.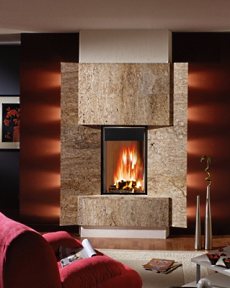 New and exotic combinations of tex-
tures and  finishes  previously  unat-
tainable are worked  into  the stone surrounds   produced  by  Chazelles. Beautifully colored marble is given a brushed finish and  arranged  in  un-
conventional ways to  create  stun-
ning new designs,  such as that pic-
tured at right.   Made of brushed Al-
meria  Marble,   the   striking  Aleria
makes a powerful design  statement and is a dramatic testament to  the
skill and creativity of  the  manufac-
turer!
In addition to the smooth,  consistent finish  found  on  the  Aleria,   varying techniques are employed to create  a wide array of different looks  and  tex-
tures in stone finishes.   Individual de-
signs  often   incorporate  contrasting textures and finishes for added drama.
Pictured at left is a brushed  cinnamon marble surround with smooth bas-relief contrasts.    Below left, the Pivoines is comprised of  polar  decorative  marble with  a  combination  of  polished  and matte finishes.   Below right, the Bam-
bou uses  brushed  chocolate  decora-
tive  marble  with   smooth   bas-relief highlights.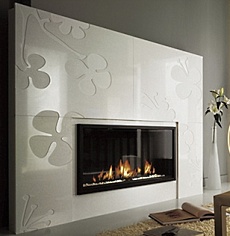 Starkly contrasting colors are also employed in  some  of  the  designs  for stone surrounds produced by Chazelles.    Below left,  the aptly named Yin Yang uses a combination of black stone and white stone.     The  Arlequin, pictured below right, is comprised of red stone and white stone.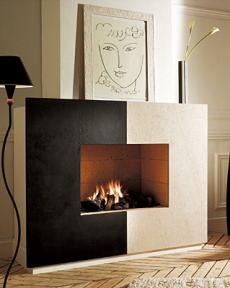 More Chazelles Fireplaces
The following is a sampling of additional striking designs for stone surrounds by Chazelles.  Relatively large and imposing, each of the designs has a commanding presence!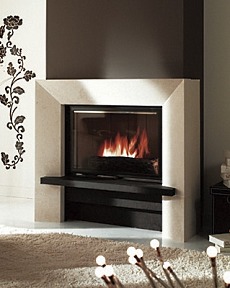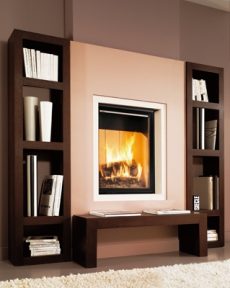 The Tokyo,  pictured below left, has a shining black decorative marble sur-
round with matte finish highlights.     Below right,  the  Glam  uses caramel decorative marble with handmade gold porcelain accents.  This model is al-
so available in shining black decorative marble with handmade silver  porce-
lain accents.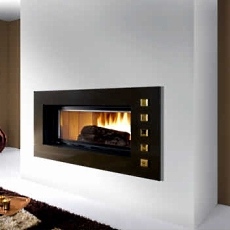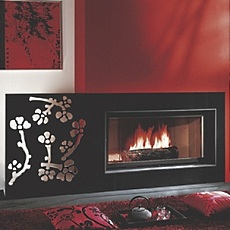 Please check back often or subscribe to our RSS feed,  as  we  fre-
quently add new images of contemporary fireplace designs to our site.

YOU MAY ALSO LIKE:

More Chazelles Fireplaces -
Simply Stunning!
Back to Stone Fireplace Designs
Back to Contemporary Fireplace Designs

Back to Standout Fireplace Designs Home Page
Didn't find what you were looking for?
Use this search feature to find it.

LIKE THIS PAGE?