The Masonry Fireplace...
Made to Last!
A masonry fireplace is solid and substantial with a commanding presence. Though the foundation,  firebox and chimney liner are constructed of ma-
sonry materials, the fireplace and chimney exterior can be faced with any finishing material the homeowner wants!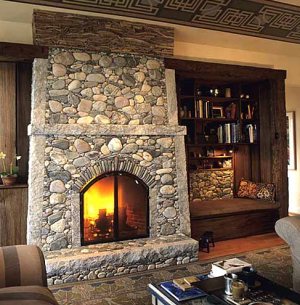 Fireplaces pictured above and below, right,
by master stone artisan, Lew French.
Historically, a masonry hearth was built entirely on site  --  generally by a skilled mason.  Utilizing a combination of stone or concrete, brick and fire-
brick to construct the foundation and firebox, and  clay  tiles  to  line  the chimney flue . . . . . the  fireplace  --  often weighing in at 6 to 7 tons  --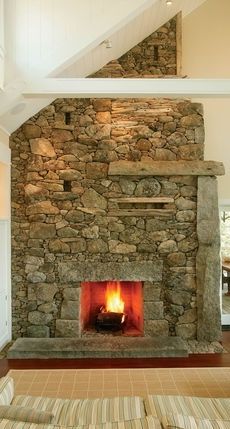 was  extremely durable and designed
to last a very long time. Though this time - honored  method  of  masonry fireplace  construction  continues to
be employed today,  particularly with custom  designs,  it is also the costli-
est method . . . . due to the amount   of time and labor, as well as addition-
al structural support and materials re-
quired.    However, as a result of ad-
vances in technology in recent years,  it  is  now  possible to get a factory-
built  masonry  firebox  and  chimney system delivered to your site and set on a concrete foundation,  effective-
ly  reducing  the overall construction
costs (more about this below).
The  Rumford fireplace  is the forbear
of the modern fireplace.  The tall and shallow  design  is  named  for Count Rumford,  a  scientist born in Woburn, Massachusetts  in  1753.     Rumford fireplaces   have  fireboxes  that  are
only 18 to 20 inches deep,   rounded throats,  sidewalls  angled  at  45 de-
grees,  and vertical backs.  The  shal-
low  firebox  and angled sidewalls are designed to radiate  more  heat into the room,  while the straight back allows smoke and gases to exit directly into the flue with little loss of heated room air.
With today's historic house restorations and the renewed popularity of ear-
ly American and classical architecture in new construction,  interest in the Rumford design has been re-ignited.  Once again, they are highly regarded for their tall classic elegance and heating efficiency . . . . made even more so by present day design modifications.
Pictured below are several striking examples of Rumford fireplace designs.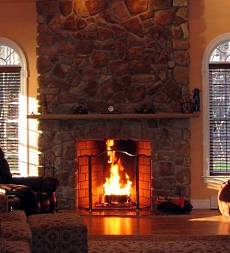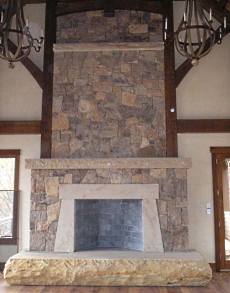 Fireplace pictured above left (bottom row) is by master stone artisan, Lew French.
Modular Masonry Fireplaces
In addition to Rumford and other site-built designs, a relatively new tech-
nology has been developed that makes it possible to construct a masonry fireplace  and  chimney  with precast factory-built modular units made of pumice -- or volcanic rock.   Pumice is a natural insulator . . . . . a unique property that separates it from all other chimney materials.   In fact, it in-
sulates  so  well  that  it requires virtually no clearance between fireplace walls and combustible materials, such as wood framing.
Pumice does not expand or contract with temperature changes,  reducing the possibility of cracking and structural damage that may occur with oth-
er products. The natural insulating qualities of pumice give it the ability to maintain  the  temperature  of  flue  gases while not permitting heat to be transmitted to the outside.   Pumice is also lightweight, allowing for easier installation than other alternatives.
Precast Modular Units Pictured Above By Isokern
The  firebox of a modular masonry unit is lined with standard firebrick,  as pictured  in the examples above and below.    As with other masonry fire-
places, the outside of the fireplace and chimney can be finished with your choice of materials for a completely custom tailored look.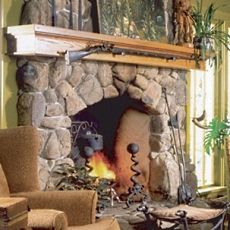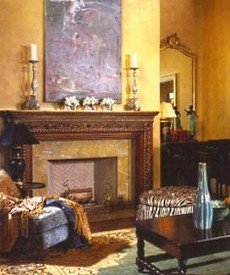 A modular masonry system can be installed in under a day, unlike the much longer time required for a traditionally constructed masonry fireplace.   The precast  modular  units  offer  the  look  of  a traditional site-built masonry hearth, but with less weight and expense . . . . . and greater heat output!
Regardless of whether you choose a traditional masonry fireplace built entirely on site or a partially site-built design using modular masonry units, you will have a solid and substantial hearth that will enhance the value of your home today while providing long-term enjoyment for you and your family!
Massive stone hearth, above, in Joan Rivers' Connecticut home.
Please check back often or subscribe to our  RSS feed,  as we fre-
quently add new images of masonry designs to our site.
YOU MAY ALSO LIKE:




Brick Masonry Designs -
Handcrafted Masterpieces!




Lew French...Stone
Artisan Extraordinaire!




Masonry Hearth Designs -
A World Of Style!




Masonry Fireplaces -
Material Matters!




Stone Masonry Designs -
Solid As A Rock!




Outdoor Masonry Designs -
Real Long-Term Value!


Return to Stone Fireplace Designs Guide

Return to Standout Fireplace Designs Home Page
Didn't find what you were looking for?
Use this search feature to find it.
LIKE THIS PAGE?