Wood Fireplaces Pictures...
Lofty Ideas!
The striking wood fireplaces pictures featured here are over the top!    In other words, they extend upward from the top of the mantel shelf toward the ceiling to give them a commanding presence . . . . .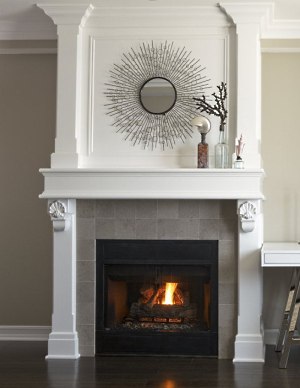 Fireplace above by S.K.I.N. Design Studio
. . . . . Whether starting from scratch or updating an existing fireplace, the designs that follow -- encompassing a broad range of styles from tradition-
al to contemporary -- are bound to grab your attention and give you ideas to create a more imposing look for YOUR special fire space!
As  you  will  see  in the fireplaces pictures below, an "extended mantel" or overmantel adds height -- AND prominence -- to a fireplace design, leaving no doubt as to its rightful position as THE focal point of the room.     While some are relatively simple,  others are quite elaborate.     If you're a do-it-yourselfer,  please be sure to view our March, 2012 e-newsletter, available on March 3rd.   It features informative "How To" articles and a video about extending the space above a fireplace mantel.
---
If you are not yet a subscriber to our free online newsletter, you can quickly and easily become one by simply visiting our "Fireplace De-
sign Idea"  subscription page.      Alternatively, scroll  down  this  page  to  the  bottom of the right hand column and enter your email address in  the  white  subscription  box,  then  click "Subscribe." That's all there is to it!
---
The two fireplaces pictures that follow feature traditional styling with white enameled mantels and overmantels.  However, one is a laid-back and casu-
al design for a vacation cottage,  while the other is tailored for a more for-
mal setting.
Pictured  directly  below  is a fireplace surround for a lovely new cottage in Norwich, Vermont, USA.  Designed by Haynes & Garthwaite Architects, also of  Norwich,  it  features  a  "wrap around"  mantel and overmantel with re-
cessed panels and a crown moulding on the top.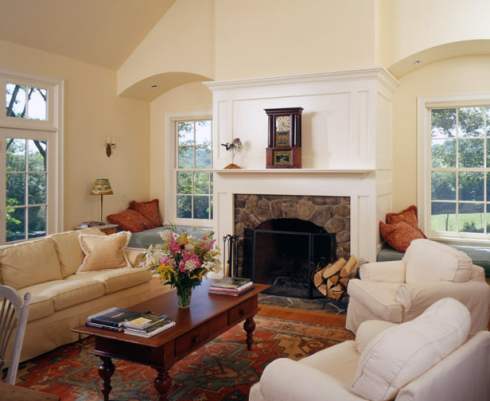 The fireplace picture that follows features a more formal  design  from  a Georgian Style  home in Darien,  Connecticut,  USA,  designed by Mark P. Finlay Architects of Southport, Connecticut. Framed by elegant pilasters, the mantel features raised panels that echo the  graceful  curve  of  the arched firebox opening. The overmantel, also framed by pilasters that ex-
tend  from  the  top  of  the  mantel shelf to the ceiling, includes a large
raised panel that "frames" an ornate gilded frame painting.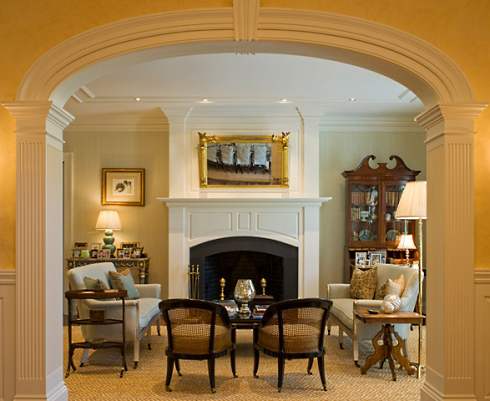 The monumental two story library fireplace surround that follows is one  of several in an equally monumental home designed by Atlanta-based Harrison Design Associates. Though the beautifully carved antique mantel and over-
mantel is a work of art,  in and of itself,  it is not adequately scaled for the height of the room.  However, the designers came up with a clever solution by  framing  the  entire ensemble with wide fluted pilasters resting on large pedestals and crowned with Ionic capitals.    Spanning the top of the capi-
tals is a large arch that echos the arch of the antique overmantel below. A backdrop of beautifully veined dark marble adds contrast  and  richness  to the mellow warmth of the wood.
To see more striking fireplaces pictures inside
this monumental home, please click here.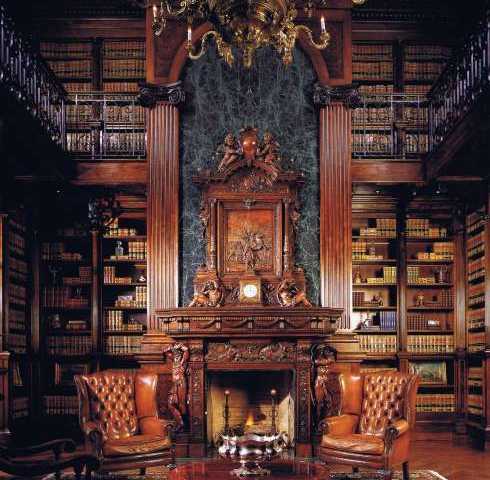 See More Extraordinary Fireplace Designs
by Harrison Design Associates
Though not as dramatic as the fireplace pictured  above,  the  traditional design  that  follows  by Howell Custom Building Group of Andover, Massa-
chusettes, USA, is also finely crafted.   The mantel framing the stone fire-
box surround features recessed panels in the "legs" and frieze, just below the mantel shelf.  Resting on top of the mantel shelf and extending to the ceiling beams is a pair of fluted pilasters capped with a crown moulding. A large recessed panel between the pilasters frames a flat screen TV.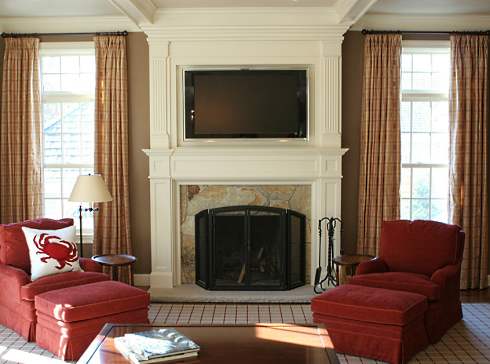 See More Ideas about Integrating a Flat
Screen TV with Your Fireplace Surround
More Wood Fireplaces Pictures
The two fireplaces pictures that follow feature  finely  detailed  Arts and Crafts fireplace designs. The beautiful fireplace pictured below, left, was reproduced by Rejuvenation, based in Portland, Oregon, USA.   Note how
the top of the overmantel design extends beyond the mantel and around the room, effectively tying it all together.
The warm and inviting fireplace pictured below,  right,  anchors the living room of a restored Craftsman Style home  in  Pasadena,  California,  USA.
As  part  of  the  restoration, a wood chimney breast was created above
the mantel shelf, giving it a commanding presence. Adding to the warmth of the wood are beautiful copper tiles around the firebox opening.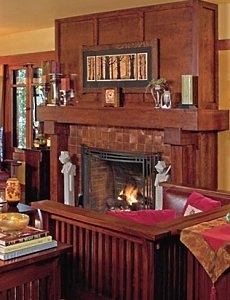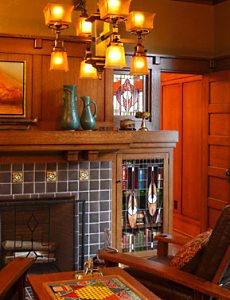 Pictured  below is another Arts and Crafts or Craftsman Style fireplace de-
sign.    Created by Pillar Homes of Plymouth, Minnesota, USA, it features a striking hood over the mantel shelf that extends to the ceiling. Raised pan-
els echo the angle of the hood and provide a nice "frame" for a flat screen TV.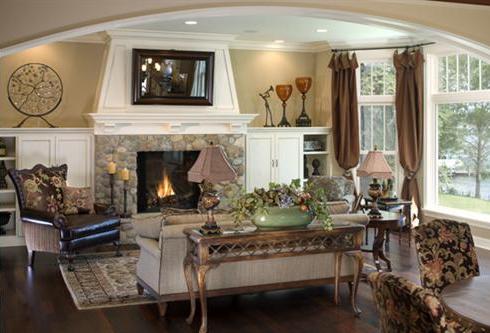 See More Fireplaces Pictures of Finely Detailed Arts and Crafts Designs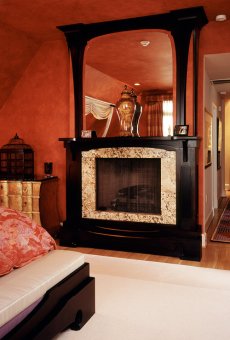 The  fireplaces pictures  that   follow feature  Asian-inspired  fireplace  de-
signs.  The fireplace pictured at right was  finely crafted by Jaeger & Ernst Custom Cabinetmakers, based in Bar-
boursville, Virginia, USA. The base of the mantel,  as well as the color and finish, echo that of  the  bed  in  the foreground. An exotic overmantel ex-
tends  to  the  ceiling  and  frames a
large mirror.
More Finely Crafted Fireplace Designs
by Jaeger & Ernst Cabinetmakers

Pictured below is another exotic fireplace mantel and overmantel.  It is one of  several  extraordinary  fireplaces  in  an equally extraordinary Cape Cod home designed by Polhemus Savery DaSilva Architects Builders  --  one  of the  premier architectural design/build firms in the United States  --  based
in Chatham, Massachusettes.
A stunning see-through fireplace design, it  features  a  beautiful  "pagoda-
like" overmantel that flares out from the ceiling as it  descends  to  a  large mantel shelf below.     Rising from the floor on one side of the fireplace is a large hearth that echos the scale and profile of the mantel shelf above it.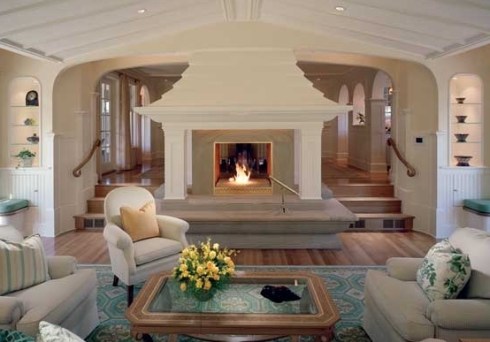 See This & Other Extraordinary Fireplace Designs
by Polhemus Savery DaSilva Architects Builders



In contrast to the fireplaces pictures above,  the  two  designs that follow have less of a traditional -- and more  of a transitional or contemporary look and feel to them.     The striking sur-
round pictured at  right  was  crafted
by Hudson Cabinetry Design, based in Peekskill, New York, USA.
Though the mahogany mantel,  itself,
is traditionally inspired, its natural fin-
ish, in conjunction with the clean and simple lines of the overmantel, give it
a fresh new look.    With its beautiful ribbon-stripe graining,  the  emphasis
is on the natural beauty of the wood.
And finally,  the dramatic fireplace design that follows was created by San Francisco-based Ann Jones Interiors for a Soda Canyon retreat.  Though it is the only mantel pictured on this page that isn't made of wood, I decided to include it because of its distinctive soaring wood overmantel.   The fire-
place mantel, itself, is made of polished concrete.
A striking upscale composition of light and dark  contrasts,  the  room  fea-
tures built-in shelving that echos the richly finished walnut panel above the fireplace mantel shelf. Clearly the focal point of the room, the fireplace de-
sign's overmantel panel can be raised to expose an entertainment screen!
Please check back often or subscribe to our  RSS feed,  as  we  fre- quently add new fireplaces pictures to our site.
YOU MAY ALSO LIKE:





More Wood Fireplaces Pictures -
Masterworks In Wood!





Fireplace Surround Designs -
Period Perfection!
Back to Wood Fireplace Mantels
Back to Fireplace Design Ideas
Back to Standout Fireplace Designs Home Page
Didn't find what you were looking for?
Use this search feature to find it.
LIKE THIS PAGE?