Romancing the Stone
Fireplace Design!
Traditional style stone fireplace design has been the object of a centuries' old love affair that continues today.   Stone mantels and surrounds sym-
bolize stability and solid, long lasting value.   Carved or cast in traditional styles, they evoke romantic images of the past!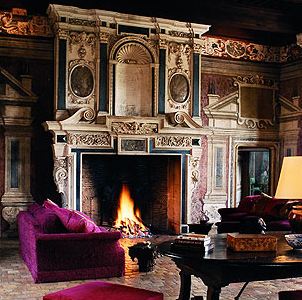 Stone Fireplace above at Chateau de Bagnols,
now a hotel just outside Lyon, France
Traditional  styles  of  stone mantels
are   timeless  and  echo  the  scale, proportion, and detailing of a bygone era. They retain the nostalgic charm of  yesteryear and provide a refresh-
ing  escape  from today's fast-paced society.
By  incorporating  classical  elements and  forms  that  have withstood the test  of  time,  they are easily under-
stood,  aesthetically  pleasing,   and emotionally  comforting.   They  con-
vey  a sense of history, permanence, and  continuity  through their linkage
of the present with the past.
Traditional  styles  of stone fireplace design  embody  a  vast range of dis-
tinctive architectural characteristics and  motifs  developed over a period
of several centuries . . . beginning in the  Middle  Ages  and  continuing to
the  present.    Though we won't attempt to cover every traditional archi-
tectural style here, as the topic is far too broad for a single web page, we will  look at some typical examples of stone fireplace design that are being produced -- or reproduced -- today.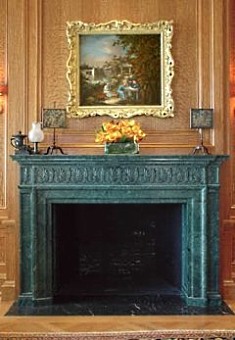 The  elegant "verde antique" Italian marble mantel at right and below is
a beautiful example of timeless clas-
sical design. Adorned with exquisite-
ly sculpted classic Greek ornament,
it  is  a masterful representation of
the best in traditional mantel repro-
duction available today.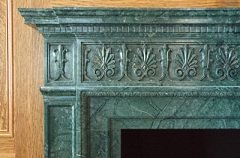 Stunning Marble Mantel pictured above by DMS Studios in New York.
Please Click Here to See More Extraordinary Mantels from this Studio!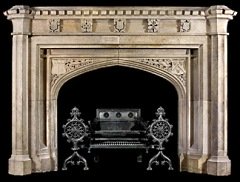 The Tudor Gothic design for the limestone mantel at right reflects
the beginning of the transition
from late medieval, i.e., Gothic, ornamentation toward more clas-
sical decoration in England during
the 15th and 16th centuries.
The casual simplicity of the Country French limestone mantel at right . . .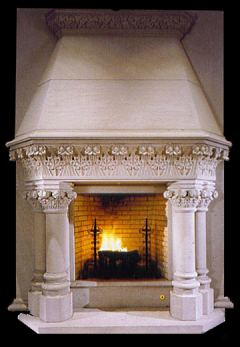 contrasts sharply with the for-
mal grandeur of this 17th century
French Renaissance Style chim-
neypiece reproduced in marble.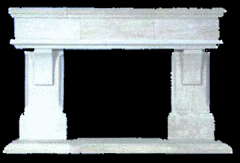 Similarly, the bold but simple design of the Tuscan farmhouse mantel at right . . .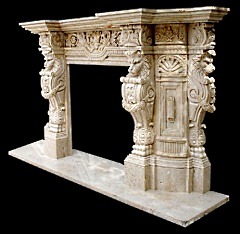 contrasts sharply with the hand carved magnificence of this Ital-
ian Renaissance surround sculpt-
ed from beige travertine marble.
The formal, hand carved Louis XV mantels (below), named for the French king who reigned from the age of five in 1710 until his death in 1774, are reproduced in marble . . .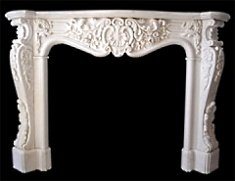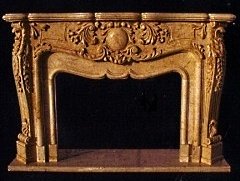 as are the following heavily carved Italian Baroque designs in beige traver-
tine (left) and antique white marble (right).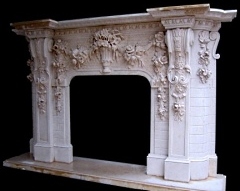 More Elegant Stone Fireplace Designs
The richly adorned English Georgian Style mantel at right is made from
two types of marble . . .
while this striking Renaissance-inspired design is made from cast stone.



The beautiful detailing on this Italian Neo-Classic mantel (right) is sculpted in high relief from beige travertine marble . . .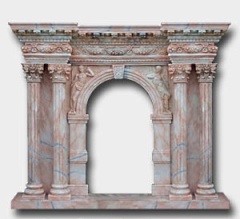 while this imposing composition of Classical and Romanesque motifs is hand carved from a striking Rosetta marble.
Not to be outdone by its predecessors, this bold and beautiful design (be-
low) is stunning in its stepped form and streamlined simplicity. Inspired by the highly popular Art Deco Style of the 1920s and 1930s, the timeless de-
sign of this Botticino marble hearth and surround is equally at home in a minimalist contemporary setting.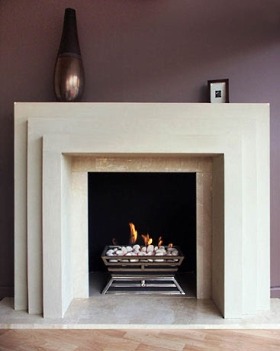 Please check back often or subscribe to our RSS feed,  as  we  fre- quently add new stone hearth designs to our site.
YOU MAY ALSO LIKE:


MORE Traditional Stone Fireplace
Design Styles...Timeless Classics!



Fireplaces Mantles & Mansions -
A Return to Classic Grandeur!



Gilded Age Fireplace Designs -
Monumental, Majestic...and Rustic?




Fireplaces by Francois and Co. -
Reviving the Renaissance...and Beyond!




Regal Fireplace Mantel Designs -
Fit for a King...OR a Queen!
Back to Stone Fireplace Designs Guide
Back to Stone Fireplace Designs Overview
Back to Standout Fireplace Designs Home Page
Didn't find what you were looking for?
Use this search feature to find it.
LIKE THIS PAGE?