Marvels of Modern Fireplace Design!
Modern fireplace mantel design has come a long way, thanks to marvels of modern technology.  Recent advances in the development, application, and processing of materials have significantly expanded the range of options.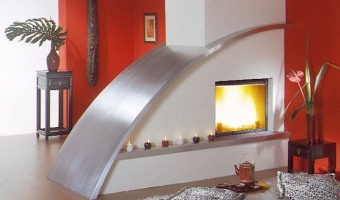 New  and  exotic shapes, textures and finishes that were previously unat-
tainable are now possible.     Diverse and nontraditional materials such as stainless steel, glass, copper, bronze and concrete are now being used in creative ways to fashion modern marvels of mantel design.
The stained concrete mantel (below left) and the bronze firebowl and sur-
round (below right) are fine examples of utilizing nontraditional materials in contemporary fireplace design . . .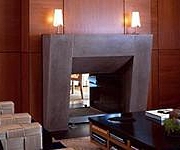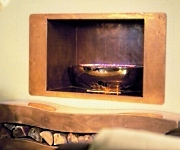 as is the stunning glass mosaic surround shown below with close-up inset detail.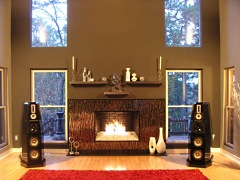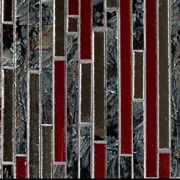 Even traditional fireplace mantel materials such as wood are being used in unique and expressive ways. Exotic or sharply contrasting woods are em-
ployed to achieve dramatic effects, as in the juxtaposition of wenge and maple in the striking mantel below.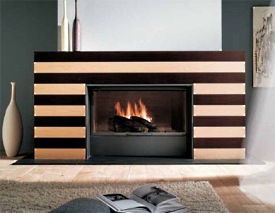 Though various metals such as copper and steel have previously been used to fabricate fireplaces, the unique and unusual forms and finishes shown below are new to fireplace design.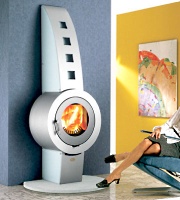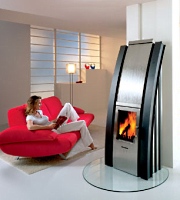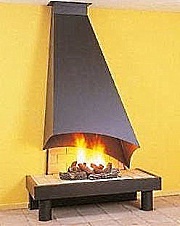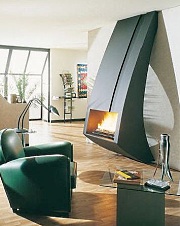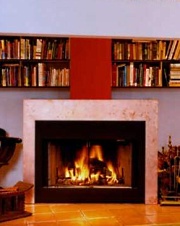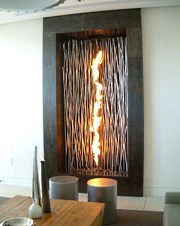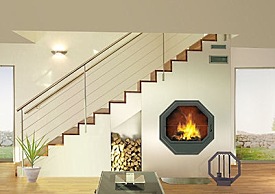 More Modern Fireplaces
Similarly, though stone has been used for centuries to create fireplace mantels, it is now being carved, cast and finished in novel ways to achieve a variety of completely different looks. The following examples are just a small sampling of the wide range of modern stone mantels and surrounds available today. Note the whimsical hand carved surround below (top left), as well as the texture and finish of the brushed white marble mantel (top right) from Chazelles.
See more unique designs from Chazelles Fireplaces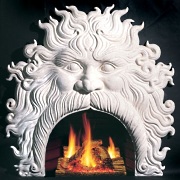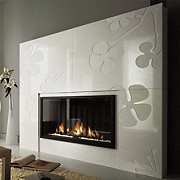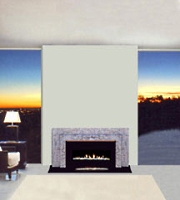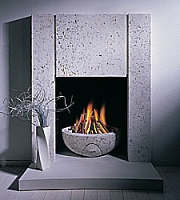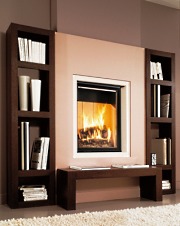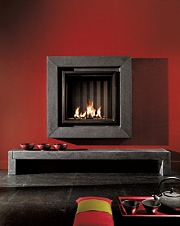 New finishing methods, mixtures and stains make it possible to reproduce the look of natural stone in concrete fireplace surrounds. The vast array of available stains can also be used to make a bold design statement by combining starkly contrasting hues. A fraction of the weight and cost of natural stone, concrete surrounds are becoming an increasingly popular alternative.    The following examples demonstrate the versatility of this material in modern fireplace design.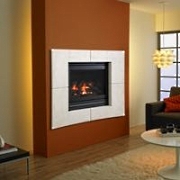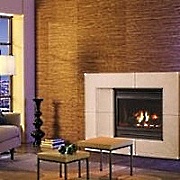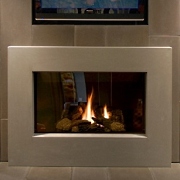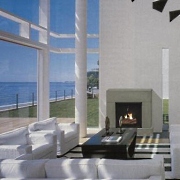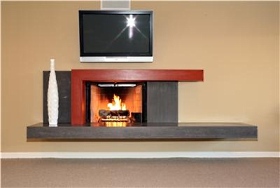 Please check back often or subscribe to our RSS feed,  as  we  fre- quently add new images of contemporary fireplace designs to our site.
More Modern Fireplace Designs

Modern Stone Fireplace Mantels

Modern Wood Fireplace Mantels

Contemporary Fireplace Mantle Designs

Stone Contemporary Design Fireplace Surrounds
Back to Fireplace Mantel Designs
Back to Standout Fireplace Designs Home Page
Didn't find what you were looking for?
Use this search feature to find it.

LIKE THIS PAGE?