Pictures of Stone Fireplaces...
Handcrafted Hearths!
The pictures of stone fireplaces shown here feature beautifully hand-
crafted designs.  Created from a variety of stone types, colors and textures, each design was carefully assembled to reflect the unique artistry of its creator!
Design above by Locati Architects
For centuries,  a stone fireplace has been  the  heart -- and hearth -- of
the home.   Warm and comforting, it was at the center of family life each day.  The cozy scene pictured below aptly  portrays  the  stone hearth as
the center of domestic tranquility.
Though not as popular or prevalent as brown tones, the light grey and blue grey  stones used in the designs pictured below are also very beautiful and work exceedingly well in the light-filled rooms they anchor. Note the atten-
tion  to  detail  and the striking contrast between the stone and the bricks surrounding the firebox opening in the example on the left.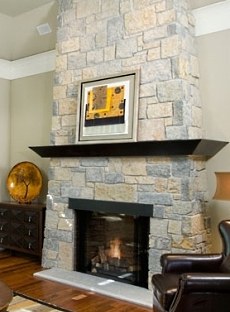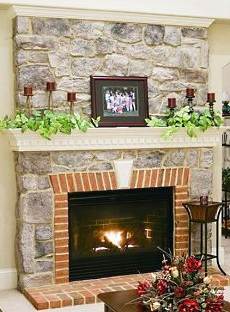 The following pictures of a stone fireplace are markedly different -- though no  less  striking  --  than those shown above.     Deeper in tone and more rugged, i.e., "natural," in appearance,  this corner hearth in a lakeside cot-
tage  looks  right at home against a backdrop of wood-lined walls and ceil-
ing.     The triangular recess above the mantel shelf hints at the quality of detailing  and  workmanship  in  this  wonderful design by Luderowski Archi-
tects.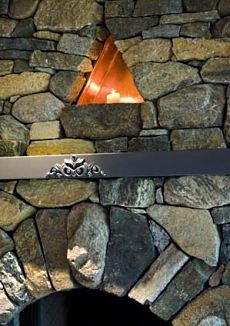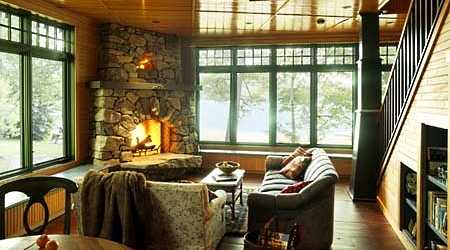 The two stone fireplaces that follow are equally at home in their respective settings.      The natural  fieldstone  surround on the left rests on a curved hearth  of large boulders and is capped by a heavy pine mantel shelf.    On the  right,  random  sizes  of mostly rectangular-shaped roughly cut stones are stacked horizontally in this comfortable log cabin.   A raised hearth and rustic timber mantel shelf complete the composition.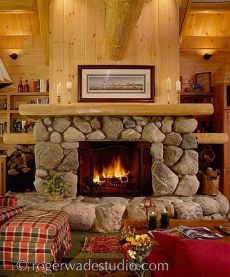 More Fieldstone Fireplace Designs

More Wood Fireplace Mantel Shelves
The following pictures of stone fireplaces taken by Roger Wade Studio cap-
ture the rustic ambiance and charm of a mountain lodge.     Note the cozy inglenook in the example on the left!
The charming cottage with stone fireplace, pictured below,  was designed by Mackin Architects. Beautifully detailed with an arched firebox lined with fire bricks in an elegant herringbone pattern,  this masonry design features a raised hearth and roughly cut stone mantel shelf.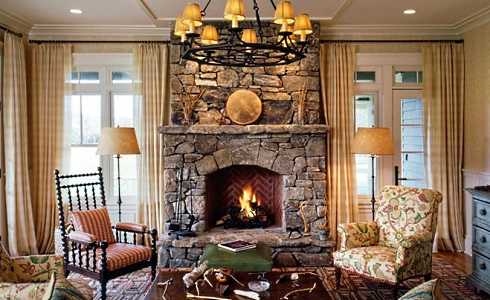 Outdoor Pictures of Stone Fireplaces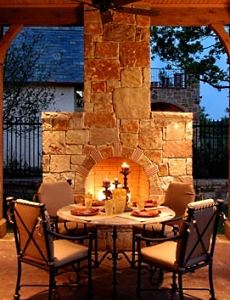 Equally at home in outdoor rooms, as shown in the images at right and be-
low,  a stone hearth can make a dra-
matic design statement.     Whether placed  in  a suburban setting (right)
or set against the backdrop of a ma-
jestic  mountain  range  (below),  an outdoor stone fireplace  will  comple-
ment  its  surroundings  and  provide years of enjoyment for you and your family!
More Outdoor Stone Fireplace Designs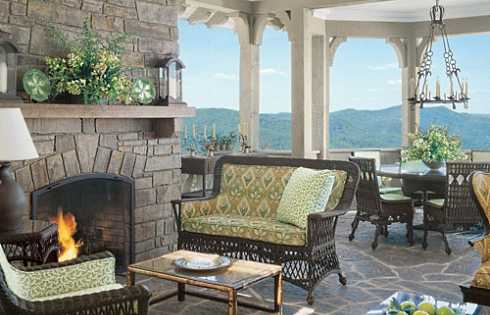 Please check back often or subscribe to our  RSS feed,  as  we  fre-
quently add new pictures of stone fireplaces to our site.
YOU MAY ALSO LIKE:




MORE Pictures of Stone Fireplaces -
EXTRA Extraordinary Designs!




Stone Fireplaces Pictures -
REAL STANDOUTS!
Back to Stone Fireplace Designs Guide
Back to Standout Fireplace Designs Home Page
Didn't find what you were looking for?
Use this search feature to find it.
LIKE THIS PAGE?