Celebrity Homes Fireplace
Designs...

Get Inspired!



Viewing celebrity homes fireplace photos is a great way to find inspiration and ideas for your own fireplace design. Though some of the designs that follow may be out of reach for many of us, they afford an opportunity to see the amazing array of different looks that are possible in a mantelpiece. In addition,  as you will see,  you don't necessarily have to be a rich and famous celebrity to enjoy a fireplace in your own home that's nearly iden-
tical to some of those featured here!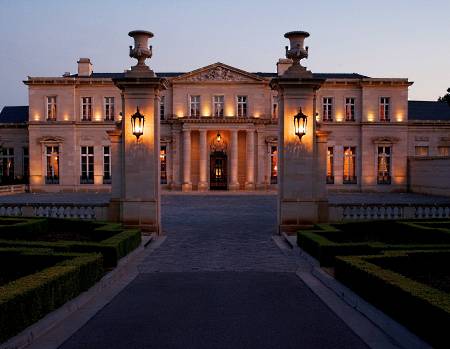 Above: "Fleur de Lys" in Holmby Hills, California
Whether a TV personality or film star . . . . business mogul or fashion de-
signer . . . professional athlete or rock star . . . . . the vast resources of many celebrities give then an opportunity to hire the best and brightest -- and  most  talented  --  designers available today.   Surprisingly,  many celebrity homes fireplace designs are achievable -- and  affordable -- for those of us with more modest means!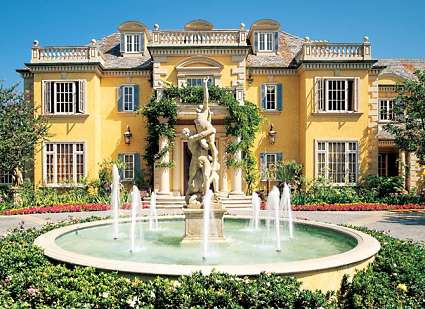 Beverly Hills Home of Rocker Rod Stewart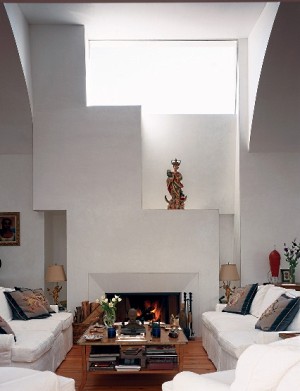 For example, if your home has a contemporary look   and feel, the striking fire-
place at right may provide the stimulus you need to create an equally distinc-
tive hearth for your living room or family room . . or even duplicate this par-
ticular design.  The focal point of actress Anjelica Huston's Venice, Califor-
nia living room, this unique fireplace design  can  be   easily replicated by any-
one  with  basic  framing (carpentry)  and  drywall skills. It's a great way to  lend distinction and value
to your home . . . without spending a fortune!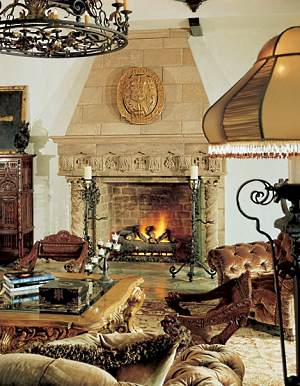 If your tastes are more tra-
ditional, the stone chimney-
piece at right may be more   to your liking. The center-
piece of Cher's Malibu, Cal-
ifornia living room, variations of this design are available from several manufacturers. Depending upon the size of your budget, materials rang-
ing from natural stone . . .   to cast stone . . . . to glass fiber reinforced concrete (GFRC) . . . to gypsum can be employed to achieve a similar look.
Regardless of your style preference, you are bound to garner some useful ideas by poring over photos of celebrity homes fireplace designs.     From stone types and textures to tile patterns and colors. For indoors and out.
More Celebrity Home Fireplaces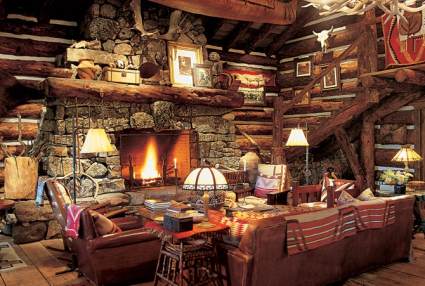 Rustic Stone Hearth at Ralph Lauren's
Colorado Ranch . . . . . more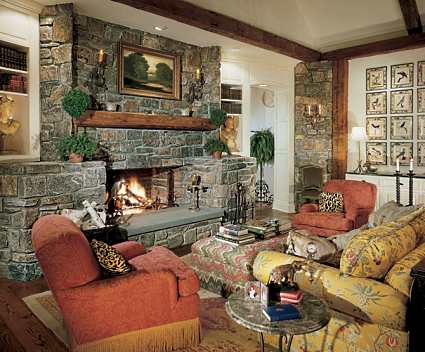 Massive Living Room Fireplace in
CT Home of Joan Rivers . . . more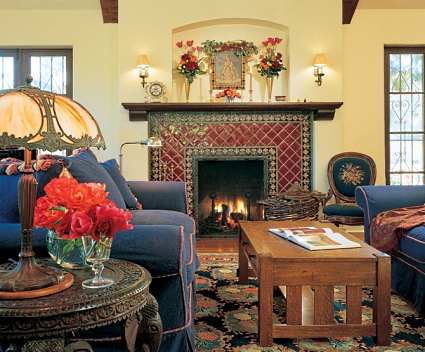 Tiled Living Room Fireplace in Tucson,
Arizona Home of Linda Ronstadt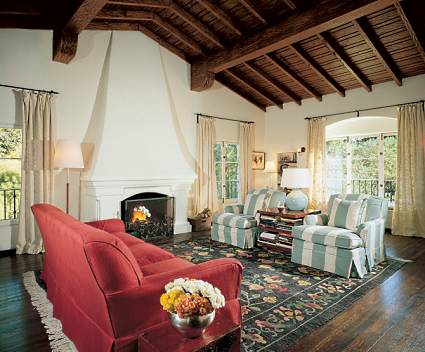 Sculpted Living Room Fireplace in
Los Angeles Home of Jamie Lee Curtis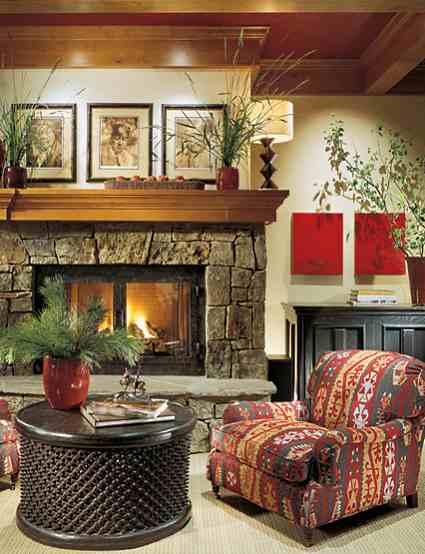 Stone Hearth in Living Room of
Kelsey Grammer's Colorado Home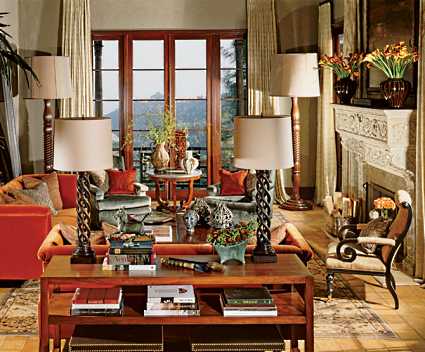 Living Room in Hollywood Home of Ryan Seacrest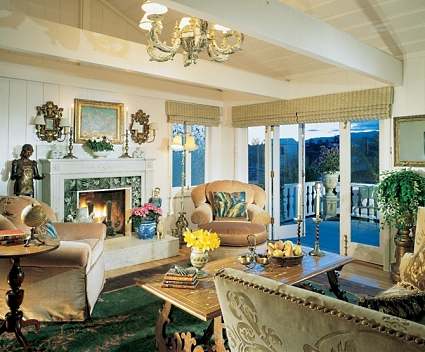 Tiled Living Room Fireplace Surround
in Santa Monica Home of Martin Sheen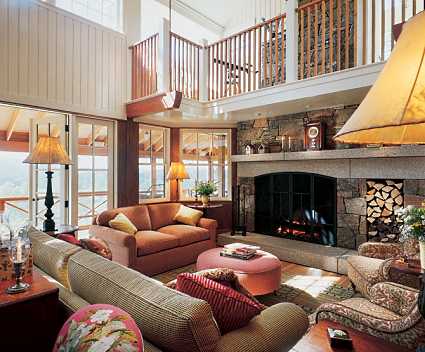 Stone Hearth in Great Room of Michael
J. Fox's New England Home . . . more
Old World Splendor in Beverly Hills
Home of Lionel Richie . . . more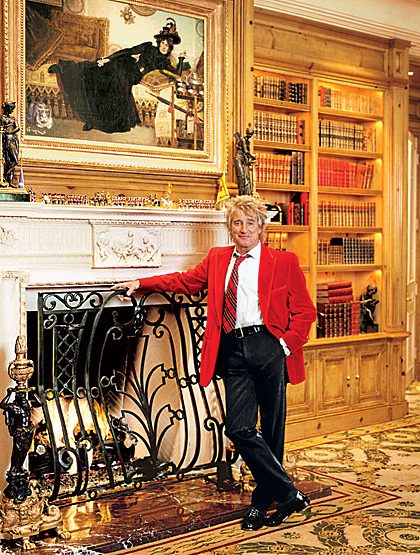 Massive Marble Mantel in Library
of Rod Stewart's Beverly Hills Home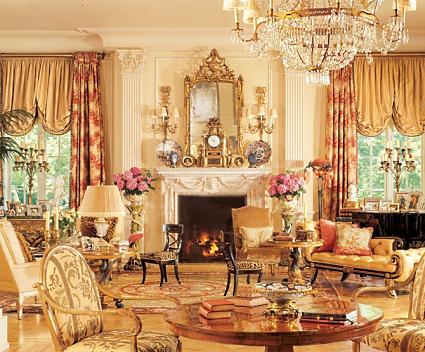 Old World Grandeur in Living Room
of Rod Stewart's Beverly Hills Home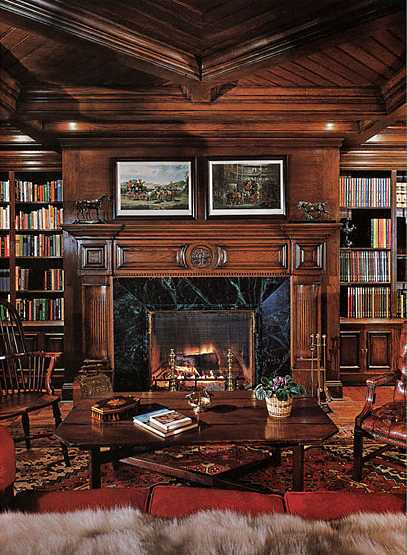 Richly Paneled Library at "Neverland Ranch,"
California Home of the late Michael Jackson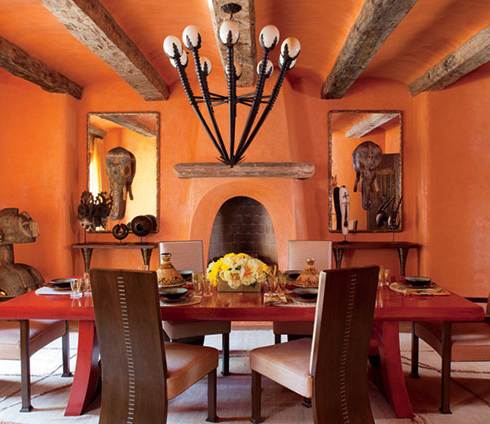 Handcrafted "Kiva-Style" Fireplace in Dining Room
of Will and Jada Pinkett Smith's Malibu Home
(Photo Credit: Architectural Digest)


Please check back often or subscribe to our RSS feed,  as  we  fre-
quently add new ideas and images to our site.
YOU MAY ALSO LIKE:





More Celebrity Homes Photos -
Formal & Semiformal Designs!








Celebrity Homes Fireplaces -
Rustic & Casual Designs!








Regal Fireplace Mantel Designs -
Fit For A King . . . OR A Queen!








Looking For Standout Fireplace Ideas?








Stone Fireplace Hearth Ideas -
Outstanding Custom Designs!


Back to Fireplace Design Ideas
Back to Standout Fireplace Designs Home Page
Didn't find what you were looking for?
Use this search feature to find it.
LIKE THIS PAGE?