Cottage Fireplaces...
Simply Charming!
Cottage fireplaces evoke images of simpler times when domestic life was centered around an open family hearth.   Frequently understated in ap- pearance -- as, historically, form generally took a back seat to function -- they, nevertheless, possess an inherent charm and timeless elegance in their simplicity of design.      When combined with a little imagination and creative use of materials, the results can be truly magical!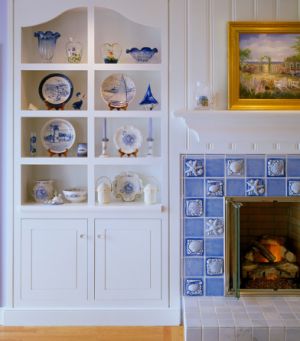 Pictured above, left, is a charming hearth design by Polhemus Savery Da- Silva Architects for a New England coastal cottage.  It features a striking firebox surround of ocean blue field tiles and high relief accent tiles with sea life motifs.  Smaller square tiles in neutral shades clad a raised hearth. 

Centered above the tiled firebox surround,  a  beautifully moulded wood mantel shelf is set against a backdrop of tongue and groove boards -- all of which are finished in white enamel.   Built-in cabinetry flanks each side of the fireplace, as shown in the image below.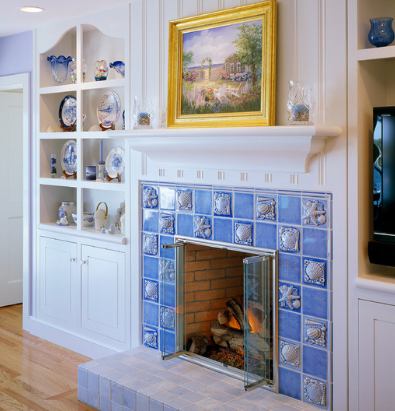 See More Fireplace Tile Designs

Following is another timeless design by Polhemus Savery DaSilva Archi- tects.  Part of a New England guest house, this cottage fireplace shares some features of the previous design,  including  a  finely crafted wood mantel shelf on a backdrop of tongue and groove boards.  However, in- stead of tiles, the firebox is framed with cut and polished slabs of black stone.     A matching stone hearth is recessed into the floor to make it level with the bands of hardwood that outline it.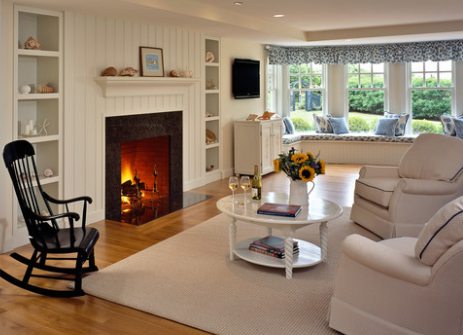 More Finely Crafted Wood Fireplace Mantel Shelves

More Cottage Fireplaces
The fireplace pictured below is the focal point of a charming Shingle Style cottage designed by Jarvis Architects on Lake Mendota in Madison,  Wis- consin.    In addition to a cozy alcove with built-in seating at one end of the room, built-in bookshelves line the wall on either side of this "classic" cottage fireplace design.

Lending contrast and texture to the finely finished white-enameled wood- work used throughout the room, natural stones of varying sizes and shapes frame a large rectangular firebox opening.  Carefully assembled like pieces of a jigsaw puzzle, the stones incorporate a range of blue-grey hues that are picked up in the paint color used on the walls.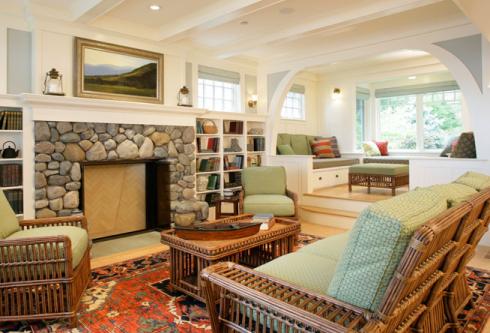 See More Rustic Rock Fireplaces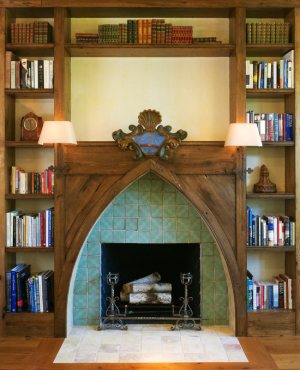 The Country French cottage fireplace  pictured  at  right  and below was designed by Barnes   Vanze   Architects, based in Washington,  D.C.  Inspired by the country chic look  of  rural cottages dot- ting the French countryside from Normandy to the  Dor- dogne,  it  features a rustic wood  mantelpiece  flanked  by  built-in  shelving.      A carved coat  of  arms  pro- jects above the mantel shelf to  crown  a  large  pointed Gothic arch.

Green tiles face the firebox surround and provide a striking contrast to the richly stained wood mantel.  Lighter colored tiles line the underside of the mantel's arched opening, as well as the hearth, giving them a warm, but- tery hue that is picked up in the painted wall surfaces.  Note the charming wrought iron reading lamps mounted on either side of the mantelpiece.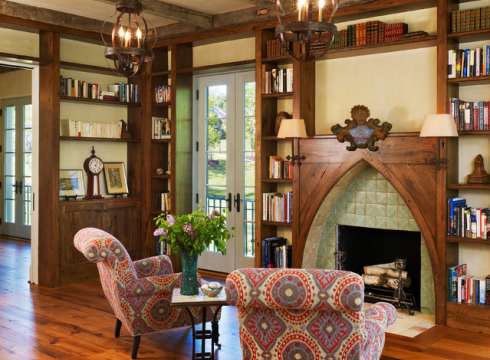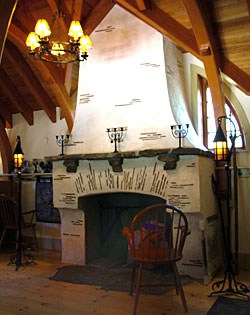 Cottage fireplaces lend themselves well to Storybook Styling.  The en- chanting design at right is part  of  an  equally  enchanting stone cot- tage  in the Pennsylvania country- side.

A  product  of  the  fertile mind of  Peter Archer  (Archer & Buchanan Architecture),  it features a floor-to-ceiling  white  stucco fireplace surround peppered with slivers  of clay roofing tile.     Flat pieces of stone  rest  on  little  corbels,  or brackets,  to form a rustic mantel shelf.   A large flagstone provides    a  protective  hearth  at the base  of the firebox opening.

Learn more about cottage above   

A cozy fireside inglenook takes center stage in the image that follows.  One of five fireplaces inside a charming storybook cottage in Ojai, Cali- fornia, it features a tiled surround and a wood mantel shelf.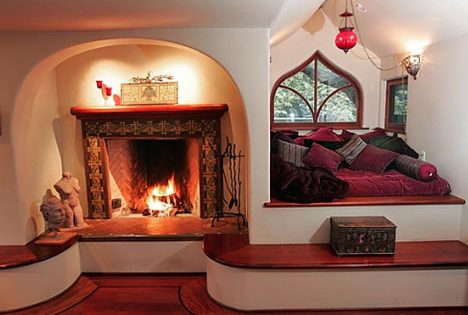 See More Inglenook Fireplace Designs

Pictured below is another one of the home's unique cottage fireplaces.  Larger in scale than the design above,  it  is  framed by a finely paneled wood surround with an ogee arch.  Custom made tiles with flora and fauna motifs line the firebox opening, mantel shelf, and recessed area above -- as well as the floor level hearth.     A labor of love,  this playful fairytale dwelling was built around a large oak tree over a period of several years by architect Marc Whitten and his wife Julia.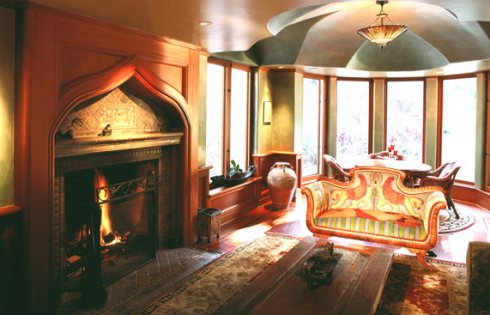 See More Storybook Style Fireplaces

The charming cottage fireplace that follows is clad with roughly cut stone.  Flanked by double-hung windows with transoms above, this warm and in- viting space by Ashley Campbell Interior Design provides an ideal hearth- side  setting  from  which to view the rugged mountains of Northwestern Colorado.

And finally, the country cottage fireplace pictured below provides a perfect focal point for a sunny family room design by Crisp Architects.    Cut stone blocks of varying sizes and colors rise from floor to ceiling.    Mostly square or  rectangular  in  shape, the stones are dry-laid (without mortar) to form this striking composition.

A rustic timber mantel shelf proudly displays an antique wagon wheel.  At the  base,  a  large  stone slab rests on stone "piers" to create a raised hearth . . . as well as tuck-under storage for firewood.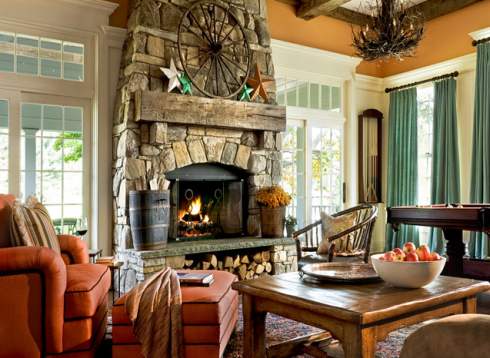 Please check back often or subscribe to our RSS feed,  as  we  fre- quently add new images of cottage hearth designs to our site.

YOU MAY ALSO LIKE:




MORE Cottage Fireplaces -
Heartwarming Hobbit Hearths!



Wood Fireplace Mantel Surrounds -
Rustic to Country Casual!



Wood Fireplace Surround Design -
MORE Country Casual Mantels!



Standout River Rock Fireplaces -
Cottage Cuties!

Back to Fireplace Design Ideas
Back to Fireplace Mantel Designs
Back to Fireplace Design Overview
Back to Standout Fireplace Designs Home Page


Didn't find what you were looking for?
Use this search feature to find it.
LIKE THIS PAGE?