Stone Fireplace Designs...
Rustic to Refined!
Stone fireplace designs -- with their timeless beauty and versatility -- are a popular choice for both indoor and outdoor fire spaces! Stone has been a favored building material for centuries and has been used to create every- thing from cottages to castles . . . . . . .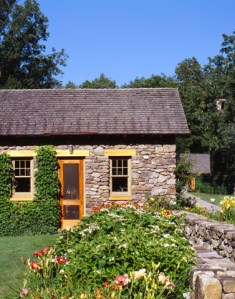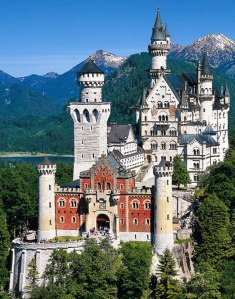 . . . . . and  tombs  to  temples.   It's lasting quality and durability are unparalleled!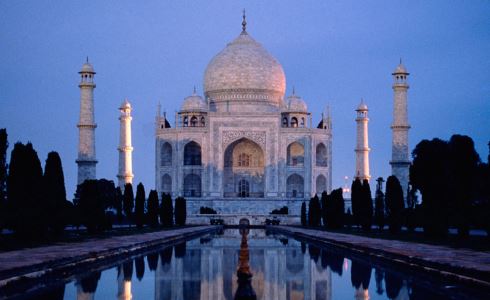 Above Photos:

Top Left: Stone Cottage by Cooper, Robertson & Part-
ners, Architects

Top Right: Neuschwanstein Castle, Bavaria, Germany

Bottom: The Taj
Mahal, Agra, India

The wide range of colors and textures that can only occur in a material that is manufactured by nature demonstrates why the beauty of stone has inspired artists and architects, alike, for hundreds of years.
Stone naturally occurs in an amazing variety of colors, shapes, sizes, and textures. That, in conjunction with its ability to be manipulated by man through various finishing processes such as tumbling, honing, or polishing, gives it a versatility and appeal to satisfy virtually every taste!
Overview of Stone Fireplace Designs
From  the  nostalgia  and  romance of a rustic stone fireplace in a cozy hideaway in the Adirondack Mountain region of Upstate New York . . . . .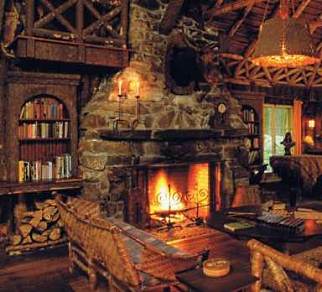 Recommended
Reading

See More Rustic Adirondack Style Rock Fireplaces!

to the rugged Rocky Mountain styling of a monumental stacked stone lodge fireplace by Montana-based Locati Architects . . . . .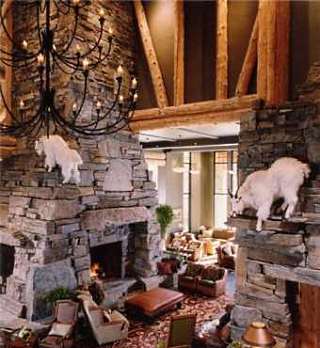 See More Outstanding Fireplaces
by Locati Architects!

to the unmistakable artistry of a stone fireplace design by master  stone artisan, Lew French, in the two examples pictured below -- including the creative use of driftwood in a stone hearth  (below right) for a beach cottage on Martha's Vineyard . . . . .
See More of the Extraordinary Work of Lew French!
to the timeless elegance and old world splendor of a hand-carved lime-
stone or marble mantel or surround from Francois & Co. in a country house . . .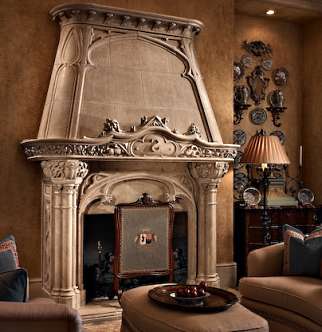 See More Stunning Mantels and Surrounds from Francois and Co.!
or the exquisite handcarved detailing of a superbly crafted townhouse mantel by DMS Studios in New York . . . . .
See More Superbly Crafted Fireplace Mantels from DMS Studios!

to the undeniable artistry and craftsmanship of an exceptional Arts and Crafts,  or Craftsman Style,  fireplace surround designed by California-
based Ewing Architects (below left) or North Carolina-based Vesta Masonry (below right) . . . . .
OR, alternatively, a unique, one of a kind antique surround from Westland London . . .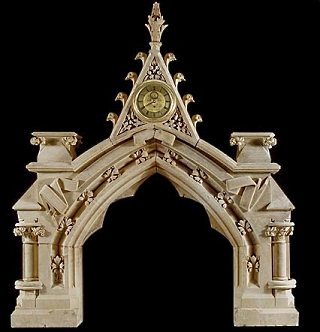 See More Unique Antique Surrounds from Westland London!
or a stunning antique reproduction of a marble fireplace surround at Versailles by European-based Montefizi. . . . .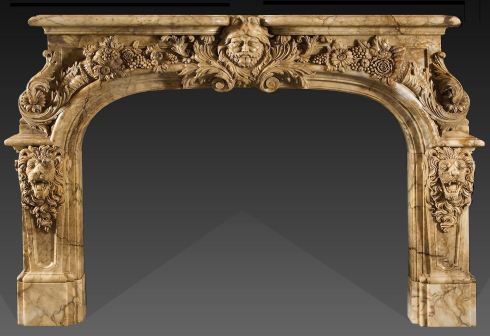 See More Stunning Fireplace Surrounds from Montefizi!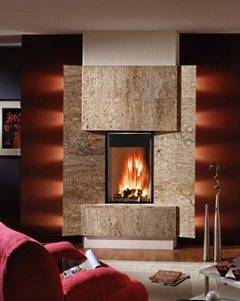 to the chic sophistication of a sleek 
contemporary design fireplace from French designer and manufacturer, Chazelles, in an urbane apartment . . . . .
the diverse range of stone types and finishing options  provides a  veritable treasure trove of different looks  and styles from which to choose.

See More Sleek Contemporary De-
signs from Chazelles Fireplaces!
As a building material for outdoor fireplaces, stone has no equal.  It is extremely durable and virtually maintenance-free.  It  is  designed  to withstand the harshest of elements with minimal wear. Frequent exposure to sun and rain will not fade or discolor it. As it weathers over time, its beauty and character are only enhanced.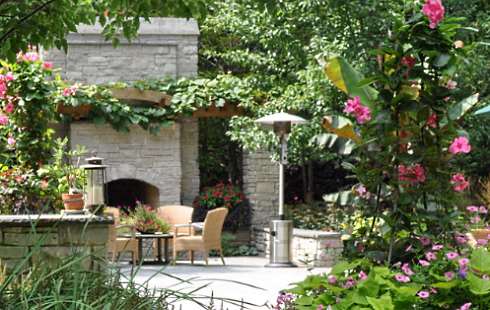 Outdoor Fire Space above by Milieu Design
(Photo Credit: Peter Wodarz)

Stone Outdoor Fireplaces

Stone Fire Pits


From  the  standpoint of lasting quality, durability, and timeless beauty, you will never go wrong with a stone fireplace design for your home or patio. It will add real value to your home and provide countless hours of enjoyment for you and your family each year!
As the largest and most popular fireplace type featured on this website, our extensive collection of stone fireplace designs  has  been  carefully arranged in a convenient online Guide for quick and easy reference. With more than 2,000 inspiring fireplace photos, virtually every stone type and design  style  is  covered.  The  Stone Fireplace Designs Guide  is  the fastest  way  to  navigate  the  myriad  of stone hearth categories and topics featured on our site.     It is specifically designed to help you find the stone and style that is right for you in the shortest time possible! To access the Guide, simply click here or go to the "Stone Design Guide" 
tab on the navigation bar along the left side of any web page on this site.
YOU MAY ALSO LIKE:

MORE Stone Fireplace Designs -
Real STANDOUTS!





Stone Fireplace Hearth Ideas -
Outstanding Custom Designs!



Photos of Stone Fireplaces -
Classic Elegance!





Extraordinary Stone
Fireplace Hearth Designs!





Stone Fireplace Pictures -
EXTRA Extraordinary Designs!





Regal Fireplace Mantel Designs -
Fit for a King...OR a Queen!





Monumental Stone Fireplace
Images.....SUPER-SIZE IT!




Back to Fireplace Design Ideas
Back to All Stone Hearth Categories
Back to Standout Fireplace Designs Home Page
Didn't find what you were looking for? 
Use this search feature to find it.
LIKE THIS PAGE?