MORE Fireplace Surround
Design Ideas!
The fireplace surround design ideas depicted in the web pages outlined below expand  upon  the  listing of creative hearth ideas shown at Find Your Perfect Match!   In keeping with the wide range of fireplace styles and exciting looks featured on that page, the listings on the bottom half  of this web page  include a vast and varied array of unique designs and design ideas crafted from a variety of materials in a broad range of sizes, styles, colors, textures and finishes.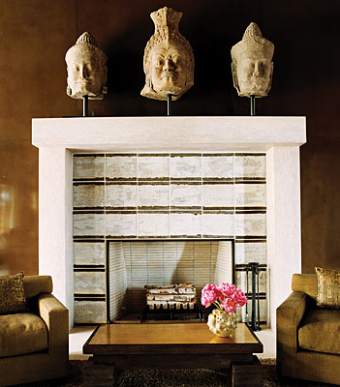 Fireplace Design Above By Architect Peter Marino
(tiles set inside a French limestone mantelpiece)
Whether building a new fireplace for your home, or working with an exist-
ing  design,  it doesn't necessarily require a large budget to get a distinc-
tive look that is uniquely your own.   To the contrary, a small quantity of simple and inexpensive building materials can fairly easily be assembled to create an attractive mantel and surround.      When combined with a few accessory items -- in conjunction with a little creativity -- your fireplace surround design can become an eye-catching focal  point  that  makes  a dramatic design statement, such as those  shown  in  the  examples  pic-
tured here.
If you have a larger budget with which to work, but still  wish  to  control your  expenses  without  sacrificing  quality  or architectural integrity, the fireplace surround design idea that follows may be right for you. A striking Great Room hearth within a Carpenter Gothic cottage,  it was designed by architect Sean O'Kane of Ridgefield, Connecticut, USA.     A massive floor-to-ceiling fireplace surround design with a commanding presence,  the  ar-
chitect, nonetheless,  was able to significantly reduce costs by minimizing the number of stones used  --  and the expense of a stone mason  --  by strategically embedding each stone in the mostly  plaster  or  stucco  sur-
round.   More savings were realized because it didn't require the additional structural support that would likely  have  been  necessary  with  a  much heavier all natural stone surround.
A finely crafted wood mantel shelf supported by corbels,  or brackets,  fol-
lows the curve of the chimneypiece to break up the massing and adds both visual and architectural interest to the overall design.    The interior of the firebox  is  lined  with  firebrick  in  an elegant herringbone pattern for even more visual and architectural interest!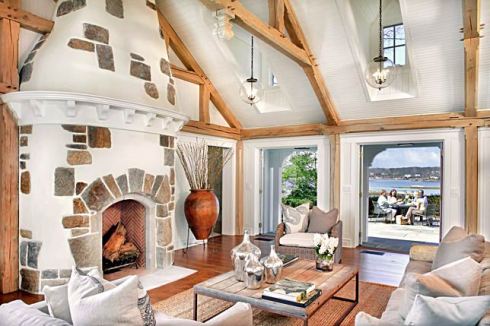 The fireplace surround design ideas provided up to  this  point  reflect,  at least in part, budgetary considerations to keep in mind when planning your special fire space. However, the stunning design pictured below was clear-
ly not restricted by budgetary constraints!
With a beautifully book-marked,  i.e., matching end pieces,  onyx fireplace surround,  this spectacular one-of-a-kind outdoor hearth was designed by Landry Design Group, based in Los Angeles, California, USA.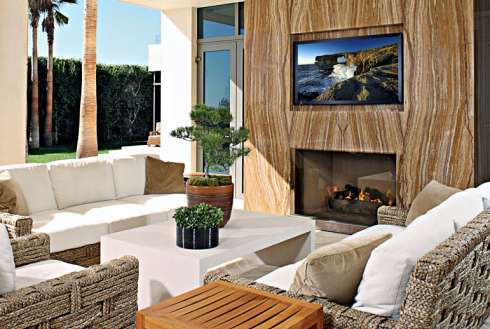 Regardless  of  whether you're seeking an exclusive design such as that pictured above, or simply wish to gather more fireplace surround design ideas that reflect the style of your home,  as well as your own personal tastes and preferences, you are bound to discover something here that
will, at the very least, stimulate your creative juices.   After visiting the
web pages that follow, your biggest  decision  may  very  likely  revolve
around  which  of the numerous fireplace designs and fireplace surround design ideas to choose!


The Hobbit Fireplace -
Settle IN with Tolkien!


Fireplace Mantel Designs -
Country Rock To Heavy Metal!




Put Some Spark -- Or Sparkle --
In Your Fireplace Design!





Wood Fireplaces Pictures -
Lofty Ideas!





TV Alcoves By Fireplace Sides -
Just Fittin' In!





TV Fireplace Surrounds
From Top Designers!





TV Over Fireplace Ideas -
An Overview Of Options!





Flat Screen TV Over Fireplace Designs -
To Hide Or Not To Hide?





Looking For Standout Fireplace Ideas?





The Stone Surround Fireplace With Built Ins -
Have It YOUR Way!





Christmas Decorating Fireplace
Ideas...NATURALLY!





Standout Christmas Fireplaces -
Colonial To Classical!





Inglenook Fireplace Designs -
Cozy Nooks & Crannies!





Corner Fireplace Design Ideas -
Rock Solid!





Stone Fireplace Hearth Ideas -
Outstanding Custom Designs!





Outdoor Stone Fireplace Design Ideas & Tips


MORE Fireplace Surround Design Ideas
Back to Standout Fireplace Designs Home Page
Didn't find what you were looking for?
Use this search feature to find it.
LIKE THIS PAGE?