Outdoor Fireplace Kits...
Modular Masonry Marvels!
Outdoor fireplace kits employing modular masonry components offer tremendous value and aesthetic appeal.  Unlike the traditional site-built masonry fireplace, which requires a skilled mason and a period of several days to a few weeks to complete,  a modular masonry unit can be as- sembled and finished with stone (or other desired material) in little more than a weekend!

This translates into a significant reduction in labor costs.     For do-it-yourselfers, the savings are even greater.  Equally important, you get the look and feel of a traditional masonry fireplace without sacrificing quality or longterm durability.  Customization options allow you to personalize your outdoor hearth.

Outdoor fireplace kits feature pre-engineered masonry components de- livered to the homeowner's site for final assembly.  They come in a variety of sizes and are available in both gas and wood burning models.
The fireplace kit that follows is from Stone Age Manufacturing,  based in Collinsville, Oklahoma.  Finished with natural thin stone veneer, the design features a raised circular hearth, arched firebox opening and metal chimney cap.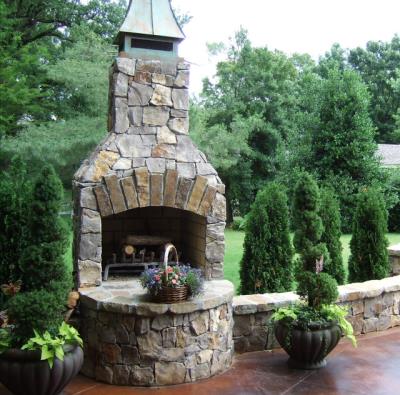 36" Standard Fireplace Kit from Stone Age Mfg.

More Outdoor Fireplace Kits . . .
from Stone Age Manufacturing
The following 36 in. kit from Stone Age also features an arched firebox opening.    However,  the finished design is more rectilinear in form -- defined, in part, by a raised rectangular hearth that extends around all
4 sides.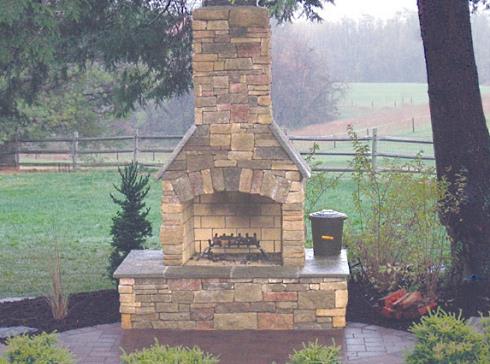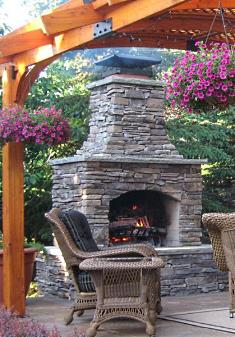 MORE COMING SOON!