Standout Rock Fireplace Pictures
Blocks of Rocks!
The striking rock fireplace pictures featured here depict rugged stone hearths crafted from large blocks of cut stones . . . as well as rounded river stones and fieldstones in their natural shapes, such as shown in the design below.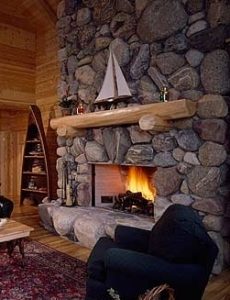 The wide range of stone types, as
well as the virtually limitless meth-
ods  of  cutting,  assembling,  and finishing the stone, ensure that no
two   fireplaces  will  ever  be  the
same.
The rock fireplace pictures that follow feature two entirely different  looks. The relatively massive design pictured below, left -- from RJB Development --  is  crafted  from large blocks of cut stones that are roughly square and roughly rectangular in shape. Conversely, the design on the right is crafted from round river rocks and sports an arched firebox opening.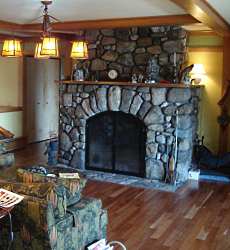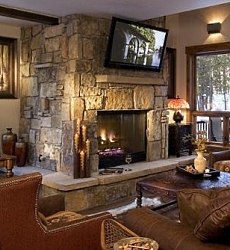 The following two designs also have contrasting looks. The fireplace on the left,  below,  is  from Expedition Log Homes and is crafted from rectangular stones that were precisely cut and carefully stacked to fit nicely together. Conversely,  the  design  on  the right is made with stones of varying sizes and shapes that have been fitted together like the pieces of a jigsaw  puz-
zle.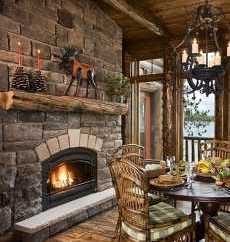 The  next  two designs are from the talented individuals at Pearson Design Group. Rugged and rustic, yet cozy and quaint, they are crafted from large blocks of cut stone in roughly square  and  rectangular  shapes  of  widely varying sizes.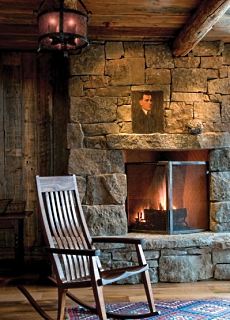 See More Exciting Designs from Pearson Design Group
Following is another fireplace design that is made from cut stones in rough-
ly square and rectangular shapes.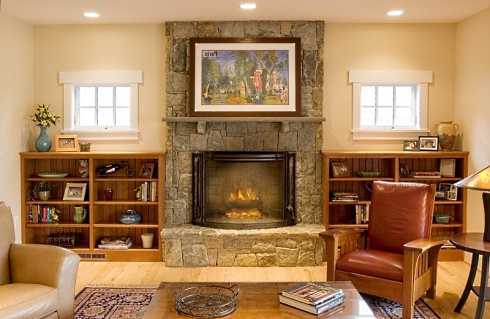 More Rock Fireplace Pictures
The beautifully crafted stone fireplace designs pictured below  are  made from basalt, which gives them a lovely blue-grey color. Though a type of volcanic rock that is commonly found throughout the world, it is not com-
monly used for fireplace surrounds.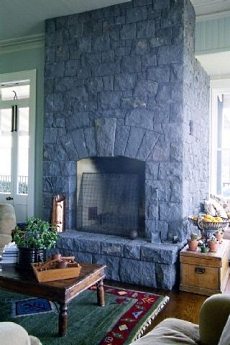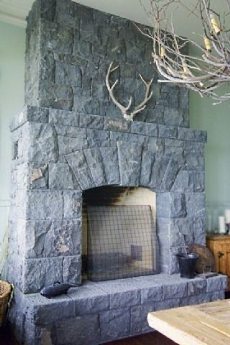 The rock fireplace picture that follows depicts a large,  but  cozy,  stone hearth in a mountain home by Custom Mountain Architects.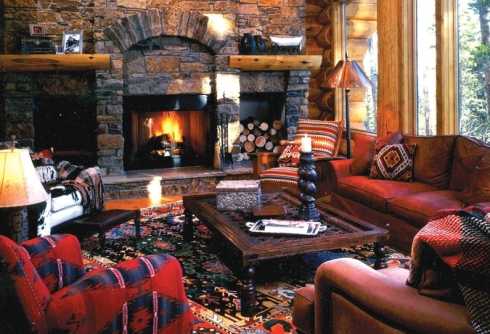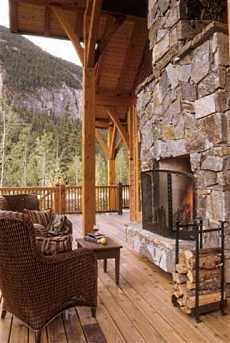 And  finally,  the striking fireplace de-
signs pictured at right and below look right at home in their rugged and rus-
tic outdoor settings!
Please check back often or subscribe to our RSS feed,  as  we  fre- quently add new pictures of rock fireplaces to our site.
YOU MAY ALSO LIKE:





More Rock Fireplaces -
Rock Out with Country Rock Fireplaces!





Rocky Mountain Rock Fireplaces -
Lodges, Logs & Luxury!





Stone Fireplace Pictures -
EXTRA Extraordinary Designs!
Back to Stone Fireplace Designs Guide
Back to Standout Fireplace Designs Home Page
Didn't find what you were looking for?
Use this search feature to find it.
LIKE THIS PAGE?