Photos of Fireplaces...
Heartwarming Hearths!
The inspiring photos of fireplaces featured here leave no doubt about their status as focal points of a room.  Warm and inviting, they set the tone for a relaxed atmosphere and provide a perfect place to unwind . . . and leave all your cares behind!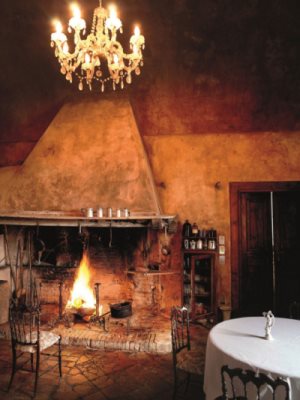 Crafted with stucco,  stone, wood, or tile, each fireplace design has a distinctive look and feel.  Richly contrasting colors and textures set them apart from one another. 

Whether rustic,  casual  or classic in style, each image conveys  a  sense of time- lessness.  A sense of place.  A sense of solace and inner peace.



Right:  A heartwarming hearth  at  Castello  di Semivicoli in Chieti, Italy

Rugged and Rustic

Despite its relatively recent construction just over a decade ago, the stacked sandstone fireplace surround pictured below has a warm vintage look.  Featured in Log Home Living, it anchors the living room of a charm- ing log cabin in northern Georgia.

The photos of fireplaces that follow also capture the patina of the past.  The cozy corner fireplace below, left, is the focal point of a reconstructed Montana guest cabin by Miller Architects. 

Below, right, is a stone fireplace by Peace Design.  Crafted from roughly cut rectangular blocks employing dry stone (without mortar) construction techniques, it features an arched firebox opening and a mantel shelf sup- ported by stone corbels, or brackets.

See More Stone Corner Fireplaces

See More Dry Stone Fireplace Designs


Despite its monumental scale, the fireplace design pictured below exudes incredible warmth and ambiance.  Massive stone slabs frame a "walk-in" firebox,  while enormous peeled logs form an alcove to frame the entire composition.  Located in the Catskill Mountain region of upstate New York, this stunning log home was designed by the architectural firm of Holmes, King, Kallquist & Associates.

See More of this Stunning Retreat at our
Sister Site, Standout-Cabin-Designs.com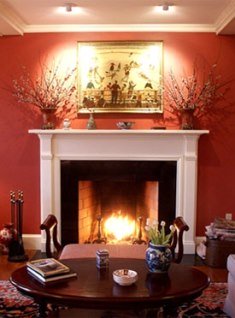 More Photos of Fireplaces . . .
The Warmth of Wood

Wood mantels  --  both  simple  and sophisticated -- provide a welcoming focal point,  as  shown  in  the  two photos of fireplaces  featured  here.  Pictured  at  right  is  a  design for a farmhouse hearth by Battle Associates Architects.  Understated but elegant, the white painted mantel is set against a  striking  backdrop  of  richly-hued walls.  A black stone surround frames the firebox opening.

The beautiful fireplace surround pictured below is the result of a col- laborative effort by man and Mother Nature.  Crafted by Woodmeister Master Builders, this jewel of woodworking art features finely detailed mouldings and raised panels overlaid with bookmatched flame mahogany veneer.  Its richly stained finish casts a warm mellow glow under soft lighting.  Polished marble slabs with intricate veining frame the dancing flames.

See more Wood Fireplace Mantels

Tile with Style

Following are two photos of fireplaces with colorful tile surrounds.  The Craftsman design pictured directly below boasts a striking tile surround by Motawi Tileworks.  Inspired by the work of Dard Hunter (1883-1966), an early 20th century proponent of handmade arts and crafts, it features 4x4 inch and 4x8 inch art tiles bearing rose motifs, as well as contrasting ac- cent tiles.  4x4 inch field tiles in multiple shades of green provide a lovely background.

If you're seeking a bolder look, the tiled surround that follows is certainly an attention grabber.  From Daniele Perna Designs, its contrasting colors and textures come together to create a unified  --  and unique  --  fire space!

See More Fireplace Tile Designs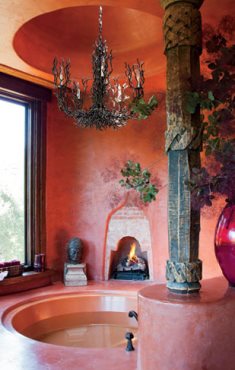 Cozy Corners

A sense of mystery pervades the corner  hearth  pictured  at  right.  Though inspired by adobe style kiva fireplaces  of the American South- west, elements of Persian and Mo- roccan design lend an exotic touch.

The fireplace surround provides a soothing focal point for the master bath  of  a home designed by archi-  tect Stephen Samuelson for celebrity power couple, Will and Jada Pinkett Smith.  Located in Malibu, California,   it is one of several superbly crafted fireplaces in the home.


More Celebrity Homes Fireplaces

The image that follows is from Martyn Lawrence Bullard Design, based in Los Angeles, California.      A cozy kiva fireplace rises to a rustic wood ceiling.  Area rugs and slipcovers add a splash of color.

See More Kiva Fireplace Designs

Carved in Stone

Classic elegance and detailing infuse a carved black marble mantel in the photos of fireplaces below.  Herringbone-patterned firebricks glow from the light of the fire in this room by Tucker & Marks. The formality of the stone mantel design is balanced with wood ceiling beams and comfortable fur- nishings to create a warm and inviting fire space.

Tuscany and the South of France come together in a European-inspired bedroom from Tucker & Marks.  It features a carved limestone mantel with a soaring overmantel.

See More Carved Stone Fireplace Surrounds

Please check back often or subscribe to our RSS feed, as we fre-
quently add new pictures of fireplaces to our site.

YOU MAY ALSO LIKE:


Stone Fireplaces Pictures -
REAL STANDOUTS!



Wood Fireplace Mantel Surrounds -
Rustic to Country Casual!



Stone Fireplace Pictures -
EXTRA Extraordinary Designs!

Back to Fireplace Design Overview
Back to Standout Fireplace Designs Home Page


Didn't find what you were looking for? 
Use this search feature to find it.
LIKE THIS PAGE?