The Art Nouveau Tile Fireplace
Sinuous & Sensual!
Art Nouveau tile fireplace designs are very much in vogue again. Their sinuous, richly embossed patterns and vivid colors make for a very gratifying and visually intoxicating feast!
Art Nouveau  is  an international style
of  art,  architecture  and design that peaked  in popularity at the beginning of the 20th century (1880-1914).   It
is  characterized  by   highly-stylized, flowing,  curvilinear  designs  often in-
corporating   floral  and  other   plant-inspired motifs . . . . .

exemplified in the two examples direct-
ly  below.    Abandoning  the  eclectic revival styles of the Victorian era, Art Nouveau  was  an  avant-garde move-
ment  that  greatly  influenced artists and designers of the time.
One  such  artist  and  designer   was Alphonse Mucha (1860-1939). Though born  in   Morovia,   the  present  day Czech Republic, he gained fame in 18-
90's Paris as an illustrator and artist in the Art Nouveau style.   His distinctive designs often featured beautiful young women in flowing robes or gowns, fre-
quently  surrounded  by  lush   flowers which  sometimes  formed  haloes  be-
hind their heads.   Many of his remark-
able  illustrations  have  been adapted
to  make  striking   Art  Nouveau  tiles, such  as  the coordinated set pictured at right.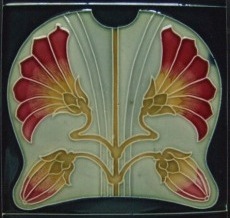 The  following  two  tile designs are also adaptations of Mucha's distinctive illustration style.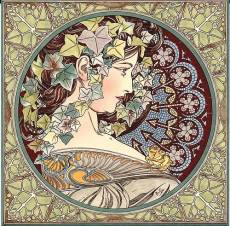 Another  leading  figure  in  the Art Nouveau Movement,  particularly in the United Kingdom,  was  Charles Rennie Mackintosh (1868-1928),  a Scottish architect  and designer.    Mackintosh's style was also very distinctive and consisted  of  strong right angles and contrasting floral-inspired decorative motifs with subtle curves, as exemplified in the four examples below.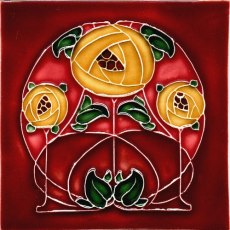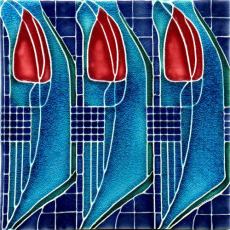 More Art Nouveau Tile Fireplaces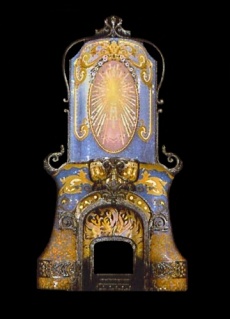 Unlike many other styles of design, Art Nouveau  was  extremely  broad based and  encompassed  an  entire lifestyle.
In  addition  to  tile  fireplace  designs,
the Art Nouveau Movement spawned a vast  array  of  exciting  new  looks for buildings -- both  inside  and out -- as well as furniture,  lighting fixtures,  sil-
verware,  textiles,  wallpaper,  jewelry, posters, prints and book illustrations.
Unique  and highly creative designs for fireplace mantels and accessories were also introduced. The stunning fireplace surround  and overmantel at right,  in-
tricately decorated with a profusion of multi-colored  pieces  of  marble,  is  a beautiful  replica  of  an  original  19th century   Art  Nouveau  chimneypiece. Accented   with   graceful   curves  of hand-forged  wrought  iron to delicately "frame" the overall composition,  it epitomizes  the  design philosophy and style of the Art Nouveau Movement.
Dynamic, undulating, and flowing, highly stylized organic forms characterize much  of  Art Nouveau design.    Many of the designs seem to spring to life and  grow into plant-derived forms,  as shown in the following beautiful ex-
amples -- all of which are ideal for tile fireplace applications.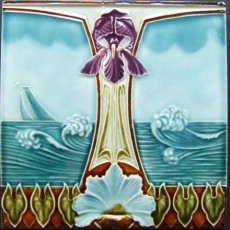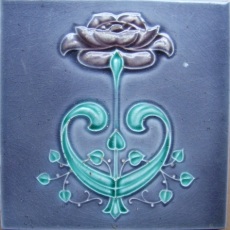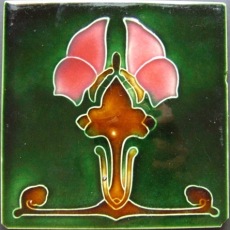 Please click here to view and learn about moulded vs. tube-lined Art Nou-
veau tiles.
Please check back often or subscribe to our RSS feed,  as we fre- quently add new images of Art Nouveau fireplace tiles to our site.
YOU MAY ALSO LIKE:





More Art Nouveau Tile Fireplace Designs -
Moulded to a "T"




The Art Nouveau Fireplace -
Artistry In Wood!




Standout Fireplace Tile -
Arts & Crafts Style!





MORE Fireplace Tiles
In Arts & Crafts Styles!





The Spanish Style Fireplace -
A Rich & Colorful Heritage!
Back to Fireplace Tile Designs
Back to Standout Fireplace Designs Home Page
Didn't find what you were looking for?
Use this search feature to find it.
LIKE THIS PAGE?