Holiday Fireplace Photos...
A Gilded Age Christmas!
The holiday fireplace photos featured here offer a look at the splendor of America's Gilded Age.  Epitomizing the elegance of that era is Biltmore House, the largest privately-owned residence in the United States.  Constructed in 1889-95 by an heir to the vast Vanderbilt family fortune, the 250 room mansion is home to 65 fireplaces!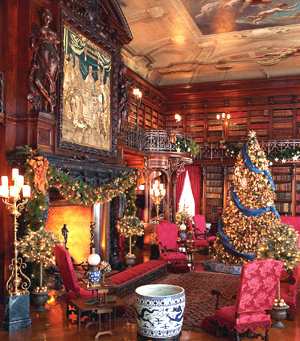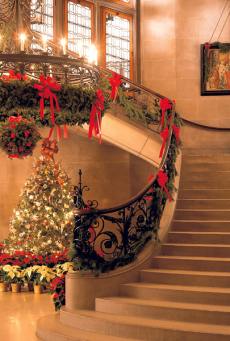 On Christmas Eve in 1895, George Washington Vanderbilt (1862-1914) formally opened Biltmore House to
family and friends for the first time. Perched high in the mountains of Asheville, North Carolina, this well-
preserved national treasure contin-
ues to welcome guests more than
a century later. And you don't
need to be a Vanderbilt to visit or
view this impressive home today!
Top: Library at Biltmore House
Right: The grand staircase at
Biltmore House
The monumentally scaled Châteauesque mansion was designed by prom- inent New York architect Richard Morris Hunt (1827-1895).  Landscape architect Frederick Law Olmsted (1822-1903), co-creator of New York's Central Park, designed the sprawling gardens and grounds of Biltmore Estate.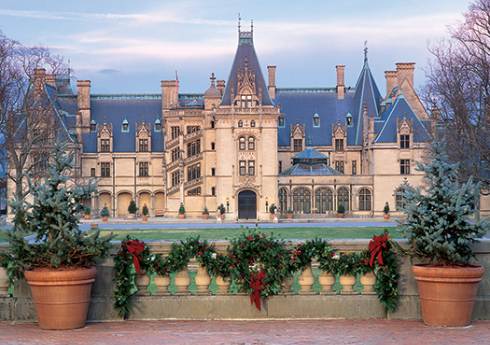 Boughs and Bows

Still privately owned by descendants of George Washington Vanderbilt, Biltmore House is open to the public. The Christmas tradition begun by Mr. Vanderbilt in 1895 is celebrated each holiday season with dazzling displays throughout the home. Flanked by spectacular Christmas trees, Biltmore's fireplace mantels are draped with garlands of greenery, strings of tiny white lights, clusters of colorful ornaments, and rows of red bows.
A Banquet fit for a King

Triple stone fireplaces and a towering overmantel anchor one end of the larg-
er than life Banquet Hall, shown in the holiday fireplace photos at left and be-
low. At 72 feet long and 42 feet wide, the room soars to a height of more
than 70 feet.
Note the elaborately carved stone frieze above the fireplace openings (in close-up image below). Fire brick ar-
ranged in an elegant herringbone pat-
tern lines each of the three massive fireboxes.
A Library that Speaks Volumes

The magnificent two-level library is arguably the warmest and most in-
viting room at Biltmore House (see holiday fireplace photos at right and below). Richly finished walnut panel-
ing and bookcases surround a finely detailed black marble mantel with a majestic, handcarved wood over-
mantel.
See More of this Legendary Library!

Breakfast . . . to Billiards

The breakfast room (below) at Biltmore House provides an intimate setting for dining.  A classically-inspired entablature resting on fluted columns frames a blue and white carved fireplace mantel.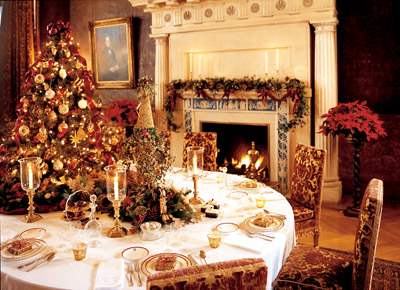 The following holiday fireplace photo features Biltmore's billiard room.  Warm wood paneling lines the walls from floor to ceiling.  A stone mantel surrounds the firebox opening.

Merry Marble Mantel . . . to Hooded Holiday Hearth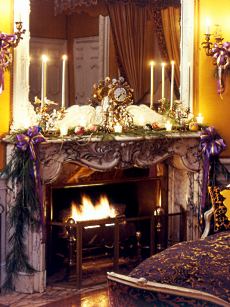 Holiday hues of purple, green and gold adorn a delicate marble mantel (left) in Mrs. Vanderbilt's bedroom. A tall over-
mantel mirror reflects the soft glow of candlelight.
The aptly named tapestry gallery, pic-
tured below, is 90 feet in length and houses a collection of 16th century Flemish tapestries. A pair of torcheres flanks one of the gallery's hooded stone fireplaces. Note how the imagery and coloration of the tapestries is echoed in the overmantel or "hood."
Please click here for information about visiting
Biltmore House during the Christmas holiday season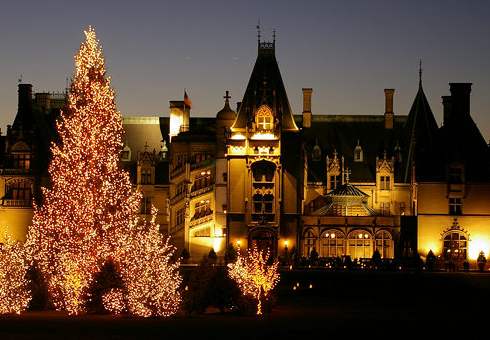 Please check back often or subscribe to our  RSS feed,  as  we  fre- quently add new photos of extraordinary fireplace designs to our site.

YOU MAY ALSO LIKE:

MORE Christmas Fireplace Pictures -
Spruce Up Your Stone Surround!




Gilded Age Fireplace Designs -
Monumental, Majestic...and Rustic?




The Stone Fireplace Surround -
A Timeless Classic!



Antique Fireplace Mantels -
Gilded Age Glory!




Fireplaces Mantles & Mansions -
A Return To Classic Grandeur!




Back to Standout Fireplace Designs Home Page


Didn't find what you were looking for?
Use this search feature to find it.
LIKE THIS PAGE?