Wood Fireplace Mantel Surrounds
Rustic to Country Casual!
The wood fireplace mantel surrounds featured here range from refreshingly rustic designs to cozy and comfy country casual compositions.     From roughly weathered wooden planks and timbers to carefully crafted tongue and groove  paneled  surrounds,  each of the examples pictured here is especially designed to make you feel at ease. So kick back and enjoy!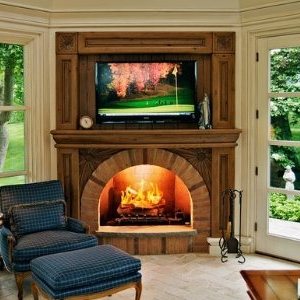 Surround (above) by Dan Waibel,
Designer/Builder, Peoria, IL
The unusual fireplace mantel surrounds that follow, including the form, configuration  or  arrangement  of the wood used to create each surround, provide  a  breath  of fresh air -- and a bit of whimsy -- to rustic fireplace design.     Ironically,  the hooded design pictured below,  left,  is  typically crafted from smoothly finished stone or stucco and used in formal settings. The weathered wood planks and rugged timbers employed in this design ef-
fectively create a rustic and somewhat whimsical counterpoint to what we normally associate with this "style."
The unique surround pictured below,  right,  derives its inspiration from the Adirondack Style,  popular during the latter part of the 19th and early part of the 20th centuries.      Except for the row of bricks outlining the firebox opening, this floor-to-ceiling design employs a combination of smoothly fin-
ished  boards  and  organic,  naturally  formed  tree  trunks,  branches and twigs, from which the bark has been peeled.    Aptly enough,  this fireplace mantel surround is in the  Lake  Placid  Lodge,  located  in  the  Adirondack Mountain region of Upstate New York.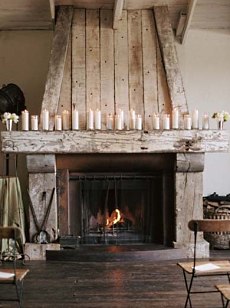 See More Adirondack Style Fireplace Designs
Heading  west,  the  "upscale"  rustic fireplace surround design that follows features large raised panels with a weathered finish above the mantel shelf and on either side of the firebox opening.   Recessed bookshelves flank the fireplace surround in this design by Locati Architects -- one of the  premier architectural design firms in the western United States  --  based  in Boze-
man, Montana.
See a Sampling of Extraordinary
Fireplace Designs by Locati Architects
With its massive timbers and roaring fire,  the French farmhouse fireplace that follows simply oozes period European charm and ambiance! Originally part  of  an old farmstead that belonged to the current owner's grandpar-
ents,  it  is now the site of Les Lauzes,  a chalet hotel near Val D'isere in Southeastern France.
Heading back across the pond to the east coast of the U.S. brings us to a renovated carriage house in Greenwich Village, New York.    Remodeled  by the principals of Fairfax & Sammons Architects for their own use,  the  kit-
chen fireplace features a row of tiles around the firebox opening,  which is then framed by a painted wood mantel.   Above the mantel shelf, a pair of elegant arched cut-outs are divided by a single Tuscan column  and  inset with mirrors.  A wood "keystone" crowns each arch, echoing the prominent "keystone" projecting from the center of the mantel shelf below.
The  Georgian Arts and Crafts living room pictured below is another design from New York-based Fairfax & Sammons Architects.  It features an ingle-
nook fireplace with built-in bookshelves. Set against a backdrop of tongue and groove paneling to match the panels in the coffered  ceiling,  a  wood fireplace mantel frames a smooth stone surround with an elegant profile.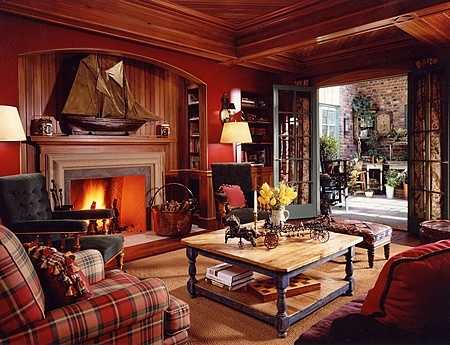 See More Inglenook Fireplace Designs

More Wood Fireplace Mantel Surrounds
The   fireplace mantel surrounds   that follow  are  included  in  two  new mid-
western   vernacular   farmhouse   de-
signs  by  Rehkamp  Larson Architects, based in Minneapolis, Minnesota.   The cozy  traditional design pictured below features  a  firebox  surround of stone with   a   large  painted  wood  mantel shelf.     Accenting the wall above the mantel  is a framed tongue and groove panel that echos the ceiling treatment.
The fireplace design pictured  at  right derives its inspiration, in part, from the Arts and Crafts Movement. It features a tiled firebox surround  and  a  simple grid  pattern  of  painted wood compo-
nents both above and below the wood mantel shelf.
See More Arts and Crafts Fireplace Designs

A  uniquely creative approach to Arts and Crafts fireplace design is pictured at right.     Finely crafted by Jaeger & Ernst Cabinetmakers,   based  in  Bar-
boursville, Virginia, the impressive cab-
inetry and workmanship all but conceal the fact that the original wood burning fireplace  was replaced by a more effi-
cient modern metal firebox with  a  gas flame.    Doors  with  recessed  panels flank  the  firebox  opening  to conceal built-in storage areas.     Built-in book-
shelves above the mantel shelf provide additional  storage  or display space in this cozy fireplace surround.
See More Fireplace Surrounds with Built-Ins

The  relatively simple country casual fireplace mantel surround that follows comes  from Harrison Design Associates -- better known for their Classical-
ly-inspired, exquisitely detailed fireplace designs. It features a backdrop of tongue  and  groove  paneling  with a smooth stone firebox surround and a simple painted mantel shelf that rests on wooden brackets, or corbels.  Re-
cessed into the wall above the mantel shelf is a large flat screen TV.
See More Flat Screen TV Over Fireplace Designs
Another example of the work of Harrison Design Associates,  the three sea-
son porch pictured below features a floor-to- ceiling fireplace surround clad with tongue and groove boards to match the wall and  ceiling  cladding  in the room.     Framing the firebox opening are sections of smoothly finished stone which, in turn, are framed by a simple wood moulding that is stained and  finished  to match the window trim and crown moulding used through-
out the room.
Please  check back often or subscribe to our  RSS feed,  as  we  fre- quently add new images of fireplace mantel surrounds to our site.
YOU MAY ALSO LIKE:




Cottage Fireplaces -
Simply Charming!





Wood Fireplace Mantel Surrounds -
MORE Country Casual Mantels!




The Wood Fireplace Surround -
Understated to Magnificent!





The Craftsman Fireplace -
A Standout Fire Space!




Arts and Crafts Fireplaces -
Finely Crafted Fire Spaces!




Contemporary Craftsman Fireplace Hearths -
New Twist on an Old Theme!
Back to Wood Fireplace Mantels
Back to Standout Fireplace Designs Home Page
Didn't find what you were looking for?
Use this search feature to find it.
LIKE THIS PAGE?