Extraordinary Stone
Fireplace Hearth Designs!
The array of stone fireplace hearth designs is virtually unlimited. Despite its status as man's first building material -- or, perhaps, because of it -- stone continues to enthrall us as it is manipulated by human hands and arranged in innumerable ways to create fresh and exciting new designs for stone fireplaces.
Its vast range of sizes, shapes, colors, textures and finishes can be com-
bined in endless ways to obtain any look desired. Highly versatile, it can be adapted to nearly every architectural style!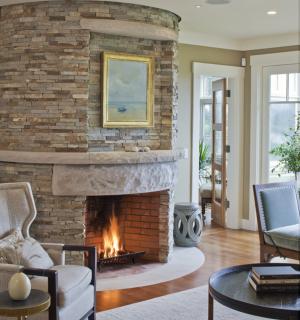 Design above by Hutker Architects
Stone can be used to create an extremely rugged and rustic look . . . or one that is refined and regal.   It is equally at home in an Adirondack Great Camp with rugged hand-hewn timbers . . . . . . .
More Adirondack Style Fireplaces


or  a  contemporary  style  home  with smoothly finished wood and metal trusses. By varying the size, shape, color and/or texture of the stones, as well as the way in which they are assembled, a variety of distinctive looks can be achieved to complement virtually any setting.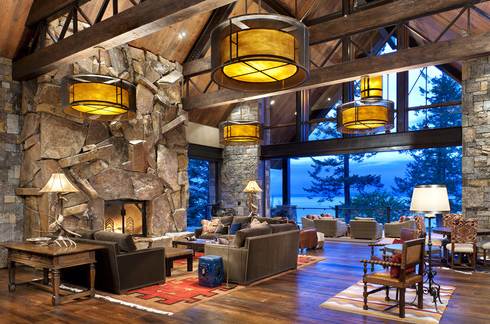 The  massive  fieldstone  and  river rock fireplace with log mantel shelf pic-
tured below,  left, works well in this converted warehouse space . . . while the  carefully cut and assembled ledge stones in the contemporary compo-
sition on the right provide a striking focal point for its sleek steel and glass encased room.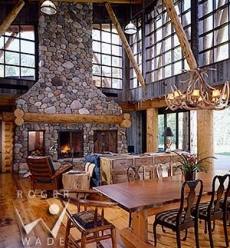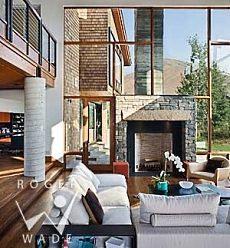 More Fieldstone Fireplaces

More River Stone Fireplaces
In the example below,  the  natural  form of the gnarled wood mantel com-
plements the rustic stone backdrop and successfully ties the room togeth-
er . . . . . . .
while the polished wood mantel and smooth stone surround in the following example works beautifully with the coffered ceiling, mullioned windows, and the room's decor.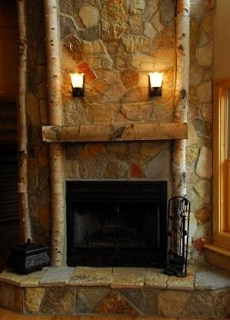 The  unusual  stone fireplace hearth design at right  and  below is clearly influenced by  the  Adirondack Style with its rustic white birch mantel, as
is  the impressive design pictured at  the bottom of this page.   While this fireplace surround  is  clad  with thin quartzite veneer for a lighter  effect, the commanding hearth at page bot-
tom   holds  true  to  its  Adirondack "roots" with  its  massing  of  granite fieldstone and river rock.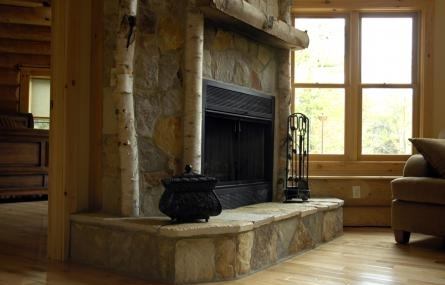 More Stone Fireplace Hearth Designs
The two rugged stone fireplace designs that follow are made of quartzite in a variety of different sizes and cuts ranging from ashlar (square or rectan-
gular facing) and wall stone to step slabs and boulders.  Note the inglenook in the example at left, below . . . . . as well as the built-in hot tub or wad-
ing pool in the example at right.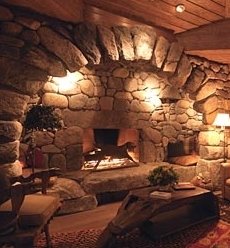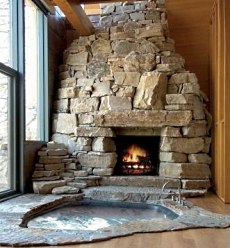 The designs pictured below are made of two different types of granite. The stones  for  each  fireplace  surround  are  cut in a roughly square, roughly rectangular configuration . . . . albeit with more precision in the example at right . . . imparting a bit less of a rustic look than in the example at left.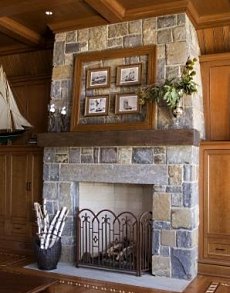 The following designs are,  once again,  crafted from two different types of granite.   While the example below,  left,  combines a variety of stone sizes and cuts to form a random mosaic pattern, the ashlar pattern in the exam-
ple at right is much more ordered and precise.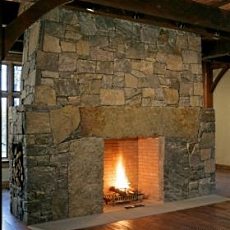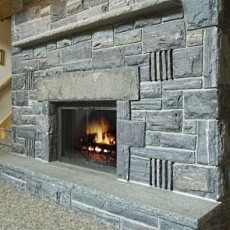 And  finally,  though very different from one another in style,  the massive stone fireplace hearth designs  pictured  below  are  made  from the same type of granite. Cut and assembled in a random mosaic pattern, the stone cladding soars skyward to give each hearth a commanding presence in the room!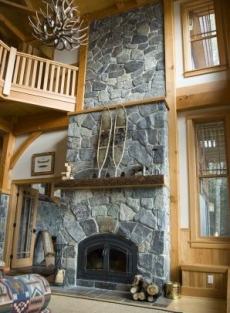 Regardless of the look you choose,  you  won't go wrong with a stone fire-
place hearth design.    Timeless and enduring, it will add real value to your home and be a source of enjoyment for years to come!
Please check back often or subscribe to our  RSS feed,  as we fre-
quently add new images of stone fireplace hearth designs to our site.
YOU MAY ALSO LIKE:





EXTRA Extraordinary Stone
Fireplace Hearth Designs!




Rustic Rock Fireplace Designs -
The Spirit of the Old West Lives On!




Stone Fireplace Hearth Ideas -
Outstanding Custom Designs!
Back to Stone Fireplace Design Categories
Back to Stone Fireplace Designs Overview
Back to Standout Fireplace Designs Home Page
Didn't find what you were looking for?
Use this search feature to find it.
LIKE THIS PAGE?