Natural Stone Fireplace Design...
Steeped In Tradition!
Natural stone fireplace design . . . . . . . the tradition continues. After hundreds of years, man's earliest building material continues to be split, stacked, cut, carved, tumbled, bush hammered, flamed, honed, brushed, polished, assembled and arranged into stunning fireplace mantels and surrounds!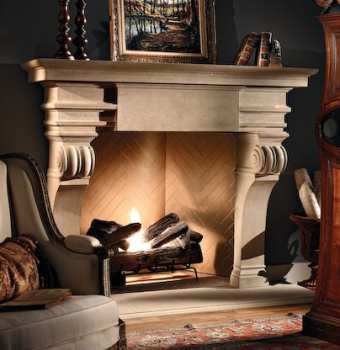 Limestone Mantel above by Francois & Co.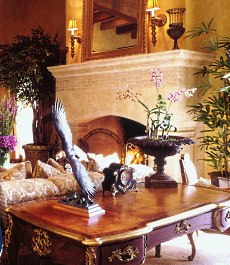 Keeping  that  tradition  alive and well are  the natural stone fireplace design purists  among us who are unwilling to accept  anything  else.    Despite rela-
tively  recent  and significant improve-
ments in both cast and  manufactured stone  products . . . . . many of which are   virtually   indistinguishable   from
their natural stone counterparts . . . . there  are  those  that  continue to in-
sist   upon   the   "real  deal"  when  it
comes to their stone hearth.
Fortunately,  there  is  no shortage of beautiful   natural stone   materials  or skilled   stone   artisans   available  to
meet  that demand. From a natural stone fireplace design  steeped  in tra-
dition to the most ultra-contemporary of designs,  there is a texture, color and finish to meet the most demanding and discerning tastes.
As with many natural stone types,  granite  can be manipulated by human hands to achieve a wide and varied range of different looks.   The hardest and  most durable of all the natural stone types utilized in fireplace design (only  diamonds,  rubies and sapphires are harder),  granite  is  unequaled when permanence, enduring color and texture, and complete freedom from deterioration and maintenance are prime requirements.
The following examples depict a variety of contrasting looks . . . . . . from extremely rugged and natural, with very little cutting or finishing  (top row at left) . . . . . . . through a gradual progression of more precisely cut and assembled stones . . . . . to a richly carved and highly polished mantel and hearth (second row at right).  In the bottom row, the unique fireplace sur-
round is sand-carved granite.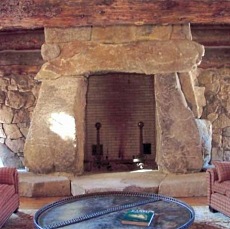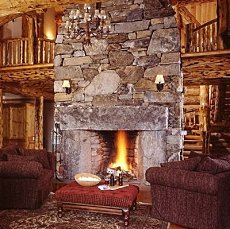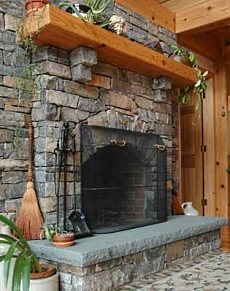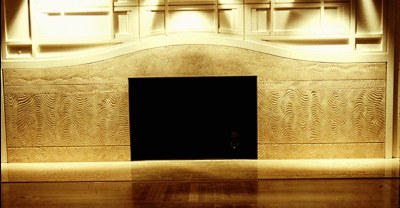 Please click here to view more granite fireplace surrounds.
More Natural Stone Fireplace Designs
The following set of traditional - albeit more formal - natural stone fireplace designs  are  carved  from  limestone,  a  popular material for fireplace sur-
rounds.    A very durable building material,  limestone has a uniform texture and grade,  weathers naturally over time,  and its color mellows and blends into  a  pleasing natural patina that actually improves with age.    A unique characteristic  of some types of limestone is the fossils and seashells often found embedded in the surface, adding an organic element.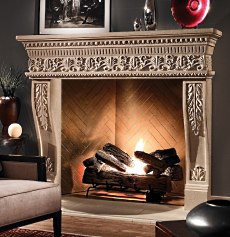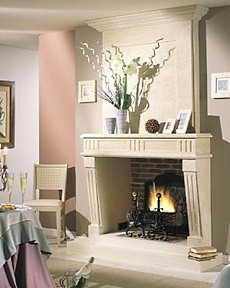 Travertine,  a porous sedimentary rock with numerous cavities,  has been employed for thousands of years as a building material.    The largest and most  notable building constructed primarily of travertine is the Colosseum in Rome . . . . . . . an age old testament to the long term durability of the material.    Pitted  holes and troughs in its surface characterize the stone. However, depending upon the look you are seeking, the holes and troughs can  be  filled with grout and the stone polished to a smooth,  shiny finish. Travertine is available in a variety of colors ranging from gray to coral-red. When pure and fine,  travertine is white, but often is brown to yellow due to  naturally  occurring impurities in the stone.    The striking mantels and overmantels pictured below are made of travertine.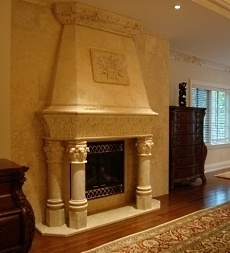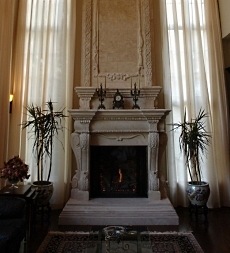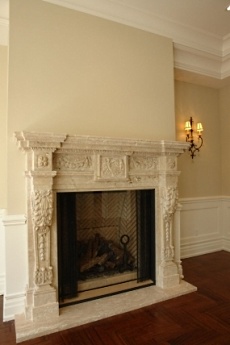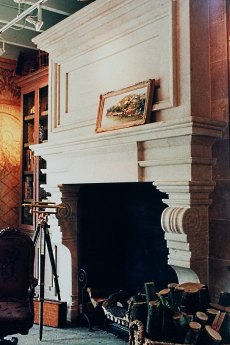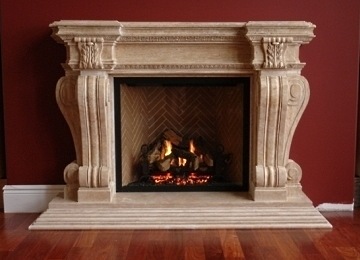 Another natural stone type used to make fireplace mantels is Cantera, a Spanish word meaning "quarry."  Cantera stone is strong and porous, yet light  in  weight,  and  is found  naturally  in a wide variety of colors and textures . . primarily in regions of southern Mexico.  It is very strong and durable,  and  yet is easily mined and carved,  as shown in the examples below.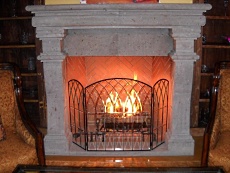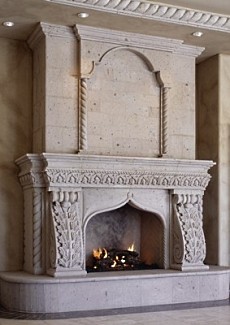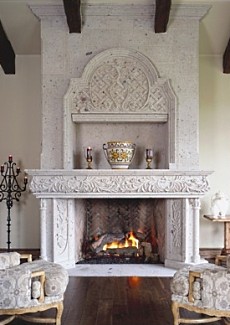 Marble, one of the most common types of natural stone for formal fireplace mantels, is a very hard and durable material.  From Greek statues to Roman baths,  it  has  been  used for centuries in nearly every conceivable interior and exterior application. Intricately veined, marble comes in a vast array of beautiful colors.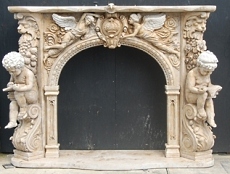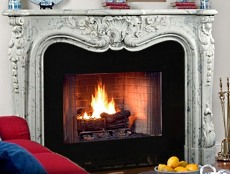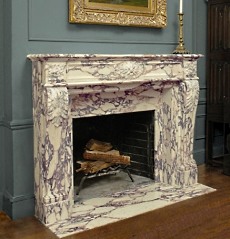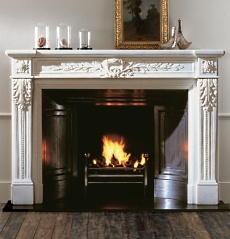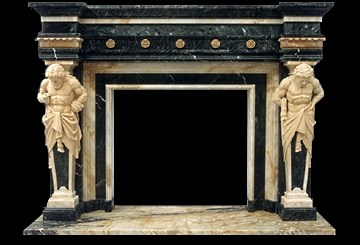 As seen in the numerous examples above, natural stone fireplace design encompasses a wide and varied range of stone types, sizes, shapes, col-
ors, textures, veining patterns and finishes.    Within each of those cate-
gories are still more variations due to differences . . . . ranging from very subtle to sharply contrasting . . . . in each and every stone or slab. As a result, no two natural stone fireplaces are ever exactly alike, giving you
a one of a kind hearth that is uniquely your own!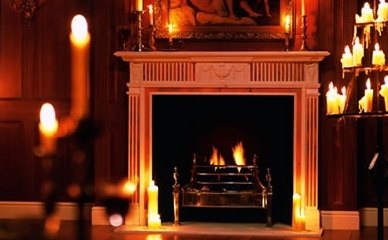 Please check back often or subscribe to our  RSS feed,  as  we  fre- quently add new images of natural stone fireplace designs to our site.
YOU MAY ALSO LIKE:





Regal Fireplace Mantel Designs -
Fit For A King...OR A Queen!








Contemporary Design Fireplace -
Hot New Styles!








Stone Or Rock Fireplace Designs -
Rustic & Casual Styles!








Standout Natural Stone Fireplace Design!
Back to Stone Fireplace Designs
Back to Stone Hearth Categories
Back to Standout Fireplace Designs Home Page
Didn't find what you were looking for?
Use this search feature to find it.
LIKE THIS PAGE?