Fireplace Masterworks by Lew French
Stone Artisan Extraordinaire!
The masterful fireplace creations featured here showcase the work of one of today's leading stone artisans,  Lew French.    His outstanding crafts-
manship and distinctively precise arrangements of natural stone -- similar to that of a jigsaw puzzle -- are raising the bar on stone hearth design!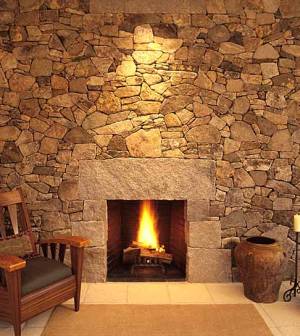 To call Lew French a perfectionist is an understatement. The work of this master stone artisan is nothing short of extraordinary!    Known to travel great distances over periods of several days, if necessary, to find just the right stone or combination of stones for whatever project he is working on, his creations are amazing examples of the stoneworker's art. He is -- in a very literal sense -- a true Rock Star!
Each and every stone, rock and pebble is carefully positioned to fit so precise-
ly that mortar is not needed to hold his outstanding compositions together.  In addition, depending upon the scope of the  project,  Lew  meticulously  incor-
porates  other  materials such as drift- wood  in  some  of  his unique designs.  The stiking example pictured  at  right was created -- appropriately enough -- for a beach cottage.

(All images of Lew's work featured on
this page were brilliantly captured by
photographer Alison Shaw.)
The following examples provide a good cross section of the depth and breadth of Lew's remarkable stonemasonry skills . . . as well as hint at the vast range of potential possibilities.  Clearly, his unbridled talent and tre-
mendous commitment to "perfecting" his craft continue to inspire us!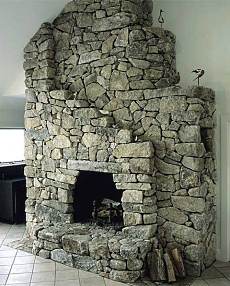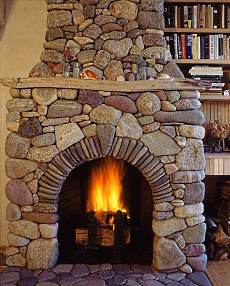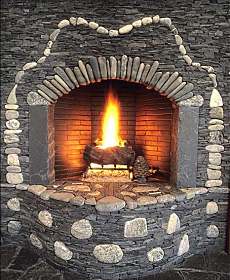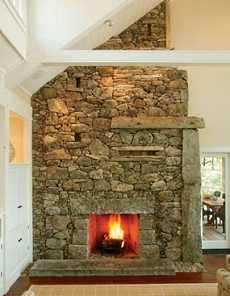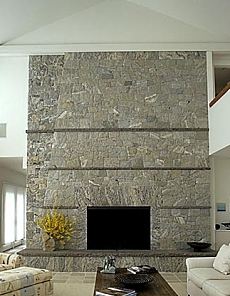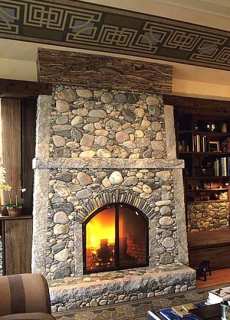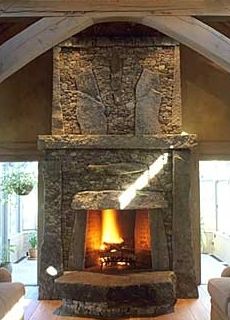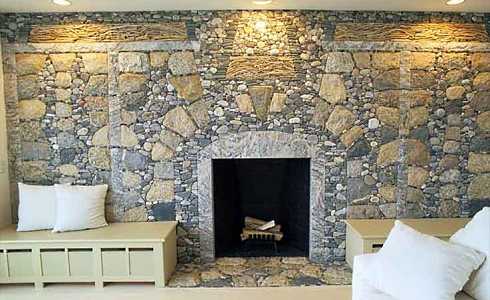 More Masterworks by Lew French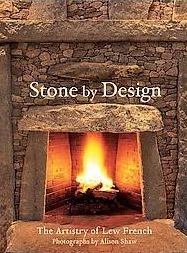 If you're interested in viewing more of Lew's amazing work, his bestselling book, Stone by Design:  The Artistry of Lew French   (pub-
lished by Gibbs Smith),  features  more than 125 incredible photographs of his artistry  in stone.    In addition to fireplaces,  the book includes  images  of  his  unique  stone cot-
tages,  water  features,  landscape designs
and sculpture.
Please check back often or subscribe to our RSS feed,  as  we  fre- quently add new images of stone hearth designs to our site.
YOU MAY ALSO LIKE:



Stone Hearth Ideas -
Rugged & Rustic...Yet Refined!




MORE Stone Hearth Ideas -
Outstanding Custom Designs!




Stone Hearth Pictures -
EXTRA Extraordinary Designs!
Back to Stone Hearth Designs Overview

Back to Standout Fireplace Designs Home Page
Didn't find what you were looking for?
Use this search feature to find it.
LIKE THIS PAGE?