Fireplace Screen Designs
to Mesh with Your Decor!
A fireplace screen is a fast, easy and cost effective way to both  enhance . . . and personalize . . . your fireplace.  Available in a vast array of materi-
als and designs to complement your decor,  you can dramatically transform your hearth starting with as little as $100!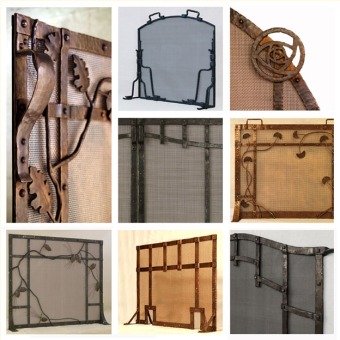 Arts & Crafts Fire Screens above by Archive Designs

From copper and brass . . .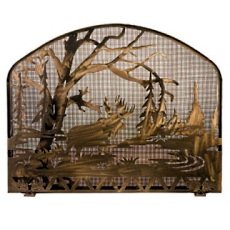 to pewter and glass.
Aluminum and steel . . .
can be quite a good deal!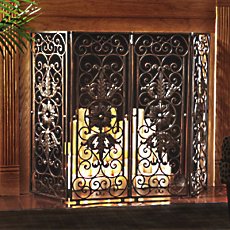 Hand forged wrought iron and hand painted wood panels . . .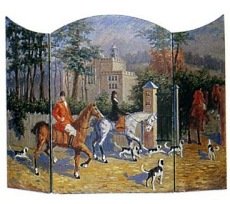 future family heirlooms, to be sure.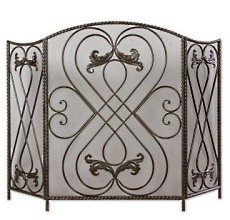 Or decorative stained and beveled glass . . .
may be just the cure!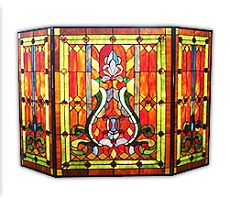 Functional as well as decorative, most fire screens provide a practical way to contain burning embers and prevent them from flying out of the  firebox and damaging your floor or carpet.   As a prominent decorative element for your hearth, they offer tremendous value and provide a lot of bang for the buck.    It is one of the fastest, easiest and least expensive ways to make your fireplace truly your own.   For just a few hundred dollars, you can get an artistically monogrammed design worked in metal . . .
or a beautifully hand painted rendering of a favorite subject or theme, cus-
tomized to your specifications.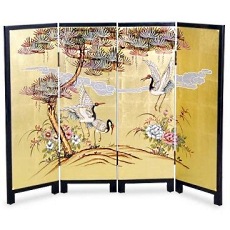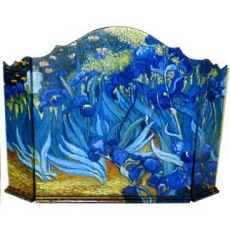 And best of all? Fire screen installation is quick and easy, and free of con-
struction debris.    And better still . . . they provide instant gratification!
Please check back often or subscribe to our  RSS feed,  as  we  fre- quently add new designs to our site.
YOU MAY ALSO LIKE:




Antique Fireplace Screens -
Elegant Ember Enclosures!





The Antique Fire Screen -
Truly One of A Kind!




Fireplace Design Ideas -
Find Your Perfect Match!
Back to Fireplace Design Ideas

Back to Standout Fireplace Designs Home Page
Didn't find what you were looking for?
Use this search feature to find it.
LIKE THIS PAGE?