Stone Outdoor Fireplaces...
A New Stone Age!
As with interior fireplace designs, stone outdoor fireplaces come in a multitude of sizes, shapes, colors, and architectural styles. They in-
corporate a vast array of stone types and finishes . . . . .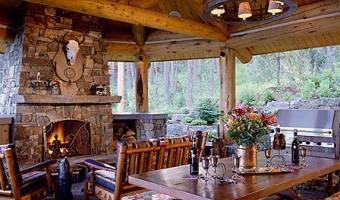 For indoor stone fireplaces, please click here.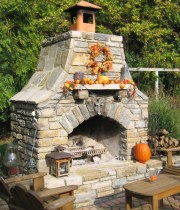 Ironically, by moving our fire outside, we
are going back to our roots and, in a way, connecting with our distant ancestors.
However, this time around, our outdoor fire spaces look much different. A new "Stone
Age" has arrived!
Never before, in the history of mankind, have we had so many options available to us. For example, no matter the size of your yard, you can have an exterior hearth that is appropriately scaled to your outside living area.
The vast range of stone hues and textures currently available makes it relatively easy to get your new outdoor fireplace to blend in nicely with its surroundings.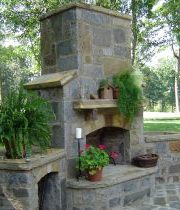 The wide variety of stone types and finishes makes it possible to match architectural styles so that your new fireplace ties in well with the style of your existing home . . . whether traditional or contemporary.
More Stone Outdoor Fireplaces
If you have a period revival home in one of the many styles popular in the 1920s - and currently enjoying a resurgence in popularity - a new open fire surround can provide a wonderful architectural enhancement to your prop-
erty.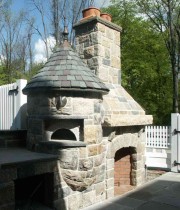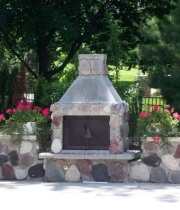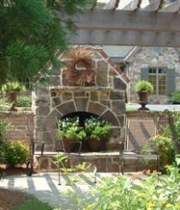 Perhaps you'd like to combine a water feature with your fire feature for added drama . . .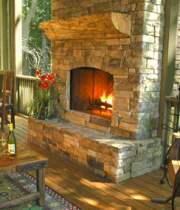 or tuck your new fireplace under a covered porch for added convenience.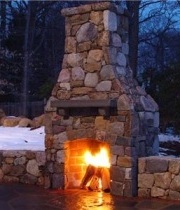 No matter which way you decide to go, an exterior hearth offers year round enjoyment while adding real value to your home.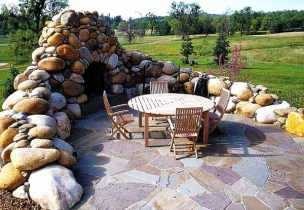 Design above by Eckerman Studios

Please check back often or subscribe to our RSS feed,  as we fre- quently add new stone outdoor fireplace designs to our site.
More Stone Outdoor Fireplaces

Ideal Spaces for Outdoor Stone Fireplaces

Stone Fire Pit Designs

Overview of Outdoor Rooms
Back to Outdoor Fireplace Designs
Back to Standout Fireplace Designs Home Page
Didn't find what you were looking for?
Use this search feature to find it.
LIKE THIS PAGE?