Stone Fireplace Pictures...
EXTRA Extraordinary Designs!
The stunning stone fireplace pictures featured here showcase a sampling of the best rustic fireplace designs we've seen to date. Beautifully crafted from natural stone, they include outstanding works by some of today's leading architects, designers, builders and stone artisans!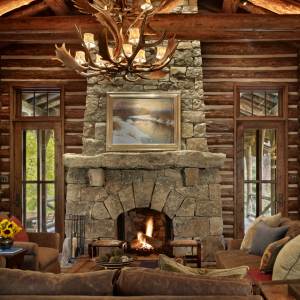 Design above by Miller Architects;
Stone work by Beartooth Masonry
Among them are very creative,  exqui-
sitely  detailed  designs  such  as  the
one pictured at right.  Utilizing a com-
bination  of  materials   with   varying
textures,  colors and finishes, this de-
lightful composition of steel and stone
makes a powerful design statement!

The monumental example pictured be-
low -- though very different in style from that shown at right -- makes an equally  powerful  and  impressive design statement.  Massive in size and scale, with a large stone slab for a mantel shelf, it has a commanding presence in the room!

Top Right: Hearthstone Homes
Above: TAB Associates
The rugged designs pictured below are also monumental in size and scope. The stones used in the example below, left, vary in size and shape to lend a great deal of visual and architectural interest.  The placement of large stones directly above the firebox opening, as well as the random positioning of a few equally large stones extending upward from the mantel shelf, enhance the monumentality of the overall design. Pictured directly beneath it is a partial view of the warm and inviting Great Room that is anchored by this impressive stone hearth!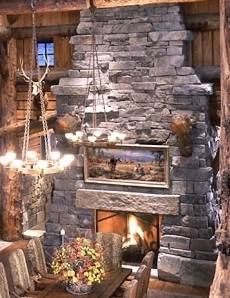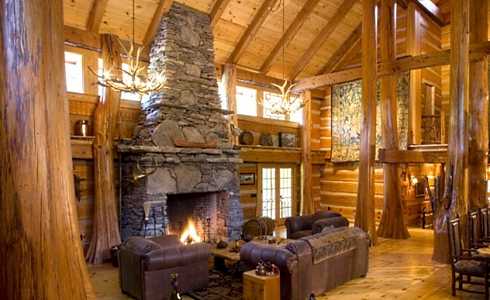 Above Right (top row): Ewing Architects
Above Left (top row) & Bottom: Hearthstone Homes
More Extraordinary Stone Fireplace Pictures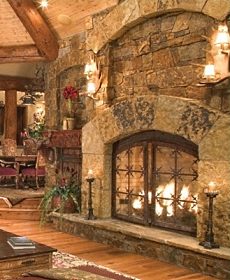 The stone fireplace pictures at right and below show a design that departs dramatically from the rugged examples above.  Less rustic in nature, the design is layered to form a recess above the arched firebox.  The stones used for the outermost facing -- i.e., around the firebox opening -- are precisely cut and assembled to form a symmetrical and relatively smooth-textured fireplace surround.  Echoing the curve of the stone that frames the large firebox opening is another stone arch above it.
Top Right and Bottom Center: Custom Mountain Architects
Similarly,  the arched firebox opening pictured below, left  --  and in the image directly beneath it -- is framed by a surround of precisely cut and assembled,  smooth-faced stones.     Flanking the fireplace are identical surrounds  that  are set back slightly  -- each of which frames a pair of wooden doors that conceals a log storage area.
The stone hearth pictured below, right, is crafted from large, rectangularly shaped cut stones.  Neatly stacked on top of one another, the stones project forward on either side of the firebox opening to create a cozy inglenook.
Above Right (top row): Ewing Architects
Above Left (top row) & Bottom: Custom Mountain Architects
More Cozy Inglenook Fireplace Designs
Following are two striking river rock, or river stone fireplace designs -- albeit slightly different in style.  On the left, the use of river stones interspersed with tiny beach pebbles forms a beautiful composition, along with the vertical placement of river stones that follow -- and accentuate -- the graceful curve of the arched firebox opening.
Similarly, vertically-oriented stones highlight the arched firebox in the design below, right.  However, unlike the former design, the river stones in this surround vary less in size and are more randomly positioned.
Above Left: Custom Mountain Architects
Above Right: Photo by Roger Wade Studio
More River Stone Fireplace Pictures


The stone used in the monumental design pictured below, left, is arranged in a random mosaic pattern that rises more than two stories in height.  Taking its cue from the room's peeled log interior, a large log mantel shelf rests on log corbels, or brackets.
Massive logs and stone slabs frame the "walk-in" fireplace pictured below, right.  Inspired by Adirondack Great Camp architecture, this rustic retreat was designed by the firm of Holmes, King, Kallquist & Associates for a client in New York's Catskill Mountains.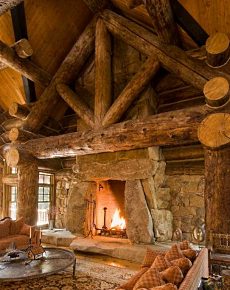 Above Right: See more of this majestic Adirondack-inspired
retreat at our sister site, Standout-Cabin-Designs.com
And finally, the monumental stone fireplace shown below is one of two incredible stone hearths that anchor the Great Room of this magnificent lodge!  A massive gnarled log serves as the mantel shelf and rests on four log corbels.  A large stone lintel with a relatively smooth finish spans the top of the firebox opening and contrasts beautifully with the rustic mantel shelf and the rugged cut stone blocks that form the surround.

Design pictured above by Ewing Architects
Please check back often or subscribe to our RSS feed,  as we frequently add new stone fireplace pictures to our site.
YOU MAY ALSO LIKE:



Stacked Stone Fireplace Pictures -
Simply STUPENDOUS!



Fireplace Stone Ideas -
Rugged & Rustic...Yet Refined!




Standout Fireplace Images -
Exceptional Designs By Ewing Architects!




Lew French -
Stone Artisan Extraordinaire!



Stone Fireplace Hearth Ideas -
Outstanding Custom Designs!



Rustic Rock Fireplace Designs -
The Old West Lives On!
Return to Stone Fireplace Designs Guide
Return to Standout Fireplace Designs Home Page
Didn't find what you were looking for?
Use this search feature to find it.
LIKE THIS PAGE?