Fireplace Design Ideas...
Find Your Perfect Match!
Explore an exciting array of unique fireplace design ideas and photos to find one that is just right for you.     One that fits the style and scale of your room . . . . . AND your budget!
For an incredible piece of history, the stunning handcarved mahogany mantelpiece pictured below is hard to beat. Created for the dining hall of the French ocean liner, Armand Behic, in 1891 . . . . .
the elaborately carved overmantel is somewhat similar to that found on another luxury ocean liner launched little more than
a decade later in 1912. A large carved panel contain-
ing a clock surrounded by female  figures  was  the centerpiece of the grand staircase on the Titanic.

Available from Galerie Marc Maison in Paris, France



If you prefer a rustic or casual look, the fieldstone fireplace pictured below, left, may be more to your liking. Flanked on each side by young white birch tree trunks and capped with a timber mantel shelf of rough-sawn pine, this cozy composition brings the outdoors inside.
If an exotic "Arabian Nights" fantasy is more in sync with your style,  the unique design pictured below, right, will not disappoint. Crafted with stone from Mexico, this custom surround features a gas-fueled flame on a bed of fire glass.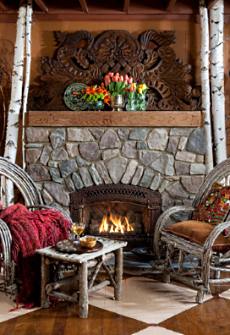 Above Left: Design by Indeed Decor Interiors, Polson, MT
Above Right: Durango Stone Surround by F.O. Buck, Paradise Valley, AZ
For a truly out-of-this-world look, the space age  design  of  Napoleon's Tureen  (pictured  below)  fitted  with  a  custom  rocket  ship  counting down to "liftoff" will mesmerize your guests for hours on end!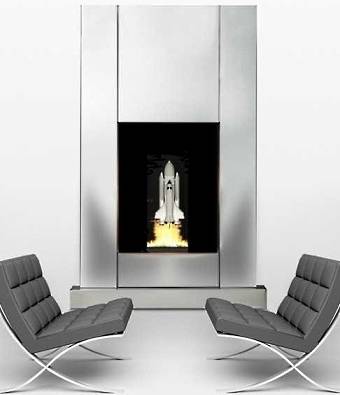 See More of this Stunning Design
from Napoleon Fireplaces!
More Fireplace Design Ideas
Whether starting from scratch, remodeling an existing hearth and surround, or looking for that special accessory item to put the finishing touch on your fire space, the options are virtually limitless . . . . .

It can be as simple and  inex-
pensive as adding a personal-
ized fireplace grate with  your
family name . . .
or a brilliantly colored stained
glass fireplace screen.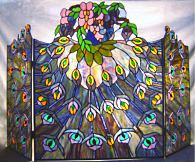 It can be hand-crafted tiles,  in a variety of styles,  around  your  firebox opening . . . such as this lovely Tiffany-inspired tile design (below left) or these sleek contemporary Italian tiles (below right).
For even more color, it can be a tiled or painted mural of a favorite land-
scape or theme over your mantel or firebox opening,  such as in the two examples below.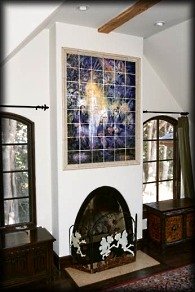 You can even create your entire "mantel" and surround from tile, as shown in the following two examples.  The fireplace on the left is subtle and sub-
dued, while the one on the right shouts "LOOK AT ME!!!"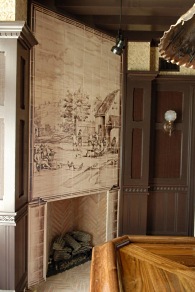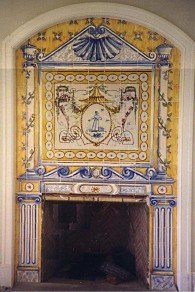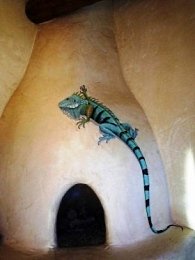 If you'd prefer just a little splash of color
to liven up your fireplace, a rather simple fireplace design idea is to  find  an  artist skilled in faux painting to provide just the right  touch,  as demonstrated by the in-
credibly  realistic  example on the kiva at right.
For an authentic Old World look,  you may want to add a striking  antique 19th century chimneypiece of hand carved walnut (below left) or delicate marble mosaic accented with hand forged wrought iron (below right) from Westland London.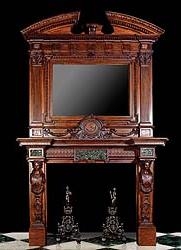 See More Striking Antique Chimneypieces from Westland London!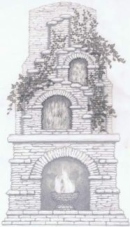 If you want a more casual look . . . . a  place  where you  can  simply  kick  back  and relax . . . a soaring, rustic stone fireplace  with  cascading ivy and sooth-
ing waterfalls, such as in the design at right, may be just what you need to relax your mind and invigorate your spirit . . . . .


More Stone Fireplace Designs!
or perhaps a sleek -- and unique -- contemporary design is what you have in mind, such as the Cyclone from Heat n Glo, pictured below . . . . .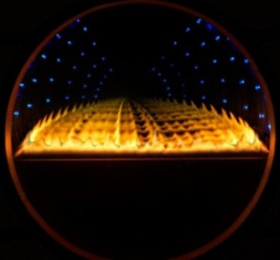 . . . or the revolutionary and futuristic Solaris, pictured at left -- also from Heat n Glo.


See These & Other Exciting Designs From Heat n Glo Fireplaces!
The possibilities for fireplace design ideas are endless . . . . . limited only by your imagination!
It is important to note that you don't need a big budget to create a fireplace, or fire space, that is uniquely your own. One that reflects your personality and individuality.
For example, the two fireplaces pictured below are very similar in compo-
sition, but worlds apart in overall look and feel. Made up of very simple -- and  inexpensive -- elements and materials,  each one is very unique and distinctive in its own right.
Coordinated with accessories that express the flair and unique individuality of "their" respective homeowners,  each fireplace also reflects the distinct personality of its owner.   While the one on the left has a somewhat sleek and  sophisticated,  even  daring,  contemporary look . . . . . the cottage style design on the right  --  though no less distinctive  --  has more of a playful, fun and funky look!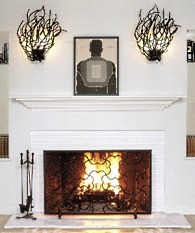 Following  are  two  more  examples of fairly cost-effective fireplace design ideas  --  particularly with an existing hearth and surround  --  to infuse  it with your unique personality and style, and add  an  element  of  drama  to your fire space.
The charming round arched windows flanking the  stone  hearth on the left add architectural interest and bring in much needed daylight to  what  was previously a dark and dank basement.   Moving up a few floors to the attic, the dramatic multi-paned windows provide a perfect surround for  the  sim-
ple but elegant fireplace on the right!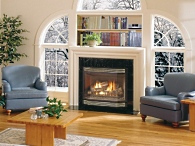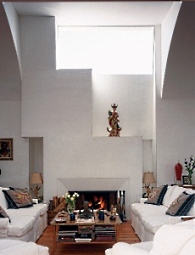 Looking at photos of fireplaces in celebrity homes  is  another great way to get ideas
for your fireplace design.     The  stunning contemporary  at right takes center stage
in Anjelica Huston's  Venice,  California liv-
ing room.
In stark contrast to the design at  right  is the  classic Old World grandeur of the fire-
place surround pictured below.   The focal point  of rocker Rod Stewart's Beverly Hills living  room,  it features classical detailing and formal symmetry.
See More Celebrity Homes Fireplace Designs!



Get  a vast array of exciting fireplace design ideas by subscribing to our  free  e-newsletter.    Simply   enter   your   information   in   the form below and click on "Subscribe" so you won't miss out on a  sin-
gle future issue!  Also, when you subscribe, you'll have access to all back issues!
For More Information about our e-Newsletter, please click here.
Please check back often or subscribe to our RSS feed,   as  we  fre- quently add new photos and fireplace design ideas to our site.
YOU MAY ALSO LIKE:




Put Some Spark - Or Sparkle -
In Your Fireplace Design!



Stone Fireplace Designs -
Rustic to Refined!




Stone Fireplace Design Ideas
To Personalize Your Fire Space!




Stone Fireplace Hearth Ideas -
Outstanding Custom Designs!



Back to Fireplace Mantel Designs

Back to Fireplace Design Overview

Back to Standout Fireplace Designs Home Page
Didn't find what you were looking for?
Use this search feature to find it.
What Are YOUR Favorite Fireplace Design Ideas?
Do you have a great or unique idea -- from simple to complex -- to enhance the look or design of a fireplace? Please share it!
YOUR Favorite Fireplace Design Ideas
Click on the links below to read about other visitors' favorite fireplace design ideas.

Fireplace Design Ideas - A "Glass" Act!

One of my favorite fireplace design ideas is to substitute colored glass crystals for the "same 'ol, same 'ol" gas log sets generally found in a gas burning …
LIKE THIS PAGE?