Fireplace Mantel Shelves...
Standout Styles & Profiles!
Fireplace mantel shelves -- particularly those made from wood -- can be crafted  in a variety of ways to give a fireplace a wide range of different looks . . . . . from rugged and rustic to sleek and chic!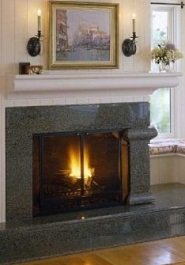 Design above by Polhemus
Savery DaSilva Architects
In addition to its practical function as a place to showcase family photos, treasured mementos and holiday decor, a fireplace mantel shelf can, in large part, define the style of a room.  By simply changing the profile of the mantel shelf, you can go from a very traditional, formal to semiformal look, such as that pictured in the striking examples above, left, and directly below from the architectural firm of Polhemus Savery DaSilva Architects Builders . . . . .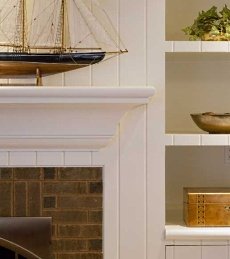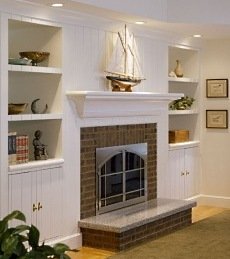 . . . . . . to a much more casual and laid-back -- even slightly whimsical -- look,  such as shown in the example below right, where the room's nautical theme is carried over to the mantel shelf in the shape of a ship's hull.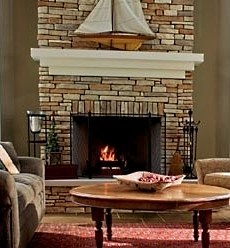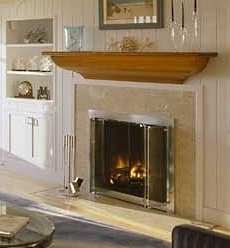 For a truly rustic or "Adirondack" look, a rugged, unadorned and unfinished squared off timber will do nicely, as depicted in the two examples below.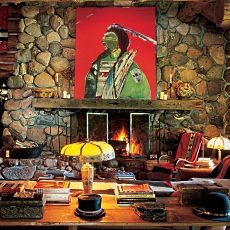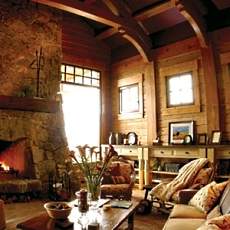 Alternatively,  a peeled and split log works well as a mantel shelf in the example below left . . . . as does a piece of natural driftwood in the example below right by master stone artisan, Lew French.
See More Extraordinary Stone Fireplace Designs by Lew French!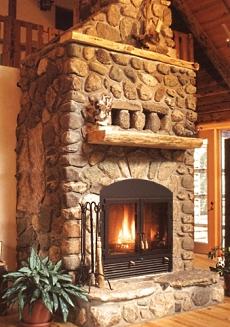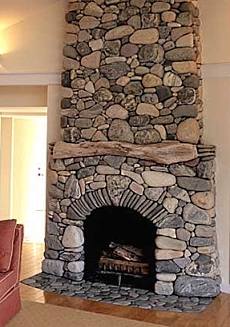 More Fireplace Mantel Shelves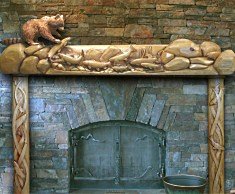 For  a uniquely personal statement,
a  hand-carved  mantel  shelf  is a
great way to showcase a hobby or favorite pastime.     The wilderness scenes carved in the fireplace man-
tel shelves at right -- from Carved
by Ramsey -- and below are ideal
for  anyone  who  loves  to hunt or
fish in the great outdoors.
Please  click here  to see additional images of the mantel shelf pictured
at right,  as well as more of his ex-
traordinary work!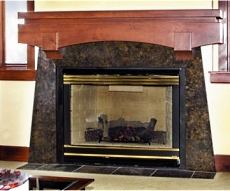 If your tastes are a bit less rustic,
but you still have a deep apprecia-
tion  for hand-crafting and quality workmanship,  the Arts and Crafts mantel shelf pictured at right may
be more to your liking.
More Arts & Crafts/Craftsman
Fireplace Designs

Craftsman Fireplace Mantel Shelves



Similarly, the handcrafted quality and finish of the fireplace mantel shelves on the Southwestern style fireplaces pictured below (top row) may also be a good fit . . . as well as the  Spanish-inspired designs with tiled surrounds (bottom row).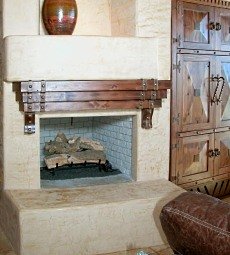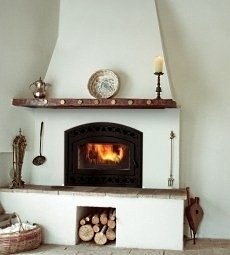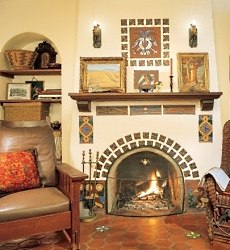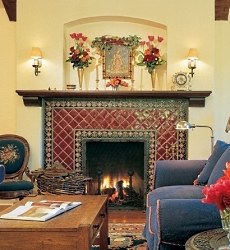 More Southwest Style Fireplace Designs

More Spanish-Inspired Fireplace Designs
If Country French is more your style, the following fireplace mantel shelves are hard to beat for period charm and ambiance.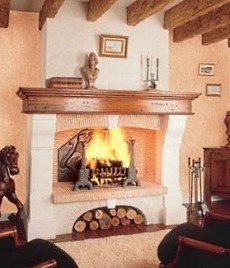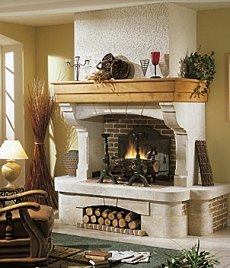 More Traditional French & European-Inspired Fireplace Designs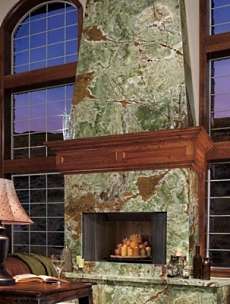 If large and formal is what you have
in mind, the paneled mantel shelf on  the  soaring green onyx surround at right is designed to impress . . . . .

as is the massive -- albeit beautifully moulded and finished -- mantel shelf    on the tiled surround pictured below.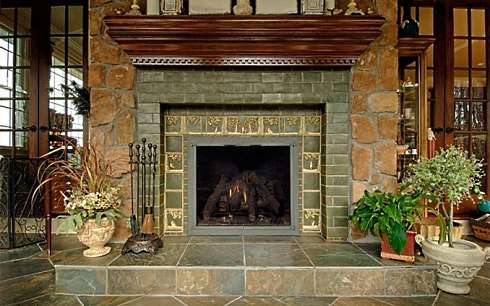 For those wanting a lighter,  more casual and contemporary look,  the natural finish and profile of the mantel shelf pictured below, left, echoes the finish and detailing of the adjacent entertainment center.  The graceful curve of the mantel shelf on the slate surround pictured below, right, gives it a bit more flair and also ties it to the adjacent cabinetry.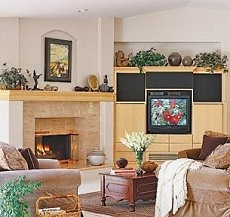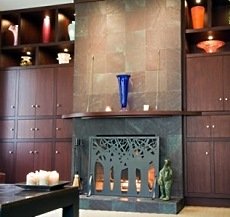 More Contemporary Fireplace Designs
And finally, if your tastes are eclectic and you just can't decide upon a specific look or style, the fireplace pictured below may provide some inspiration.  Though difficult to categorize as belonging to any particular style, it presents an interesting study in contrasts and textures.  The smooth black concrete surround has a very contemporary look and feel.  However, the irregular size, shape and placement of the natural stones on the hearth and the salvaged timber used for the mantel shelf give it a rugged and rustic flavor.  Amazingly, the juxtaposition of such a diverse array of materials and textures works exceedingly well to form a very cohesive and harmonious composition . . . . . not "too contemporary" . . . but not "too rustic," either.  It is, as Goldilocks said, "just right!"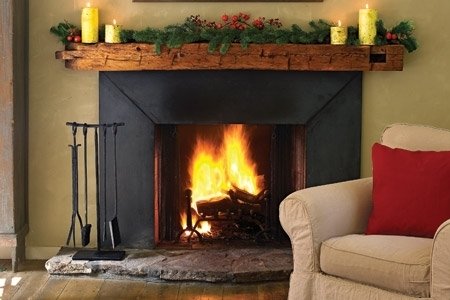 Please check back often or subscribe to our RSS feed,  as we fre-
quently add new mantel shelf photos to our website.
YOU MAY ALSO LIKE:





The Carved Fireplace Mantle Shelf -
A Cut Above the Rest!





The Craftsman Fireplace Mantel Shelf -
Crafted to Perfection!





Wood Fireplace Mantel Shelves -
Standout Custom Designs!





Stone Fireplace Hearth Ideas
with Mantel Shelves


Return to Wood Fireplace Mantels
Return to Standout Fireplace Designs Home Page
Didn't find what you were looking for?
Use this search feature to find it.
LIKE THIS PAGE?