Rock Out with Country
Rock Fireplaces!
Rustic stone and rock fireplaces have mesmerized us throughout the ages and, undoubtedly, will continue to do so for centuries to come. There is something very primal -- yet comforting -- about sitting around a stone hearth with a crackling fire.   It gives us an opportunity, at least for a moment in time, to get back to our roots.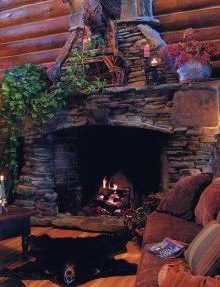 Nothing beats coming home to a cozy rock fireplace to warm your hearth . . . . . . . . . AND your heart!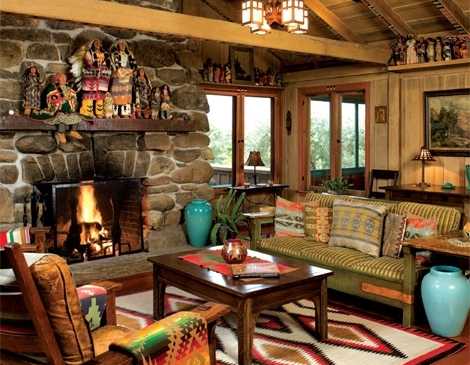 A cozy stone hearth anchors the living room of a Western
Arts & Crafts Bungalow (ca. 1908) in Ojai, California.
(Photo Credit: William Wright)
It was around 1860 when the  Arts and Crafts Movement began in England and  continued  until well into the first quarter of the 20th century.     The movement began as a protest against machine-age artificiality and sought, in the face of the grim industrialization of the 19th century,  to create new and more pleasing living environments for people by utilizing natural building materials  in their homes and by employing fine craftsmanship in assembling those materials.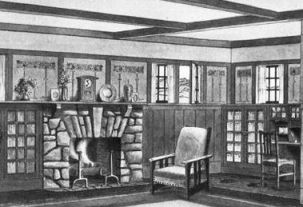 Above rendering from The Craftsman
Spearheading  the  movement  were English critic John Ruskin (1819-1900) and  artist and designer William Morris (1834-1896).     Both men fervently believed in honesty of materials and craftsmanship.
The movement brought about a distinct American offshoot -- the Crafts-
man Style -- in which vernacular forms were often used.  Leader of the American Arts and Crafts Movement, Gustav Stickley (1858-1942) pro-
moted a holistic view of living, seeking beauty and creativity in simplicity and organic harmony. Craftsmanship was used to reveal the innate quali-
ties of natural materials.   Stickley's publication, The Craftsman (1901-
1916), featured numerous illustrations of cozy rock fireplaces -- two of which are shown below left.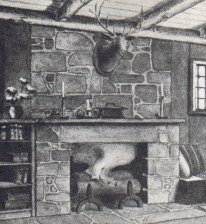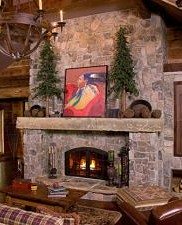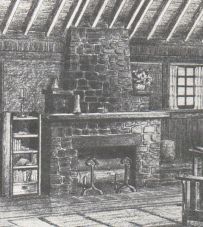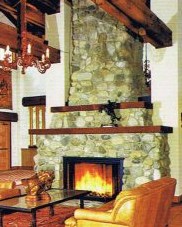 Top Right: Acucraft Fireplace Systems
Bottom Right: Ewing Architects (Renovation)
Some of the greatest examples of American Craftsman Style architecture can be found in the works of the  Greene brothers.  California architects Charles and Henry Greene (1868-1957, 1870-1954)  created  numerous architectural masterpieces in wood, brick, and stone.   A seamless union
of simplicity and sophisticated detail with meticulous attention to building materials and natural surroundings, many of their houses are models of timeless home design.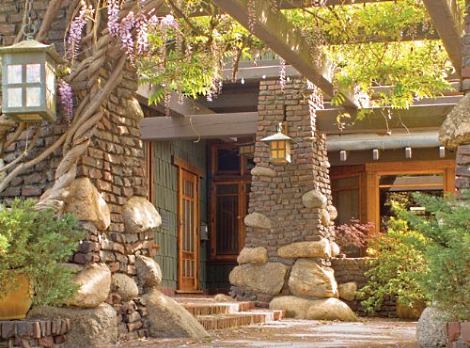 Greene & Greene: Developing A California Architecture
Bruce Smith (Author), Alex Vertikoff (Photographer)
The Arts and Crafts fireplace surround pictured below echos the work of Charles and Henry Greene. Created by Vesta Masonry Stove, Inc., it is a striking example of today's renewed interest in the style.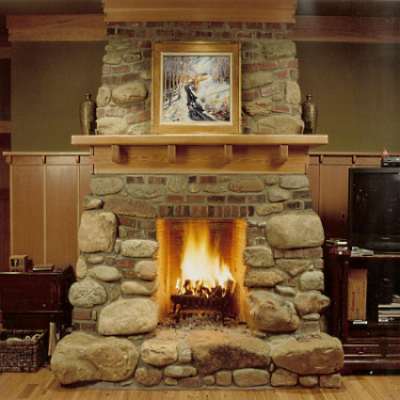 Click here for more info about the striking design above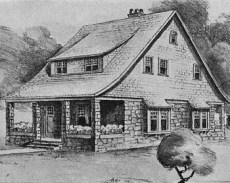 The ideal of the Craftsman home was
an honest and beautiful building, well planned for efficient use of space and materials, built to last several genera-
tions, and within the means of the av-
erage family. . . . .
(Illustration at right published in
The Craftsman, February, 1905)
The Craftsman Style of architectural design advocated four basic principles:
1. A style of building designed to fit the ways people actually lived,
2. Designed to have the best structural outline and the simplest form,
3. Designed to incorporate materials that belong to the surrounding     countryside and that are in harmony with the landscape, and . . .
4. Rendered in colors that are pleasing to the eye.
Simply stated, form followed function in the Craftsman home and, whenever possible, it was completely integrated with its natural sur-
roundings.
More Craftsman Style Rock Fireplaces
Possessing superb quality of workmanship and detailing, the Arts and Crafts, or Craftsman Style, was simple and organic . . . . . . . a tradition
that continues with today's resurgent interest in recreating the style. Craftsman-influenced design also tends to maximize the use of interior space by incorporating features like built-in shelving and seating.
Pictured below is an outstanding present-day example by Jarvis Architects, based in Oakland, California. Though created for a Shingle Style lakeside cottage near Madison, Wisconsin, the open floor plan and built-in furniture capture the spirit of Arts and Crafts design.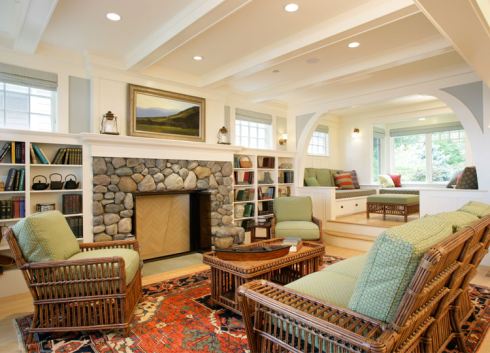 Following is a design by Joseph A. Berkowitz Interiors, Inc. of Penn Valley, Pennsylvania. A blend of "lodge" and Craftsman styling, it boasts a large river rock, or river stone fireplace in a cozy inglenook.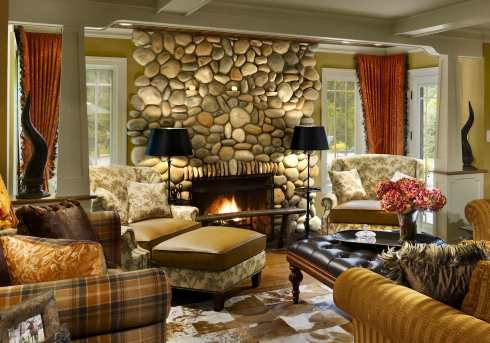 More Inglenook Fireplace Designs

Favorite River Stone Fireplace Designs


California-based HartmanBaldwin Design/Build created the striking river rock fireplace surround pictured below.   Another superb example of Craftsman Styling, it features two beautifully handcrafted wood mantel shelves that "wrap" around the stonework.
More Wood Fireplace Mantel Shelf Designs


And finally, the stunning fireplace that follows is part of a family room addition designed by AOME Architects near Seattle, Washington. Though
it sports a richly moulded, traditionally-styled wood mantel shelf, the fireplace surround is infused with an Arts and Crafts "flavor."  Stones of varying sizes, colors, textures, and finishes are masterfully arranged to create a truly unique -- yet timeless -- fireplace design!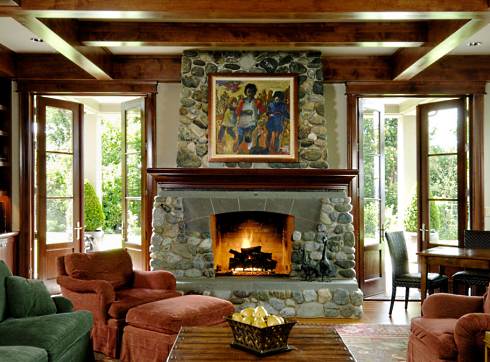 Please check back often or subscribe to our  RSS feed,  as  we  fre- quently add new rock fireplace designs to our site.
YOU MAY ALSO LIKE:





Rustic Rock Fireplace Designs -
The Spirit of the Old West Lives On!








Rocky Mtn. Rock Fireplaces -
Lodges, Logs & Luxury!








The Craftsman Fireplace -
A Standout Fire Space!









MORE Standout Craftsman Fireplaces!








The Arts and Crafts Fireplace -
A Finely Crafted Fire Space!









MORE Finely Crafted Arts & Crafts Fireplaces!








Contemporary Craftsman Fireplace
Hearths...New Twist on an Old Theme!








The Craftsman Fireplace Mantel Shelf -
Crafted to Perfection!





Back to Stone Fireplace Designs Guide
Back to Stone Fireplace Designs Overview
Back to Standout Fireplace Designs Home Page
Didn't find what you were looking for?
Use this search feature to find it.
LIKE THIS PAGE?