Contemporary Fireplace Designs


Mild to Wild!



The contemporary fireplace category is very broad and encompasses a wide -- sometimes WILD -- variety of different looks. Ranging from simple forms,  i.e., squares & rectangles, with clean lines and minimal decoration
. . . such as the striking Napoleon Fireplace design pictured below . . . . .
See More Striking Contemporary
Designs from Napoleon Fireplaces!

. . . . . to all manner of unconventional shapes and sizes, the evolution of the contemporary fireplace has all but shifted to a REVOLUTION in modern fireplace design!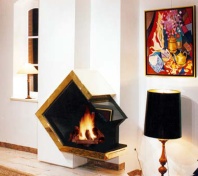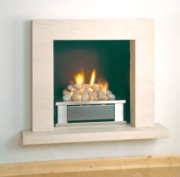 Not  since  man first cut a hole in the roof of his shelter as a practical way to vent his primitive indoor fire space some  millenia  ago  has  there  been such a dramatic transformation in fireplace design. Advances in technology during the  past decade have revolutionized our perception of what consti-
tutes a fireplace.
The unique looks and versatile placement options available for  many  con-
temporary fireplaces redefine them as design elements and home  decorat-
ing accessories. No longer is the fireplace relegated solely to a wall or cor-
ner of your room, giving you much more flexibility in the overall design and layout.
Contemporary Fireplace Looks
As with the traditional category,  the contemporary fireplace category can be  broken down further into several subsets ranging from what I call "mild to wild."   Given the numerous product options available today, you can go off  in  several different directions with a contemporary look for your room, depending upon your personal taste and style.
For  example,  if you're aiming for a more "conventional" contemporary look, an Art
Deco inspired design such as this elegant limestone mantel may be a good choice . . .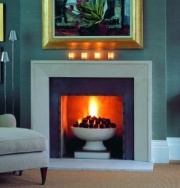 as will this simple limestone surround with straight lines and a clean face.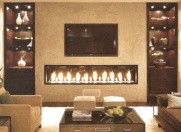 If you like the look of a linear flame,  this striking fireplace with built-in shelves and
a plasma TV above may be the answer . . .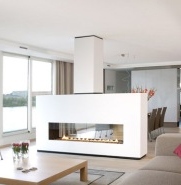 or, perhaps, this simple but impressive design with a commanding presence.
If you're looking for something  a  bit  more stylish or decorative, this unusual but strik-
ing surround will truly stand out . . .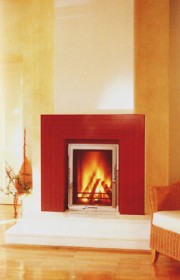 as will this design with subtle hints of Art Deco detailing.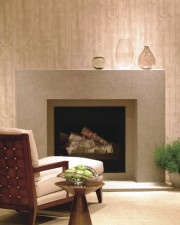 If you prefer a more subdued look, this elegant cast stone surround practically screams urbane sophistication . . .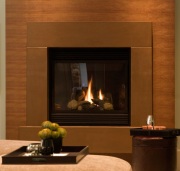 while this refined, hand cast concrete sur-
round reflects a sense of quiet restraint.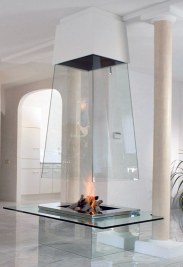 If you like the versatility of a free standing fireplace, this simple but stunning glass en-
closed design will add drama to any room . . .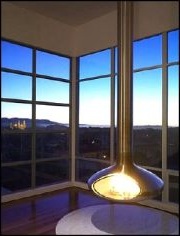 while this suspended steel orb-shaped firebox can be rotated a full 360 degrees, allowing the opening to be directed anywhere in the room.
If the space in your room is limited, a compact wall unit may be just what you need, such as this sleek stainless steel in-wall fireplace . . .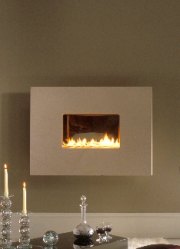 or this elegant wall-mounted unit with a limestone surround.
Up to this point, we've sampled a unique array of contemporary fireplace images. They reflect a host of different looks designed to appeal to a wide variety of personal tastes.
However, if you're looking for something ranging from just a bit less con- ventional . . . to way OUT there, you may want to take a journey to the  "wild side" of fire space!
Please check back often or subscribe to our RSS feed,  as  we  fre-
quently add new images of contemporary designs to our site.

YOU MAY ALSO LIKE:





Heat n Glo Fireplaces -
Innovation & Sophistication!







Contemporary Napoleon Fireplaces -
Designs That Truly Sparkle!







Design Contemporary Stone Fireplaces -
Caminetti Montegrappa!








Stone Fireplace Photos -
Cool Contemporary Creations!







Marvels Of Modern Fireplace Design -
Exotic And Stylish!








Contemporary Mantle Designs -
Shape Shifters!








Contemporary Fireplaces -
The Wild Side!







Contemporary Wood Fireplace Mantels -
A Wealth Of Warmth!







The Stone Contemporary Design
Fireplace...Simply Stunning!







Custom Fireplaces -
Metal Magic!








The Stonewall Fireplace
Surround...Picture Perfect!








Free Standing Fireplace Designs
That Truly Stand Out!







Stone Fireplace Designs Guide -
Standout Contemporary Hearth Designs!








Contemporary Fireplace Gallery -
Sleek And Chic!







Contemporary Corner Fireplace
For Gas Designs!








Chazelles Fireplaces -
Truly Distinctive & Unique!


Back to Unique Fireplace Design

Return to Standout Fireplace Designs Home Page
Didn't find what you were looking for?
Use this search feature to find it.
LIKE THIS PAGE?