The Cozy Stone Fireplace...
R & R in a Rustic Setting!
A cozy stone fireplace is one of life's simple, albeit wonderful, pleasures at the end of a long hard day . . . . . or when you need to escape from the hustle and bustle of daily life for awhile.  Nothing comes close to relaxing near a crackling fire with a good book in hand to forget -- at least momentarily -- the cares of the world . . . as well as those of your own.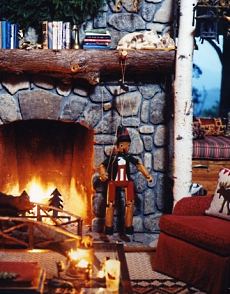 To do so in the comfort and quietude  of a remote hideaway  --  whether a wilderness lodge or your own  private retreat -- makes it so much sweeter! For example, the beautiful Adirondack Mountain Range  of upstate New York provides a wonderful backdrop for the cozy field stone fireplace pictured  at right and below. It is difficult to imag-
ine  a  more perfect escape in a more comforting setting  than  that  shown here!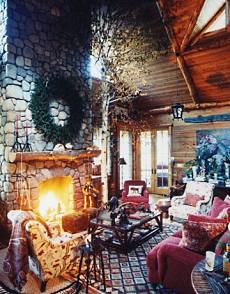 The rugged stone hearth pictured below also has many of the hallmarks of the  Adirondack Style  with  its  blending  of tree trunks and branches and naturally formed fieldstones gathered on site.
More Exciting Adirondack Style Fireplaces

Favorite Field Stone Hearth Designs


The stone hearth designs pictured below present a study in contrasts. At left,  the larger, darker colored stones and mantel shelf with muted lighting casts  a  warm,  soft glow  --  perfect for a romantic rendezvous with that special someone in your life!   By contrast, the smaller, light colored stones and mantel shelf pictured on the right provide an ideal backdrop for  a  fes-
tive occasion with family and friends!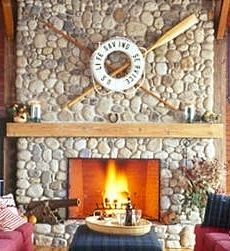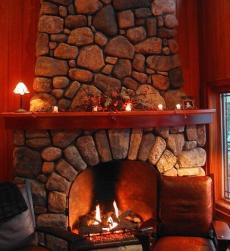 The two corner fireplaces that follow also present a study in contrasts and provide  a  sampling  of  the diverse range of looks that are possible with a stone corner hearth.   On the left, the soaring hearth extends from floor to ceiling  and  is  clad  with a randomly shaped and sized assortment of buff-colored stones. In stark contrast, the corner design at right is crafted from uniformly cut stone blocks that are dark grey in color.   Limited in height by the steep pitch of the ceiling,  the  corner hearth,  nevertheless, "extends upward"  with  the  use  of  massive  peeled logs stained a dark, rich brown color.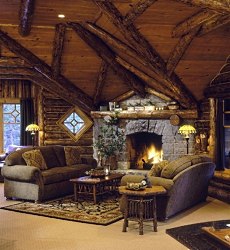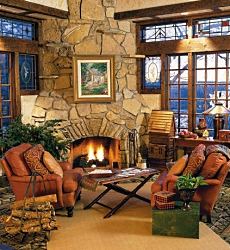 More Stunning Corner Hearth Designs
More Rustic Stone Fireplace Designs
 The two stone surround designs that follow  --  though very different from one another -- rely on size and massing for dramatic effect.  The design at left  is  crafted from fairly uniformly cut stones that are roughly square and roughly rectangular in shape. A stone arch frames the firebox opening for a more refined look, while a log mantel shelf and corbels, i.e., brackets, soft-
en  the  all  masonry facing and lend an aura of warmth to the overall com-
position.   Conversely, the design at right is crafted from cut granite blocks in random shapes and sizes.      A roughly cut granite mantel shelf rests on stone corbels and adds to the rugged -- almost primitive -- look and feel of the overall design.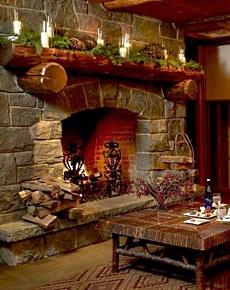 More Granite Fireplace Designs


Once  again,  the  two fireplaces pictured below have both similarities and differences that distinguish them from one another.  In each case, the de-
signs extend from floor to ceiling, and each is capped with a rustic wooden mantel shelf.     However,  the  design on the left is crafted from randomly sized ledge stone, while the design on the right is composed  of  fairly  uni-
formly sized cut stones that are carefully assembled and fit tightly  togeth-
er.
More Rustic Wood Fireplace Mantel Shelves
Whether  a precisely cut and careful-
ly assembled stone fireplace surround such as that pictured at  right,  or  a random assemblage of stones in vary-
ing sizes and shapes  (shown  below),
a cozy stone hearth provides  a  per-
fect escape from the trials and  tribu-
lations of everyday life.     A cozy re-
treat for comfort and solace,  as well  as  a festive gathering area for enter-
taining family and friends!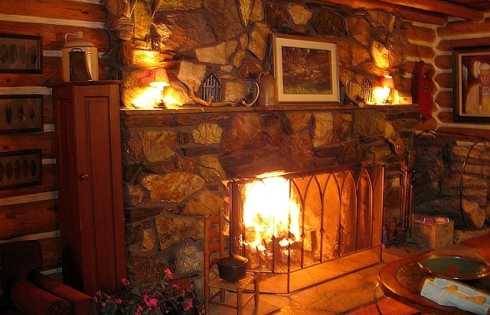 Please check back often or subscribe to our RSS feed, as we fre- quently add new stone hearth designs to our site.
YOU MAY ALSO LIKE:





More Rustic Stone Fireplace Designs -
Roughing It...American Gilded Age Style!
Back to Stone Fireplace Designs Guide
Back to Stone Fireplace Designs Overview
Back to Standout Fireplace Designs Home Page
Didn't find what you were looking for?
Use this search feature to find it.
LIKE THIS PAGE?