Fireplace Inserts...
Appearance AND Performance!
Fireplace inserts have become an extremely popular and effective way to upgrade old energy wasting fireplaces.  In light of today's uncertain econ- omy and increasingly volatile fuel costs,  we need to do everything we possibly can to reduce our energy consumption.  Not only is it good for our pocketbooks, but good for the environment, too!
An insert is a great way to make your drafty
old  masonry fireplace much more energy ef-
ficient.   Generally  made from plate steel or
cast iron,  they are designed to fit inside an existing masonry fireplace opening. Some of
the  more  recent  models are also designed
to  fit within an existing zero clearance fire-
box.     Though  gas (below right) and wood
burning units (above) are the most common, they are also available in pellet-burning (be-
low left) and electric models.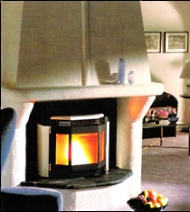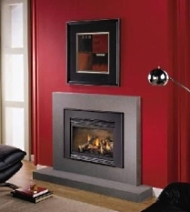 Until fairly recently,  the biggest downside of inserts has been in the aes-
thetics.  From the standpoint of fireplace design -- despite all the energy saving advantages attributed to them -- most of the products in the mar-
ketplace were, in a word, ugly.
Oversized  and  overbearing, they  drew attention away from the mantels and surrounds enclosing them. Little success was achieved at integrating them into the overall design scheme while, simultaneously, preserving the architectural integrity and balance of the original design.    Even when at-
tempts were made to modify the original design to better accommodate it, the insert still stole the show!
Fortunately,  you  no longer have to sacrifice appearance for performance.
A  few  manufacturers  have  become more attuned to the aesthetic issue and have taken steps to create energy efficient fireplace inserts designed to  complement,  rather  than detract from,  the original design scheme of
the mantel and surround.    Some are even very attractive as stand-alone design elements,  particularly in contemporary settings,  such as the wood burning unit pictured below.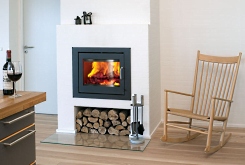 Please check back often or subscribe to our RSS feed,  as  we  fre- quently add new photos of insert designs to our site.
See More Fireplace Inserts

The Wood Insert - Beauty & The Beast!

Wood Burning Inserts - Hot New Designs!

Wood Inserts - Extremely Effective & Efficient!

Gas Inserts - A New Wave!

Gas Insert Photos - Form & Function

HPBA Consumer Information - Inserts
Back to Standout Fireplace Designs Home Page
Didn't find what you were looking for?
Use this search feature to find it.

LIKE THIS PAGE?