Heat n Glo Fireplaces...
Innovation & Sophistication!
Heat n Glo Fireplaces offer a unique array of contemporary styles.  Modern in design, they incorporate innovative, non-traditional shapes and materials to create an atmosphere of style and sophistication!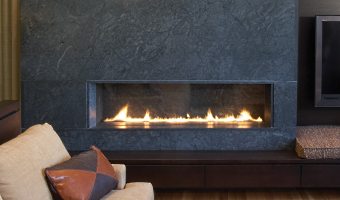 Slightly unconventional in its design. Revolutionary in its innovation.  The LUX60 model,  pictured at right and below,  combines modern style with
a spectacular flame. Stainless steel
fire tubes replace traditional logs  in
the   firebox   while  innovative  LED lighting allows you to cycle  through
six distinct colors.    And its elegant black glass media provides a beauti-
ful coal bed.  A number of front and finishing  options  easily  blend  with
your already modern décor  to  give
you a  fireplace  experience  like  no other!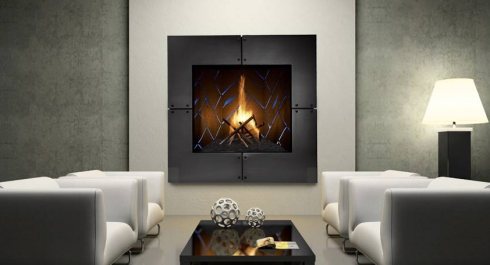 Downtown, uptown and everywhere in-between, the Cosmo SLR is a mod-
ern marvel to suit your modern décor.    Mix  and  match  this  beautifully refined fireplace with your choice of front options in  five  rich  finishes -- two of which are pictured below.     Accent its firebox with a selection of
four cool glass colors that are sure to highlight its gorgeous flame.  Highly efficient when it comes to setting a mood,  this  Heat n Glo fireplace is so cool,  it's hot!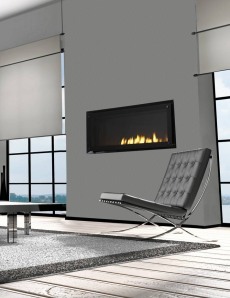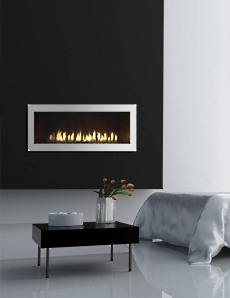 The model pictured below is called RED,  an  acronym for Rectangular Euro-
pean Design.    With a variety of stone and glass media options, enhanced accent lighting and porcelain or granite refractory liners,   the  Red  Series offers up to 21 variations of options and one of the cleanest designs in the Heat & Glo product line!
The slim fireplaces in the two images below take up little space,  but give you lots of options. The SL-550 Metro 32 has a shallow footprint for easy placement and a porcelain interior firebox with  custom  media  options  in absolutely stunning colors.     With its 32 inch viewing area,  you've got a front seat to a beautiful flame. Customize your room with a variety of rich finishes and fronts to achieve a modern look that matches any transitional décor!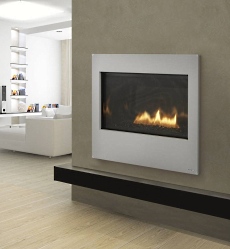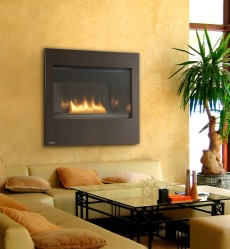 More Heat n Glo Fireplaces
The elegant Soho redefines the gas fireplace.     Its versatile square shape and small size is perfect for modern interiors.   The portrait installation with the Soho front mimics a work of art and unlocks all-new,  creative installa-
tion possibilities, allowing you to place it anywhere in a room.     Now what you can do with a fireplace is restricted only by your imagination!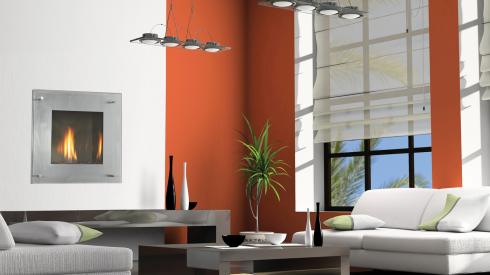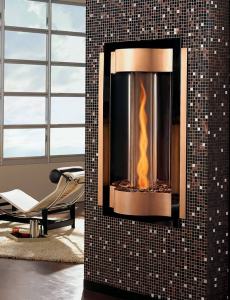 Is it a fireplace or is it art?     Actually, it's both.   An award-winning fireplace, the Cyclone from Heat n Glo Fireplaces captures the magic and power  of  fire with a twist:  a  single  flame  spiraling upwards  and  dancing  inside  a sleek, glass cylinder.   It offers a comfortable level of heat in smaller areas  such  as foyers, hallways,  bars  or  showrooms. Easy installation,  thanks  to  a  preas-
sembled system with the exception  of the vent pipe. And your choice of dec-
orative fronts, decorative base materi-
al and an RC-Smart remote control.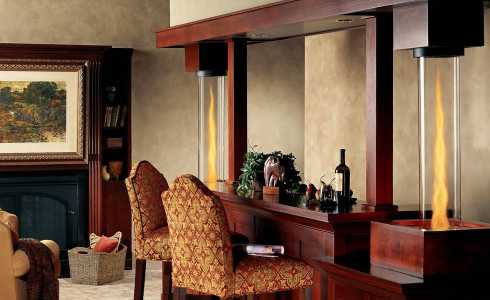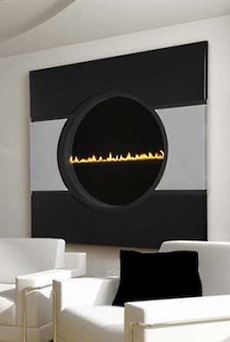 And finally, one of the most innovative fireplace designs available today is the Solaris,  a direct vent gas fireplace in-
spired by the setting sun.   A dramatic see-through fireplace that  is  circular
in  shape,  its  shallow depth makes it thin enough to be installed  in  a  wall with only 2x6 inch studs.
The Solaris is  available  in  two  very unique models.   The Solaris 36-T has Heat n Glo's proprietary Razor  burner, which  produces  a  single  flame that runs  across  the  center  of  the fire-
place and appears to be suspended in mid-air  (right).    In  addition  to  the
same   advanced  burner  technology,
the Solaris 36-MR includes  LED  light-
ing  and  mirrored  glass to create the illusion  of numerous flames moving in-
to infinity (below).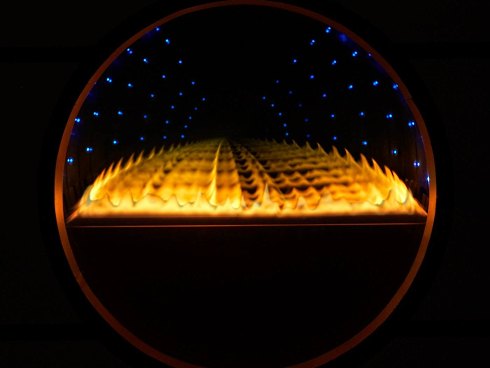 Positioned at eye level, the Solaris looks like a piece of "living" art. Though one side is finished with a simple black trim ring, the other side is custom-
izable. With 32 combinations of colors and styling features to choose from, you can personalize it to make it uniquely your own!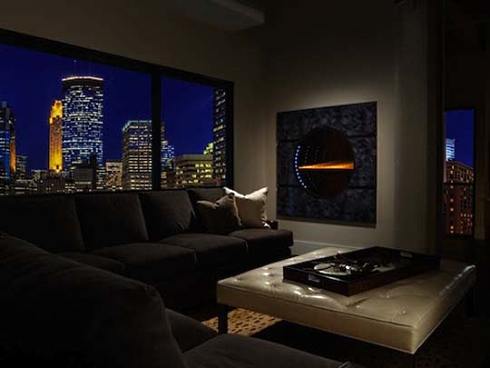 Please check back often or subscribe to our RSS feed,  as  we  fre-
quently add new images of heat n glo fireplaces to our site.

YOU MAY ALSO LIKE:




More Heat n Glo Fireplaces -
Playing With Fire!
Back to Fireplace Design Ideas
Back to Standout Fireplace Designs Home Page
Didn't find what you were looking for?
Use this search feature to find it.

LIKE THIS PAGE?