More Corner Fireplace Designs...
Bricks & Stones!
Corner fireplace designs are extremely popular today. Due to the current trend  in  downsizing,  homeowners are seeking ways to make the most efficient use of less square footage. Whether in new construction or retro-fitting an existing home,  a corner hearth is a great way to maximize the use of a room's available space.   In addition, its placement in the corner increases the visibility of the fire from virtually anywhere in the room!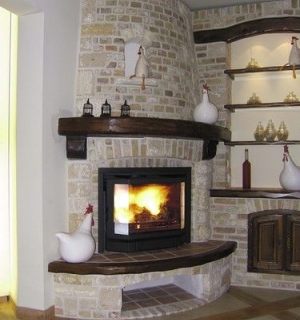 Above: Bodart & Gonay's Prisma Fireplace
Though available  in  a  vast  array  of materials, the corner fireplace designs featured here are limited to bricks and stones.   Nevertheless,  they reflect a wide range  of  styles  and  configura-
tions,   as  well  as  varying  levels  of craftsmanship and detailing.
For example, the charming design with undulating brick coursing shown in the example at right  is  ideal  for  a  cozy
and casual cottage or cabin.   By com-
parison, the relatively simple rectangu-
lar design with a bed of glass  crystals pictured below, left,  is appropriate for more of a contemorary setting.  Below, right,   the  symmetry,   formality  and
meticulous  attention  to  detail  make
this beautiful brick corner fireplace de-
sign a perfect candidate for a tradition-
ally-styled home.

For a more  rustic  and  rugged  appearance,  the  following  designs  with arched fireboxes are a great complement to a more relaxed lifestyle  --  or even a weekend getaway.     The fieldstone fireplace pictured below,  left, uses stones of varying sizes  and  shapes  to  create  an  imposing  corner design.    The smooth,  rounded contours of the river stones used to craft
the fireplace pictured below,  right,  are enhanced by a rustic  log  mantel shelf that ties it,  aesthetically,  to the log walls of the room.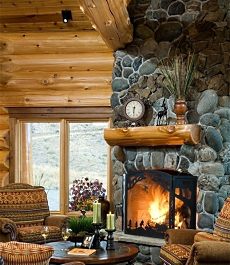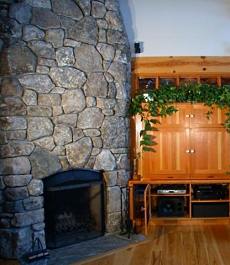 More Fieldstone Fireplaces

More River Stone Fireplaces

More Rustic Log Mantel Shelves
As shown in the following examples, rustic stone fireplace designs work as well in bedrooms . . . . .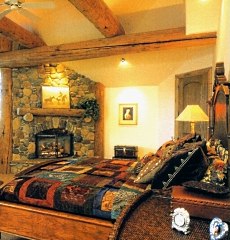 as they do in living rooms,  great rooms and family rooms,  such as those pictured below.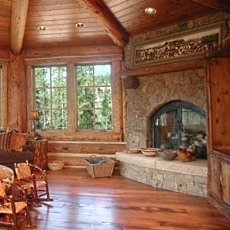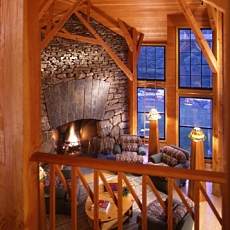 More Corner Fireplace Designs
As with brick,  stone can also be used in more formal settings . . . . . . in styles ranging from traditional to contemporary.  The contemporary European-inspired designs that follow are  crafted  from  uniformly  col-
ored and textured limestone . . . . .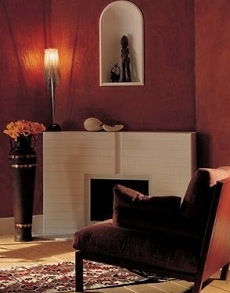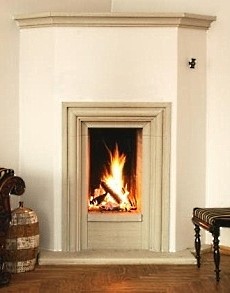 More Contemporary Stone Fireplaces
while the traditional designs pictured below use natural stone with veining patterns, such as marble and travertine.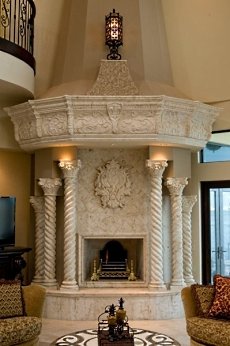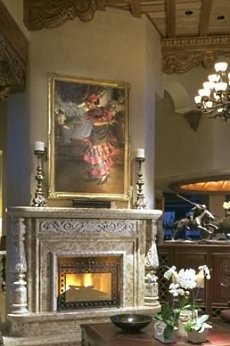 More Traditional Stone Fireplaces

Please check back often or subscribe to our RSS feed,  as  we  fre- quently add new images of corner hearth designs to our site.
YOU MAY ALSO LIKE:



MORE Corner Fireplace Designs -
A Great Way to Maximize Your Space!




Corner Hearth Design Ideas -
ROCK SOLID!




Corner Stone Fireplace Designs -
Cornering The Market!
Return to Corner Fireplace Designs
Return to Standout Fireplace Designs Home Page
Didn't find what you were looking for?
Use this search feature to find it.
LIKE THIS PAGE?