Unique Fireplace Design...
Infinite Possibilities!
A unique fireplace design truly sets your home or office apart from that of everyone  else.     If you're the adventurous type and long to explore un-
charted  territory,  you  can  make a design statement that is beyond the realm of conventional thinking! A design statement that's as individualistic as you are! A design statement that reflects your independence AND your propensity to think outside the box!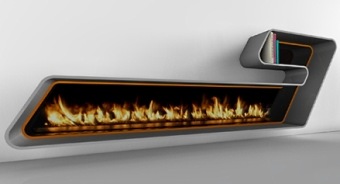 Welcome  to  the  amazing  world  of  unique fireplace design!


A world without boundaries, where virtually any-
thing is possible. 

A world in which you will travel to the outer limits 
of fire space. 

A world where the sky is the limit . . . . . or is it? 

Once you see what it has to offer,  wild  horses 
won't keep you away!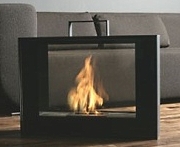 So grab your "firecase" and let the journey begin!
But first, lest you have any lingering doubts, ask yourself the following 3 questions:
Are you looking for the most unusual, unconventional, and innova-
tive designs in fire space today?
Do you want a design that your friends and neighbors will talk about long after they leave your home?
Do you just gotta have a fireplace that nobody, or almost nobody else has?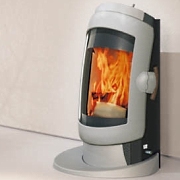 If you answered "yes" to at least one of the questions  above,  then this is the place for you!
Who knows . . . you might even run into R2D2 during your travels!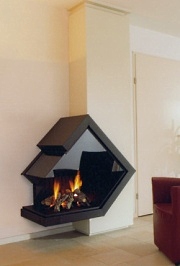 A major trend in  contemporary fireplace de-
sign  is  to  create  shapes  and  forms that, here-to-fore,  have been considered uncon-
ventional by most standards, and to employ new  materials  and  finishing  techniques in
their fabrication.
Manufacturers appear to be vying with  one another  in  a  mad  competition to see who
can create the most unique . . . and  some-
times,  the most outlandish . . . designs the world has seen.   Top honors go to some of
the European designers and  manufacturers,
so far, with France and Germany leading the way.
Ranging from fairly simple geometric shapes  to  organic  forms  that  mimic nature and elements of the human face, there appears to be no limit to the possibilities in the world of unique fireplace design.
One of the simple geometric shapes we're seeing more and more of in fire space design is the basic triangle and the "almost" triangle . . . . .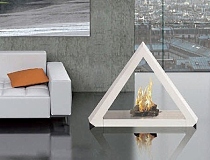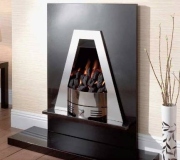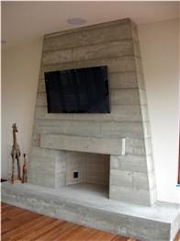 as well as more complex versions of it in the form of pyramids -- both great and small.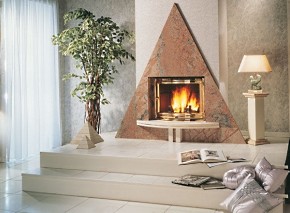 More Unique Fireplace Designs
The cube and the octagon have also made an appearance in fireplace de-
sign.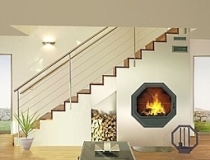 Sexy and sinuous curves swerved their way onto the scene, as well.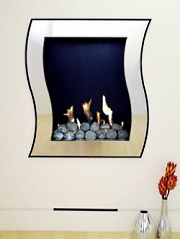 The circle rolled into place among a variety of backdrops and frames made from painted or brushed metal, polished stainless steel,  and brushed mar-
ble.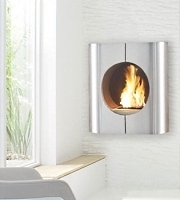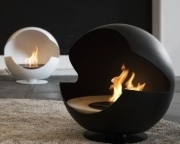 Some of the circular forms are truly global in nature.
And speaking of nature . . . a unique and interesting array of forms evoking the fauna of nature is now winging its way into our homes.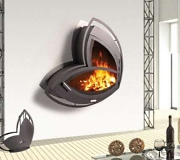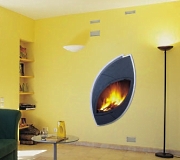 Moving on to the human form . . . the focus appears to be on the human eye this season . . . . .
as well as the human smile . . . . .
but  if  you  want more than just an eyeball
or a smile to make your unique design state-
ment . . .
Don't Worry . . . Be Happy . . . . .
Because now you can get the entire human head . . . with smile (well, sort of) . . . and all!   A fire face to host your fire space!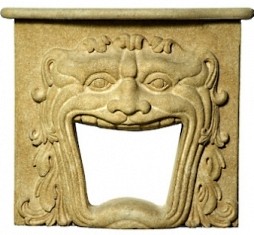 Getting back to nature . . . we find a pair of dancing cranes and a bear cub trying his paw at fishing . . . . .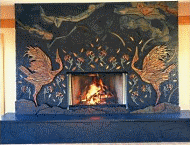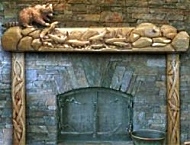 as well as this unique fireplace design in the shape of a tree trunk.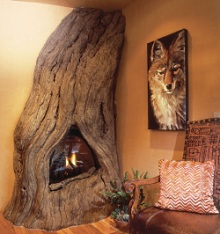 Please check back often or subscribe to our RSS feed, so you won't miss a single unique fireplace design!
YOU MAY ALSO LIKE:





More Unique Fireplace Design
Photos...The Wild Side!








Free Standing Fireplace Designs
That Truly Stand Out!








Stone Fireplace Picture Gallery -
Unique Designs To Rock Your World!


Back to Fireplace Design Ideas
Back to Standout Fireplace Designs Home Page
Didn't find what you were looking for?
Use this search feature to find it.
LIKE THIS PAGE?