Outdoor Fireplace Designs...
Expand Your Living Area!
Outdoor fireplace designs are enjoying an unprecedented surge in pop-
ularity today.    As a result, an amazing array of products has been in-
troduced in the past few years to meet the needs of a rapidly growing number of homeowners interested in expanding their living area by sim-
ply creating an "outdoor room." Fashioned from a vast range of materi-
als in nearly every conceivable size, shape and style,  today's designs appeal to a wide variety of tastes and budgets!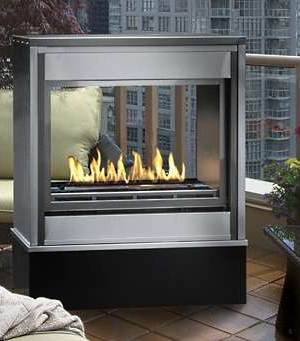 With the introduction of convenient and environmentally friendly biomass fuels that often require no need for venting, some are even portable and can be moved around at will.    For example, the unique designs pictured above and below,  left, are not affixed to a gas line and can easily be re-
located when necessary.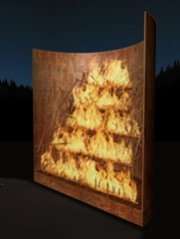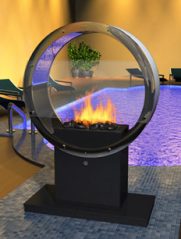 Now it's possible to expand and enhance your overall living area by simply extending your interior living space to the out-of-doors . . . . without the mess and costs normally associated with "room addition" home remodeling projects.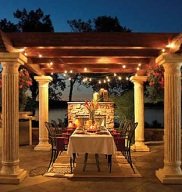 Create  dramatic  al  fresco  living  space for entertaining  family and friends right at home. Save  money  and  redefine the term, "dining out,"  in today's tight economy while,  at the same time, adding value to your home.
An outdoor fireplace will anchor your outdoor living area  and  provide  a  focal  point  that beckons  everyone to gather around.     Just imagine  the  wonderful memories that will be created  as  you  and  your  family enjoy the warm   and  cozy  outdoor  hearth  for  many
years to come.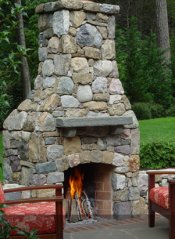 Planning Your Outdoor Fireplace Design
When planning your outdoor fireplace design, be sure that it is in scale with your home and yard.    Try to match the style with that of your home and, whenever  possible,  incorporate  architectural details and materials used in the design of your home.   Pay particular attention to the chimney or chim-
neys rising from your home when planning your fireplace design,  as this will help to tie it all together.  The end result?   A pleasing, well-balanced com-
position that "fits right in" . . . naturally.
For the purist, an all masonry fireplace can be built.  However, be prepared to spend consid-
erably more for footings, possible  engineering and soil testing services, and skilled masons.
On the other hand, there  are  several  very good  prefabricated units   available   today. Made from galvanized steel or a durable light weight concrete product  consisting  of  vol-
canic  ash  and  cinders, they come with un-
finished exteriors so that you can face them with  any of one or more materials to match
the exterior of your home.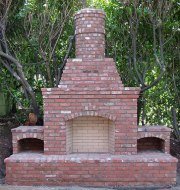 Whether a masonry or a prefabricated unit,
you can face it with brick . . . . .


More Brick Outdoor Fireplaces!
or stone, for a very traditional look . . . . .



More Stone Outdoor Fireplace Designs!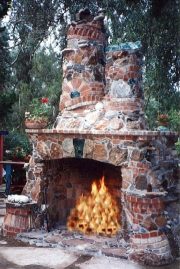 or even a combination of the two, for a
quaint picturesque look.



More Brick & Stone Outdoor Fireplaces!
For a sleek contemporary look, you may want
a polished stainless steel surround . . . . .



More Outdoor Steel Fireplaces!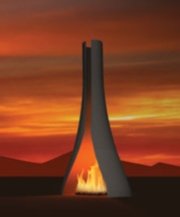 or a wrapped steel stack on a rotating base.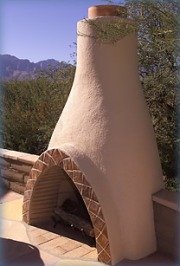 If  a  traditional southwestern style or kiva design is more appropriate for your outdoor setting, then a stucco surround . . .



More Kiva Style Fireplaces!
or even a Pueblo Revival adobe facing may
be just what you need.
For just about any look, whatsoever  --  traditional to contemporary  --  a concrete surround may provide the ideal solution.     Concrete is extremely versatile and can be molded into virtually any shape or form. It can also be finished in a wide variety of colors and textures,  as the following examples clearly show.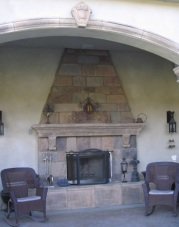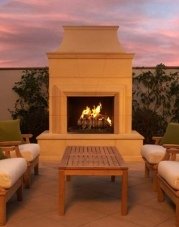 More Concrete Outdoor Fireplaces!
When  it comes to outdoor fireplace designs,  the  sky  truly IS the limit. With a  little  imagination,  you  can create one that is just right for you!
Please check back often or subscribe to our RSS feed,  as  we  fre- quently add new images of outdoor fireplace designs to our site.
YOU MAY ALSO LIKE:


Standout Stone Outdoor Hearths!
Stone Fireplace Designs Guide




Outdoor Fireplace Designs For
Patios, Porches, Pools & Pergolas!




Patio Designs For Fireplaces -
Bricks & Stones!



Standout Patio Pergola Designs
For Outdoor Fireplaces!




The Outdoor Patio Fireplace -
Homeside To Poolside!




Outdoor Hearth & Patio Pictures -
Great Styles & Materi'ALS!



Hot Patio Ideas For
Fab Fireplace Designs!



The Brick Outdoor Hearth -
So Much MORE Than Bricks & Mortar!




Standout Outdoor Brick Fireplaces -
Delectable Decorative Detailing!



Brick Patio Designs For Fireplaces -
Brackets & Built-Ins!




Outdoor Masonry Fireplace Designs -
Real Long-Term Value!




Outdoor Wood Burning Fireplaces -
Fond Memories Of Summer Camp!



Outdoor Gas Fireplaces -
Hot Choices!




Outdoor Gas Fireplace Options -
Custom Looks Without The Costs!




Standout Concrete Outdoor
Hearth Designs



Backyard Fireplace Designs -
A Magical Mystery Tour!




Backyard Fireplaces -
Fab Prefabs!




Patio Fireplaces -
Multiple Choices!




Contemporary Patio Fireplace Designs -
"Steel"-ing The Spotlight!



Back to Standout Fireplace Designs Home Page
Didn't find what you were looking for?
Use this search feature to find it.
LIKE THIS PAGE?