Fireplace Mantel Designs...
Country Rock to Heavy Metal!
Fireplace mantel designs and surrounds are available in such a broad range of architectural styles and materials  that  it  can  seem  downright  over-
whelming at first.   However, despite a virtually limitless number of options,
if you take your time and follow the simple steps outlined below,  you'll  be well on your way to finding a mantel or surround that's "just right" for you!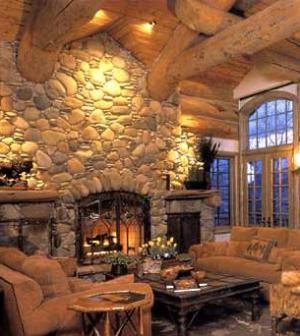 Whether your style is laid-back and casual,  such as the striking but cozy river rock hearth pictured above from Custom Mountain Architects . . . . .
. . . or high spirited and adventurous,  such as the dramatic "heavy metal" fireplace (below) from French designer and manufacturer, Bloch Design . . . and/or anything in between . . . the helpful guidelines and numerous exam-
ples  of fireplace mantel designs  that  follow  will  help  you  narrow  your choices and begin to develop a plan that both enhances and complements your room.   And, more importantly, a plan that complements your person-
ality and showcases your unique individuality!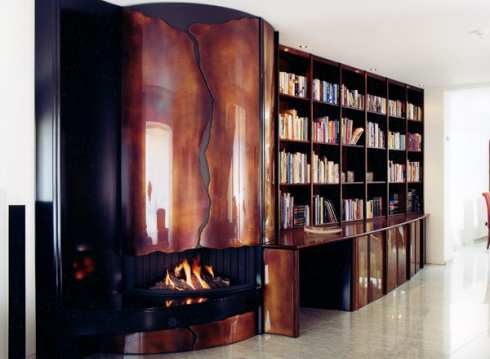 See More "Heavy Metal" Fireplace Designs!
To help you choose the perfect fireplace mantel design,  let's take it one step at a time . . . . .

Step #1:
Begin by looking at the architectural style of your room.   If you're unfamil-
iar with the various architectural styles,  then take note of the overall look and feel of your room. Either approach will work just fine.
Assuming you are comfortable with the current style or "look" of your room, use that as your starting point in selecting a fireplace style. In other words look  closely  at the existing door and window trim, as well as other mould-
ings or trim in the room.      Take inventory of wall and ceiling surfaces and finishes including any paneling, wainscoting, and built-ins, along  with  cor-
nice moldings and ceiling beams, if applicable. Also note the floor surface or surfaces, and furnishings in the room, including draperies and rugs.

Step #2:
After going through the exercise in Step #1, you may discover (as many of us do)  that the architectural style or "look and feel" of your room is some-
what eclectic, i.e., a mixture or blend of different styles.   However, at this point  you  should  have  enough  information  to determine in which of two broad categories it will best fit . . . traditional or contemporary.     In other words, which style or look is more prominent? Does your room have more of a contemporary look and feel, or is it more traditional?

Step #3:
Now  that  you've  determined  which of the two categories best describes your  room,  you can begin to break it down further,  as each category en-
compasses a wide variety of different looks.     Fortunately,  this gives you
a great deal of latitude in selecting a fireplace mantel design that  not  on-
ly  complements the style of your room, but one that reflects your person-
al style, as well!
For  example,  a room with a predominately traditional look can vary from casual and laid-back  --  even rustic  --  to very formal and clas-
sical in detailing and arrangement.
If your room is rather casual and laid-back, a cozy  cottage  look  with  a painted wood mantel and dry-stacked granite surround and hearth may be a good choice (below left) . . . as will the see-through two-sided fireplace with a rustic stone surround pictured below, right.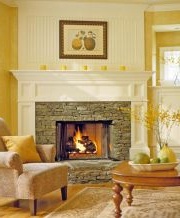 See More Rustic and Country Casual Wood Fireplace Mantels!

See More Rustic and Casual Stone Fireplace Designs!



If your room calls for a less rustic but still casual and comfortable look, the warmth of the striking  Arts and Crafts,  or Craftsman Style,  fireplace sur-
rounds that follow may be a better fit.  Currently enjoying an unprecedent-
ed  resurgence  in  popularity, this late 19th to early 20th century style re-
flects a renewed appreciation for handcrafted quality and detailing.
The fireplace pictured below,  left,  is part of a restoration of a Craftsman home in Pasadena, California. Complementing the finely finished wood man-
tel  and chimney breast is a series of beautiful copper tiles around the fire-
box opening.
The fireplace mantel design pictured below, right, features a stunning cop-
per hood crafted by Archive Designs in Eugene, Oregon.  It also features a beautiful tile surround within a wooden framework of authentically detailed Arts and Crafts styling.
See These & More Striking Arts and Crafts Fireplace Designs!
Other popular options for somewhat casual and laid-back fireplace designs are pictured in the two images that follow.     Below, left, is a Spanish-in-
spired design with a brightly colored -- and beautifully contrasting -- tiled surround. Above the wood mantel shelf is a built-in  niche  with  a  gently  curved  arch.
The Kiva fireplace pictured below, right, is very  popular  in  the  American Southwest Desert region.    Initially inspired by Pueblo Indian architecture, the Kiva shown here is very traditional in style.     However, numerous ex-
citing variations have been created in recent years to give  them  a  more personal and individualistic flair!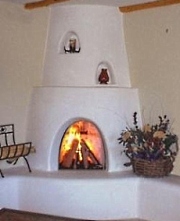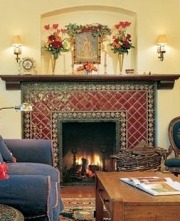 Formal Fireplace Mantel Designs
If  a  more  formal,  classically-inspired fireplace mantel design better suits your style, the two that follow are hard to beat. Pictured below, left, is an exquisitely carved marble mantel from DMS Studios in New York.    No  less exquisite is the claro walnut mantel pictured below,  right.      Meticulously handcarved by Aaron Radelow of San Diego, California,  the motifs were in-
spired by 15th and 16th century Italian carvings.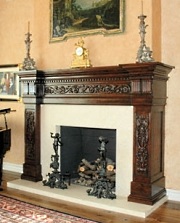 See More Classically-Inspired STONE Fireplace Designs!

See More Classically-Inspired WOOD Fireplace Surround Designs!
If  your  room  (AND your personal style)  calls for an even more elaborate and  grand  chimneypiece -- complete with a soaring overmantel -- one of the two fireplace designs that follow may be your cup of tea.  The natural stone chimneypiece pictured below, left, is  located  in  England's  Woburn Abbey and can be reproduced to your exacting specifications by After The Antique, based in Norfolk, England.
The hooded fireplace mantel design pictured below, right, is a reproduction of a 17th century Gothic mantel.  Crafted by European artisans for Atlanta, Georgia-based  Francois and Co.,  it  is  available  in French limestone or a form  of  cast stone  called Scagliola  --  a mixture of crushed marble, lime-
stone and travertine.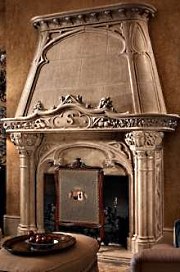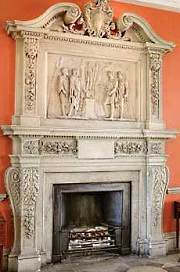 See More Classic Stone Fireplace Surrounds With Overmantels!

See More Cast Stone Fireplace Surrounds!
A note about period rooms: If you have a home or room from an earlier period or of a specific period style, you may want  to  install  an  antique fireplace mantel for greater authenticity.  Fortunately, with a little effort, you  can still find some incredible period pieces in the marketplace today, such as the striking antique fireplace mantel designs pictured below from
Westland London.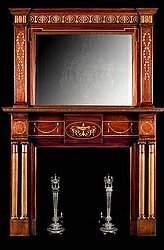 More Antique Fireplace Mantel Designs!



Please check back often or subscribe to our RSS feed,  as  we  fre- quently add new images of fireplace mantles to our site.
YOU MAY ALSO LIKE:




Regal Fireplace Mantel Designs -
Fit For A King...OR A Queen!
Fireplace Tile Designs

Wood Fireplace Mantels

The Craftsman Fireplace - A Standout Fire Space!

The Arts and Crafts Fireplace - A Finely Crafted Fire Space!

Stone Fireplace Mantels

Man Made Stone Fireplace Mantels

Contemporary Fireplace Mantle Designs
Back to Fireplace Design Ideas

Back to Standout Fireplace Designs Home Page
Didn't find what you were looking for?
Use this search feature to find it.
LIKE THIS PAGE?