Standout Brick Fireplaces...
Handcrafted Masterpieces!
When building brick fireplaces, nobody does it better than architectural designer and master artisan, Clay Chapman. His work is -- in a word -- EXTRAORDINARY!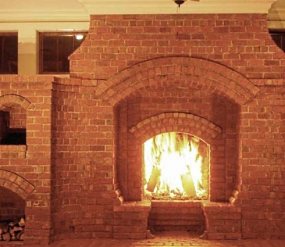 Cozy Inglenook above by Clay Chapman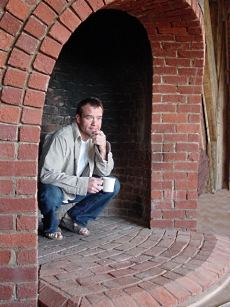 In addition to fireplaces, Clay Chapman has  designed  and  built  a  variety  of stunning timber frame and brick  struc-
tures  ranging  from  period  homes  to horse stables.  A native of the Atlanta area,   Clay  painstakingly  builds  each fireplace one brick at a time!
The  monumental design pictured below is a testament to the extraordinary skill of Clay Chapman.   The Pierce/Lee House, which contains this majestic brick fireplace, is located in Cedartown, Georgia, and was meticulously built from the ground up by Clay Chapman.  (See photo of the Pierce/Lee House at bottom of page)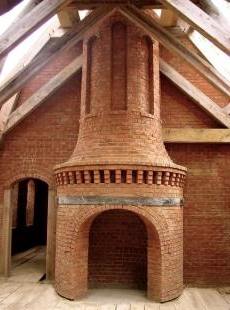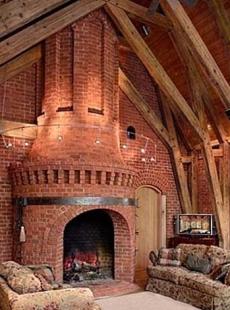 More Monumental Fireplace Designs
The following brick hearths feature superb detailing.  Note how the brick-
work is layered to create both raised and recessed surfaces.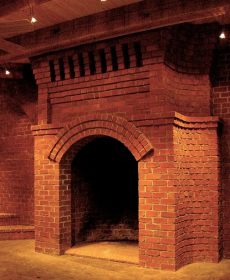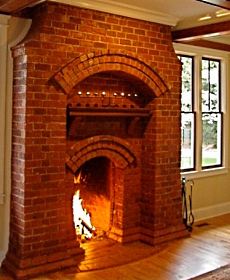 The corner fireplace design pictured below, left,  also features "layering" of the  bricks,  as does the elaborate brick hearth on the right, with corbelled brickwork above the firebox opening.  As with all the designs shown on this page, the three that follow are site built, or masonry, fireplaces.  Also note the cozy inglenook in the brick hearth design pictured at bottom.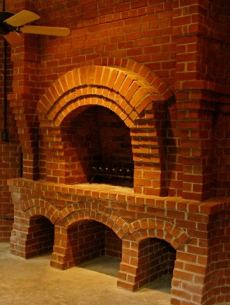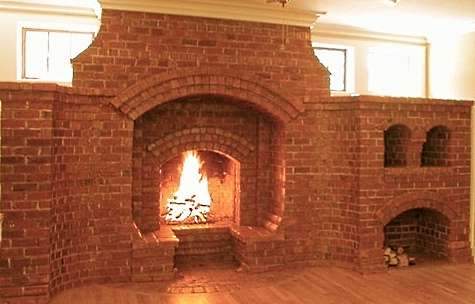 More Corner Fireplace Designs

More Masonry Fireplace Designs

Brick Fireplace Chimneys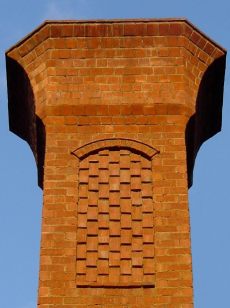 The elaborate detailing of the chim-
ney  brickwork is as stunning as the brickwork on the fireplaces!
Note the variety of chimney designs
in the images at right and below.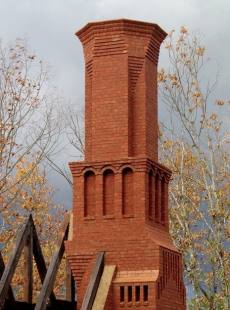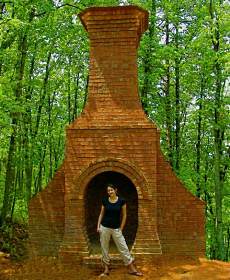 The brick outdoor fireplace pictured
at right exhibits the same degree of craftsmanship shown  in  the  other designs featured here.
As  with  all  the indoor brick hearths displayed  on  this  page,  it  has  an arched firebox opening.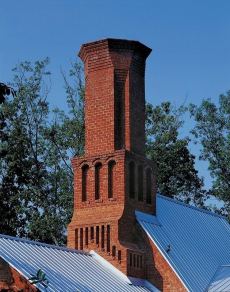 To see more of the extraordinary work of Clay Chapman, please click here.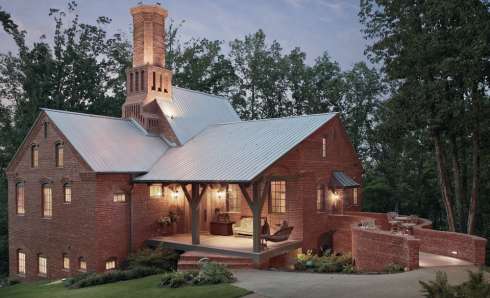 The Pierce/Lee House in Cedartown, Georgia
Photo Credit: Peter Montanti

Please check back often or subscribe to our  RSS feed,  as  we  fre- quently add new images of brick hearths to our site.
YOU MAY ALSO LIKE:




More Finely Crafted Brick Fireplaces -
Blending Past And Present!





Brick Patio Designs For Fireplaces -
Brackets & Built-Ins!




Standout Outdoor Brick Hearths -
Delectable Decorative Detailing!





The Brick Outdoor Fireplace -
So Much MORE Than Bricks & Mortar!
Return to Masonry Fireplace Designs
Return to Standout Fireplace Designs Home Page
Didn't find what you were looking for?
Use this search feature to find it.
LIKE THIS PAGE?