Norstone Natural Stone Veneer...
Endless Possibilities!
Hand stacked stone fireplaces have been around for centuries, but recently have seen a renaissance with companies like Norstone USA making thin veneer natural stone products that are as easy to install as tile but offer a genuine look that will fool most stone experts.   The design pos- sibilities are endless with this product, which you'll see as we take a look at some of their best projects.
The first fireplace (below) comes together in an architect's office in Denver, CO.  The large fireplace unit set against the stacked stone wall is complemented by built in bookshelves and a track ladder that are bathed in natural light from the adjacent glass wall.  The stacked stone wall in this application continues on throughout many of the common areas of the office creating continuity between the spaces.  The Ochre color of the stone is the perfect compliment to the blond wood used throughout and allows the pops of color created by the shelf materials to create an eye appealing space. The long seat height hearth and low slung furniture invite clients and employees alike to break out of their offices and find inspiration for their next project.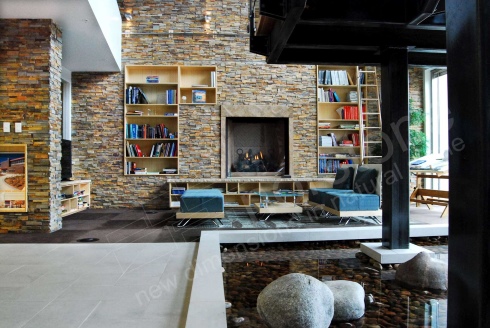 Image Source: Norstone USA

The next fireplace on our tour is on the rooftop terrace of a multi family complex in Washington DC.  Stacked stone fireplaces are a great choice for exterior and commercial grade applications like this since the product is incredibly durable both to the elements and the harsh use a shared amenity receives.  Equally well suited for interior or exterior use, the Charcoal color stacked stone in this application is paired nicely with a thick granite hearth stone adding to overall solid feel of this design.  Planters with clean lines flank the installation and along with the modern styled light fixtures and a clean metal fireplace insert offer a very nice balance between the traditional look of ledgestone and contemporary design.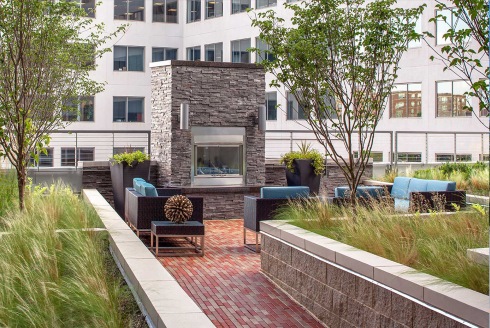 Image Source: Norstone USA

More Stacked Stone Fireplaces
from Norstone USA
This stunning white rock fireplace comes to us from our Danish friends across the pond.  Oozing with Northern European and Scandinavian styling, this stacked stone fireplace is unique in many ways.  Unlike most North American fireplaces which protrude from walls and stick out into a room, this design actually takes a blank wall and uses a ventless insert to transform the space.  The white and black design palette of the space speaks to a tried and true combination and the natural elements such as the wooden seating and asymmetrical cactus fit right in with the natural stone veneer to form a welcoming organic environment.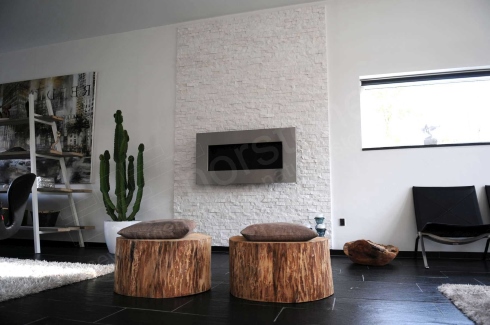 Our next stacked stone fireplace in Norstone's Ivory color and for a relatively small overall size, packs a lot of different features to ex- plore.  Pairing beautifully with the stone is polished marble tiles on the hearth and mantle, each set at varied elevations to create a multi-tiered effect on this design.  Above the mantle a recessed TV brings the enter- tainment factor, while below the mantle a sleek metal insert brings the wow factor.  This installation was done several years ago and still catches the eye of many customers out there designing their own stacked stone fireplace, a true testament to the quality of materials used, craftsmanship, and design built into this project.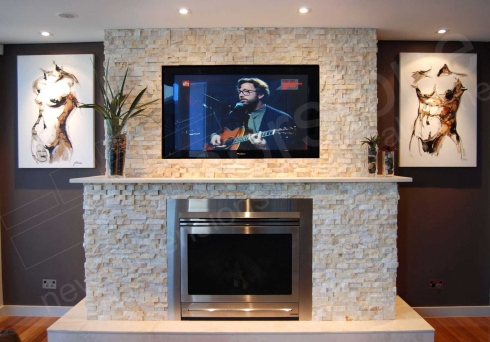 For a final twist on fireplaces we head out to Austin, TX and turn every- thing we thought we knew about stacked stone fireplaces on its side, literally.  This gem of a design uses Norstone Grey 3D Basalt Panel, similar in size and appearance to their other ledgestone products, but with a more modern smooth veneer face.  This unit also flipped the traditional horizontal orientation of the stone and ran the long pieces vertically, creating a to- tally different and more modern look.  Coupled with a frameless gas insert and sleek flat screen TV flush mounted against the stone, this project goes to show that stacked stone for fireplaces is a versatile medium that can be used in a non-traditional setting.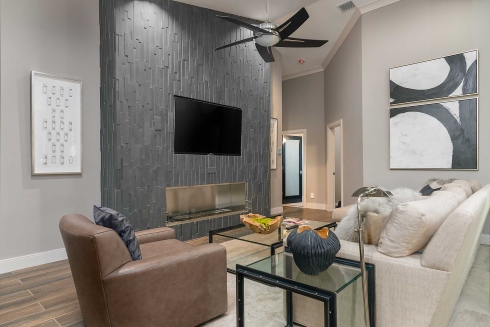 Images above courtesy of Norstone USA

Whatever your preference, stacked stone is a fantastic medium to explore for unique and inspiring fireplace projects.  Now with the added value of a simplified installation, companies like Norstone USA are creating natural stone veneer products to not only carry the torch of stacked stone fireplaces into the future, but push the envelope of what we thought was possible with stone as well!

Please check back often or subscribe to our RSS feed,  as  we  fre-
quently add new natural stone fireplace designs to our site.

Back to Stone Fireplace Designs Overview
Back to Stone Fireplace Designs Guide
Back to Standout Fireplace Designs Home Page


Didn't find what you were looking for?
Use this search feature to find it.

LIKE THIS PAGE?