Photos of Stone Fireplaces...
Classic Elegance!
The photos of stone fireplaces featured here showcase the extraordinary work of DMS Studios in New York. Magnificently carved, the custom stone fireplace mantels crafted by this studio grace everything from private homes to the Lincoln bedroom in the White House!
Above: Fireplace Mantel with Fruit Carving
Founder and owner of DMS Studios, Daniel Sinclair,  is a European-trained American stone sculptor educated in the classical tradition.    After a five year  apprenticeship  honing  his  craft  under  a  master  stone artisan in Pietrasanta, Italy,  Daniel subsequently returned to the United States and established DMS Studios in 1979 .  In addition to the White House, his im-
pressive client list includes the United States Capitol, the New York Public Library, West Point Military Academy, and Grand Central Station.     A true master artisan, his extraordinary work has won numerous awards.
The custom fireplace mantels from DMS Studios are entirely  hand  carved from the finest varieties of  limestone  and  marble.     Classic and elegant,
each fireplace mantel is a veritable work of art!
The  photos of stone fireplaces that follow reflect a broad range of classic styles that demonstrate the ability and skill of DMS Studios to  masterfully execute a vast repertoire of diverse designs.      Crafted in the "Old World" tradition, the quality of craftsmanship is unparalleled by today's standards!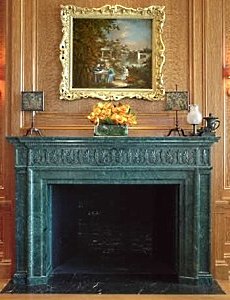 The striking stone fireplace mantle pic-
tured  at  left  is  crafted from a green antique Italian marble.   Richly colored with lovely veining,  it contrasts beau-
tifully   with   its   backdrop  of  lightly stained and finished oak paneling.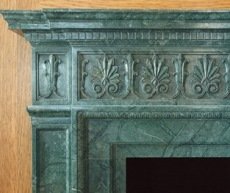 Superbly carved palmetto leaves -- an ancient Greek motif -- adorn the frieze of  this  stunning  stone  fireplace sur-
round, shown in the close-up image at left. Equally superb is the hand carved detailing  featuring  additional classical motifs.
Italian Verde Fireplace
         Mantel Pictured Above
The handsome Gothic Revival or Neo-Gothic stone fireplace design that fol-
lows is crafted from limestone. It features a prominent arch above the fire-
box opening, as well as a series of finely carved Tudor Rose motifs.
Neo-Gothic Limestone Mantel Pictured Above


The photos of stone fireplaces that follow showcase  a  magnificent  stone fireplace mantle crafted from Chiampi Marble, imported from Italy. The focal point of an elegant paneled ballroom,  it features meticulously carved capi-
tals with rosettes above them.  A hand carved egg and dart motif runs the length of the mantel, just below the mantel shelf.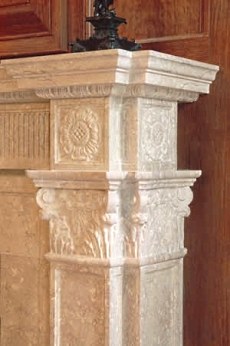 Chiampo Marble Fireplace Mantel Pictured Above


The stone fireplace photos that follow feature an absolutely stunning mar-
ble fireplace mantel!     The  rare  and  beautiful  marble employed here  -- Calacatta Vagli Rosato  --  was quarried and  imported  from  Lucca,  Italy, specifically for this mantel.   Though very beautiful in color,  this variety of marble is brittle and difficult to work with.    Despite  its  challenges,  DMS Studios masterfully executed the design.     Note the delicate and flawless carving in the close-up image below right.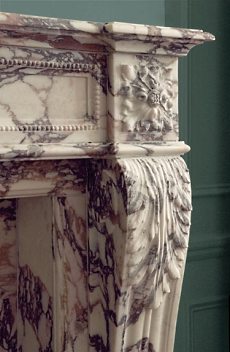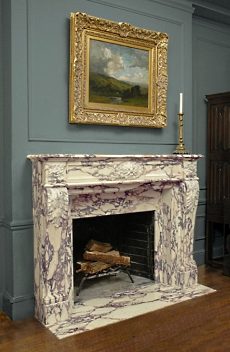 Calacatta Marble Fireplace Mantel Pictured Above
More Photos of Stone Fireplaces from DMS Studios
The  striking  English  Neo-Gothic  chimneypiece  pictured  below is crafted from grey Indiana limestone. Featuring a variety of Gothic motifs, the carv-
ings include a lamb and a lion, shown in the close-up image below right.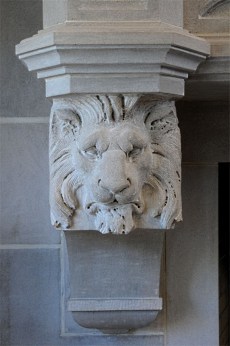 Lion and Lamb Fireplace Mantel Pictured Above
The Classically-inspired stone fireplace surround that follows is carved from pure white limestone imported from Europe.      Flanking the arched firebox opening are small columns with Ionic capitals which, in turn, are flanked by larger fluted columns with more elaborate Composite capitals.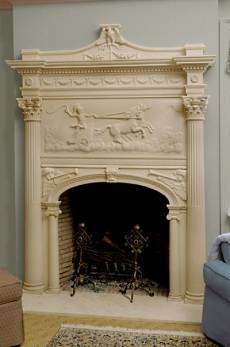 Phaeton Fireplace Mantel Pictured Above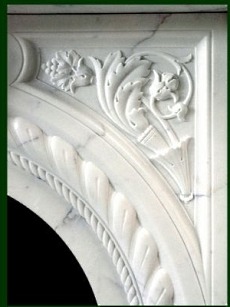 Pictured below, with a close-up image at  right,  is  a  striking  Victorian-era style fireplace mantel.    Crafted from beautiful  Italian  white  marble,   this 1840s design was replicated  by  DMS Studios from a vintage photograph for the   Lincoln   bedroom  in  the  White House.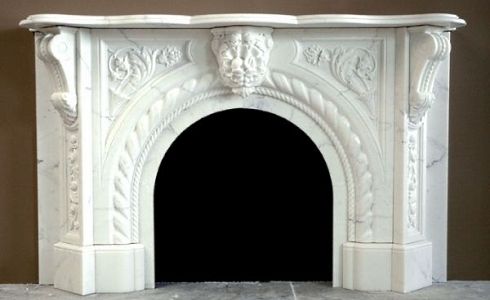 Reproduction Fireplace Mantel For Lincoln Bedroom In White House



And finally,  the photos of stone fire-
places  at right and below feature a monumental  fireplace  mantel   and overmantel.  Crafted from Jerusalem limestone  imported  from the Middle East,  it measures 12 feet wide,  15
feet high, and 5 feet deep.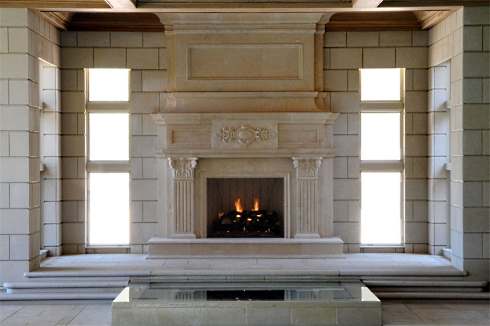 Monumental Limestone Fireplace Mantel & Overmantel Pictured Above

More Photos of Stone Fireplaces Crafted from Limestone

Please check back often or subscribe to our  RSS feed,  as  we  fre- quently add new photos of stone fireplaces to our site.
YOU MAY ALSO LIKE:



MORE Photos of Stone Fireplaces -
A Formal Affair!





The Stone Fireplace Surround -
A Timeless Classic!





Regal Fireplace Mantel Designs -
Fit for a King...OR a Queen!
Back to Stone Fireplace Designs Guide
Back to Standout Fireplace Designs Home Page
Didn't find what you were looking for?
Use this search feature to find it.
LIKE THIS PAGE?