Stacked Stone Fireplace Pictures




High and Dry!



The stacked stone fireplace pictures shown here feature soaring floor-to-ceiling designs crafted from a variety of stone types in a wide range
of exciting styles and configurations.   Employing the dry stone method, the stones are stacked horizontally and rely on the weight of the stones and friction between each stone for strength and architectural integrity.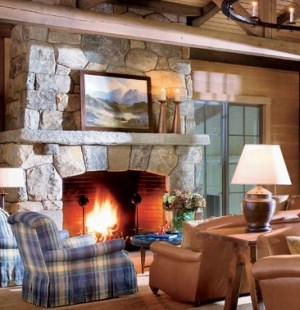 Technically  "mortarless,"   the stones used to build
a stacked stone hearth -- though assembled tightly together -- sometimes allow for  a  very narrow mortared bed joint that is raked back deeply into the stone work so the  mortar is undetectable.
Design at left by architect Paul F. Shurtleff (Photo via Architectural Digest)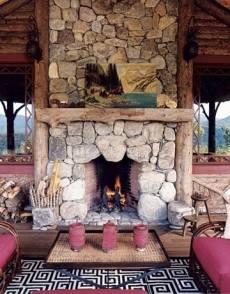 As shown in the following fireplace pictures,  this method of construc-
tion  can be used to create a wide
and  varied range of differing looks
. . . . . for both indoor rooms  AND outdoor rooms (right).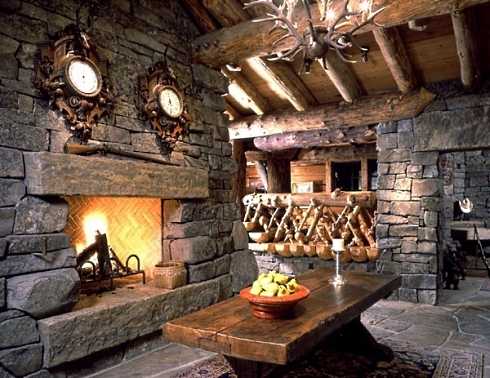 A painstaking, time-intensive endeavor, there is no mistaking the end prod-
uct for what it truly is: a superbly crafted -- often veritable -- work of art! And few, if any, do it better than Lew French. One of today's foremost dry stone artisans,  the  carefully  conceived  and  flawlessly executed designs created  by  him  are  only  hinted at in the two remarkable stone fireplace pictures that follow.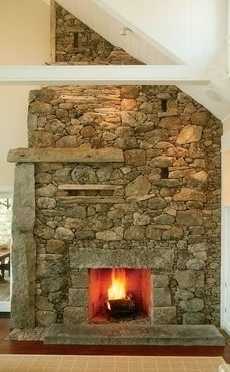 See More of the Exciting Stone Work of Lew French
As shown below,  a stacked stone fireplace can be crafted from a  variety of different stone types including river rock (left) . . . . . . . . . and roughly cut fieldstone (right) from Miller Architects . . . . . . .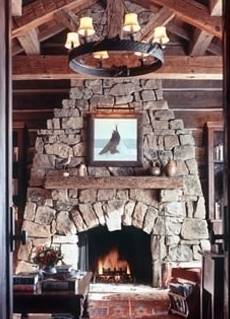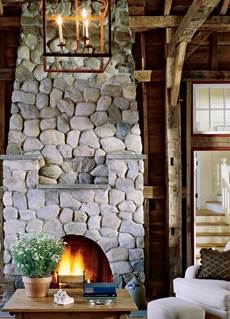 . . . . . in a wide range of shapes and sizes.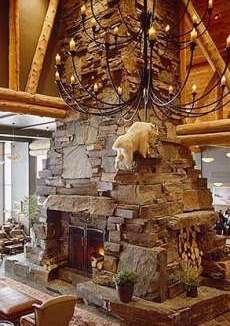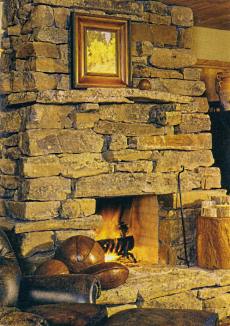 From a series of "mini stones" framing the firebox opening (below left) . . . .
to massive blocks and slabs laboriously -- albeit, carefully -- stacked,  i.e., arranged, from floor to ceiling (below right) . . . . .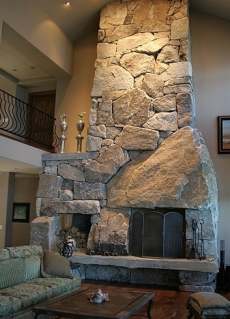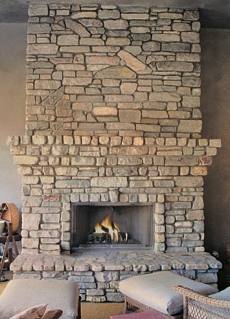 . . . and every size,  shape and color in between . . . . . the diverse array of available options is designed to satisfy virtually any personal taste and preference!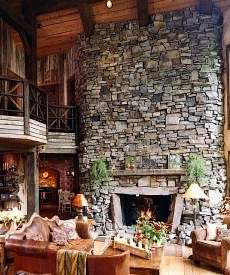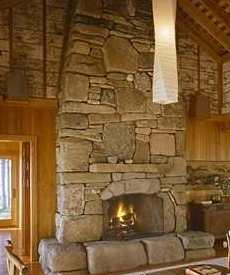 More Stacked Stone Fireplace Pictures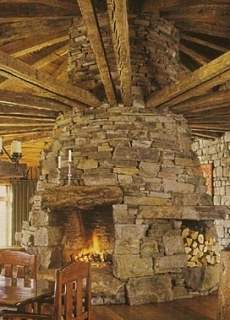 As with other masonry construction methods,  dry stacking  lends  itself
well  to  creating   STANDOUT  fire-
places that are truly unique, in both traditional and contemporary styles. The stone fireplace pictures at right and  below  portray  some one-of-a-
kind designs that  are  possible  em-
ploying dry stone techniques  --  in-
cluding  the unusual corner fireplace pictured at bottom!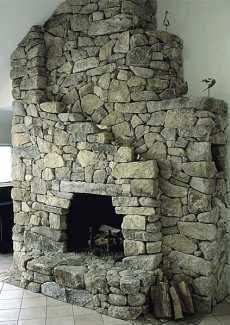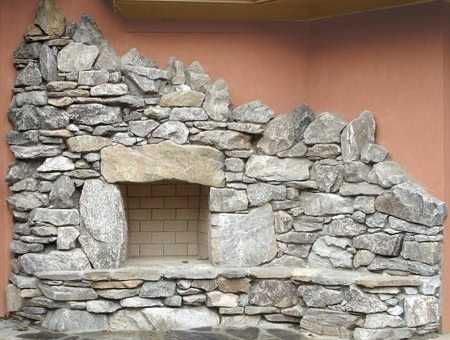 Please check back often or subscribe to our  RSS feed,  as we fre-
quently add new stone fireplace designs to our site.
YOU MAY ALSO LIKE:





MORE Stacked Stone Fireplace Pictures -
Stacked In Your Favor!





Dry Stack Stone Fireplaces -
Centuries in the Making!
Back to Stone Fireplace Designs Guide
Back to Stone Fireplace Designs Overview

Back to Standout Fireplace Designs Home Page
Didn't find what you were looking for?
Use this search feature to find it.
LIKE THIS PAGE?