Fireplace Pictures Stone...
Art for the Ages!
Fireplace pictures stone . . . As an art form, a striking stone hearth is one of the few architectural elements that is both beautiful and highly func- tional.  More importantly, it is one of the few, if not the only, architectural element around which family and friends gather to celebrate special occasions and create new memories, as well as to reminisce about times past.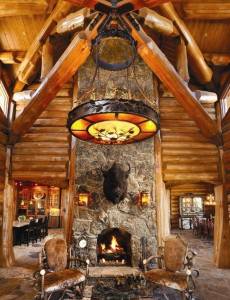 The stone fireplace hearth  is,  quite frankly, the heart of the home.  Due
to  the  limitless  array  of design op-
tions, and the versatility with which  the material, itself,  can be adapted
to create an infinite number of looks,
a   stone  fireplace  is  an  excellent
choice  for  virtually  any  setting or
home style -- including, of course -- the quintessential log home or cabin!
The fireplace pictures stone above right and below are just a few of many fine examples designed specifically for log homes and cabins.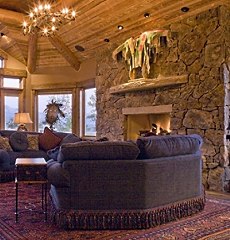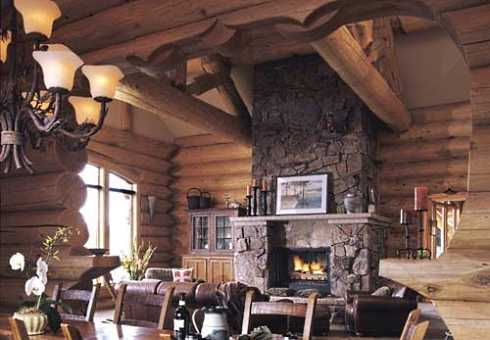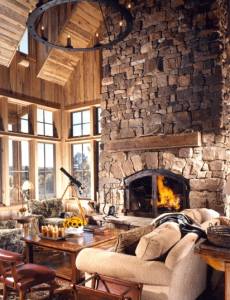 Another popular choice is the  Adiron-
dack Style pictured in the striking de-
signs at right and below.   The brack-
eted wood mantel shelf  on  the  two images  of  the stone hearth that fol-
lows give it somewhat of a Craftsman Style look and feel, as well.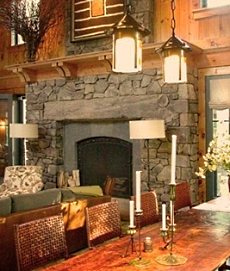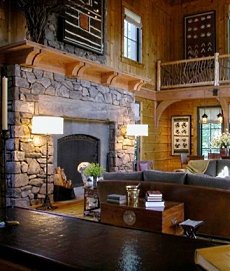 More Adirondack Style Fireplaces

More Craftsman Style Fireplaces (Stone)
The unique design with birch bark tree trunks and branches pictured below also  hints  at the Adirondack Style and provides a modern twist on a cen-
tury-old theme to give it more of an updated look and feel.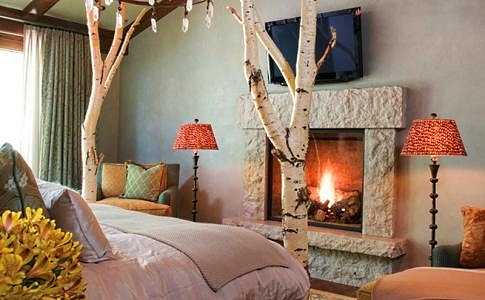 More Fireplace Pictures Stone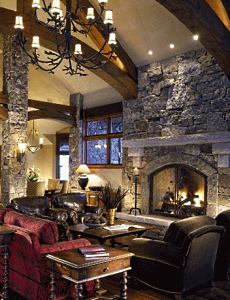 Moving away from the rustic to  the more refined  --  albeit still very tra-
ditional  --  look  and  feel  are  the fireplace pictures stone at right and below.   The roughly textured stone
on  the  fireplace  at right contrasts beautifully  with  the  finely finished wood ceiling trusses directly  above
it.
Below  left,  the  smooth  finish and random ashlar pattern of the  stone hearth lend more of a formal look to this  living  room . . . . . as does the dark slate stone surround with vous-
soirs  and  keystone framing the top
of  the arched firebox opening in the example on the right.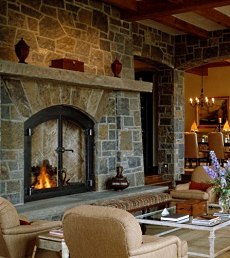 More Slate Stone Fireplace Designs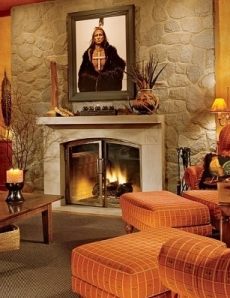 The rather unusual  --  albeit  very striking  --  stone surround at right makes  quite  an  impressive design statement! Resting against a back-
drop  of roughly textured fieldstone  that extends from floor to ceiling is
a finely finished mantelpiece with a smooth stone finish.
The ledge stone surround pictured below is  capped  with  a  large  painted wood mantel and overmantel. Once again, the wood mantel and overmantel with beaded board inset hints at the Craftsman Style.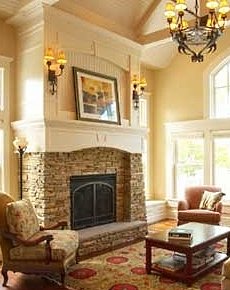 More Craftsman Style Fireplaces (Wood)

More Wood Fireplace Mantel Shelves
Regardless of your personal tastes or preferences, a stone fireplace can be crafted to your exacting standards.  One that will complement the style of your home and, more importantly, your personal style!
Please check back often or subscribe to our RSS feed,  as  we  fre- quently add new stone fireplace pictures to our site.
YOU MAY ALSO LIKE:




More Fireplace Pictures Stone -
Handcrafted Hearths!




Stone Fireplace Pictures -
EXTRA Extraordinary Designs!
Back to Stone Fireplace Designs Guide
Back to Stone Fireplace Designs Overview

Back to Standout Fireplace Designs Home Page
Didn't find what you were looking for?
Use this search feature to find it.
LIKE THIS PAGE?