The Spanish Style Fireplace...
A Rich & Colorful Heritage!
Spanish style fireplace designs encompass a wide range of vibrant styles, including exciting regional variations from around the globe! As a result, a Spanish style fireplace means different things to different people.
The tremendous power and influence once wielded by Spain and its con-
quistadors resulted in the spread of Spanish culture across many parts of the globe, from the Americas -- North, South and Central -- to the Philippines . . . . .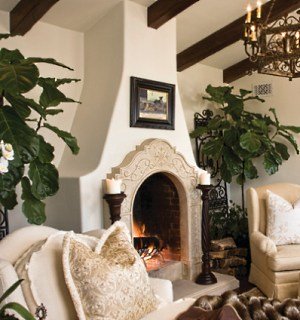 Design above by Marengo Morton Architects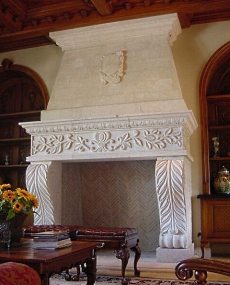 Consequently, Spanish culture has mingled   with  --  and  subsequently embedded  itself   --   in  the  native cultures  of  numerous countries and island nations around the world.
While  some may picture an old world design   from   Mother   Spain   when thinking  about  a  Spanish style fire-
place,  similar  to the striking example
at  right  by  Estrella Stone  . . . . . .
. . . others will conjure up images of a  Kiva fireplace (below left)  or  a  Mis-
sion Revival  inspired  design   (below right)  from  the southwestern United States . . . . . . .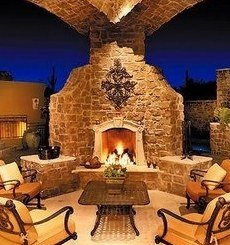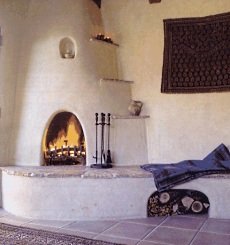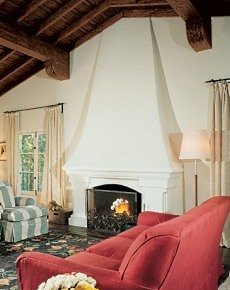 or any number of Spanish Revival designs,  introduced across much
of the United States in the 1920s,
that  continue  to  be  popular to
the present day . . . . . . such as
the one pictured at right.
Still others will envision a vibrant and richly colored handmade tile surround from Mexico . . . similar to the stunning example pictured below . . . . .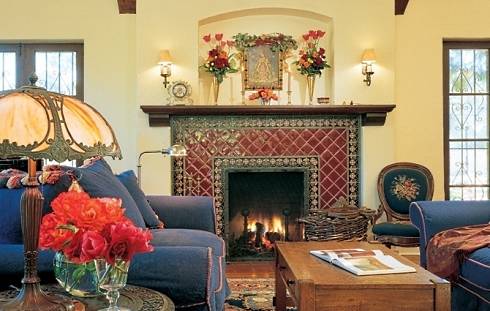 or an elegant stone mantel and surround, such as may be found in a formal dining room or study in Brazil or Argentina.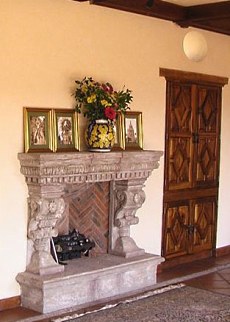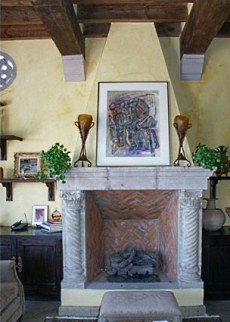 Though inspired by Pueblo architecture of the American southwest,  tradi-
tional Kiva fireplace design has been greatly influenced by the many people of Spanish heritage in the region.   From the use of bold colors and decora-
tive detailing . . . to variations of the traditional Kiva shape . . . . elements of Spanish design and style permeate many of these impressive structures.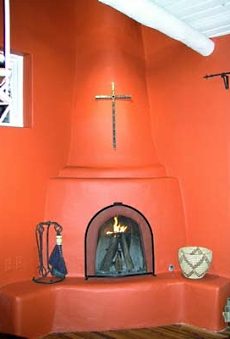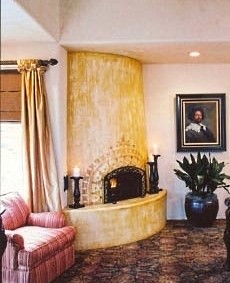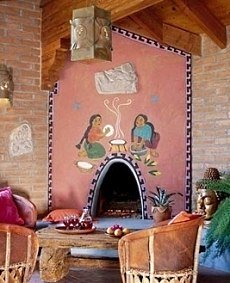 Intricately detailed and richly colored tiles -- another hallmark of Spanish-inspired  design -- are  frequently employed in Spanish style fireplace sur-
rounds.  Though not nearly as common, the inside of the firebox pictured below (right) has also been tiled.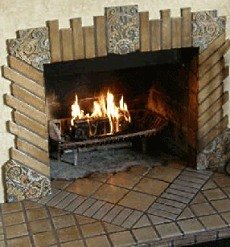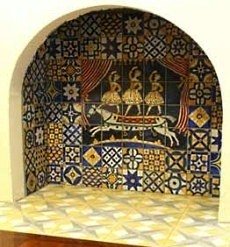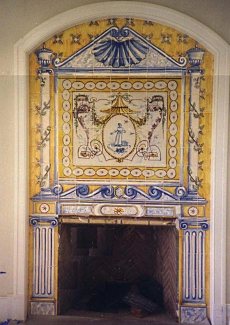 Firmly established by the 11th century, ceramics  became  an  integral part of architectural decoration in Spain.  The azulejo,   or  painted  and   tin-glazed ceramic tile,  was  introduced to Spain by  the Moors,  who  learned the craft from  the  undisputed  masters  of  tile decoration . . . the Persians. The term, "azulejo," is derived from an Arab word meaning  "polished stone"  and reflects the  Arab influences often found in the tile   such   as  interlocking  geometric, curvilinear, or floral motifs.
From Spain the art was transmitted to Italy, Portugal and Holland . . . . . and from there to England.    Spanish con-
querers introduced it to Mexico, where it evolved into its own distinctive style between the 16th and 18th centuries.
The  striking Spanish style fireplace at
right, above, is clad with azulejos.
Following are a few more examples of Spanish-influenced fireplace tile designs appropriate for Spanish style fireplace surrounds.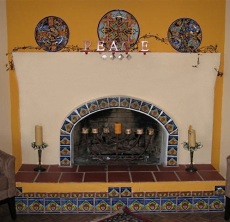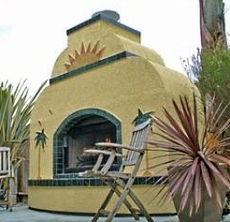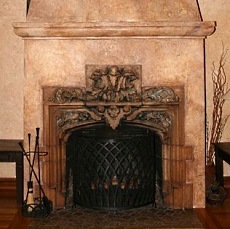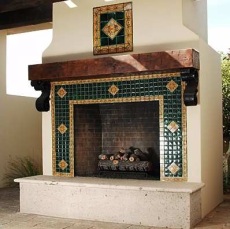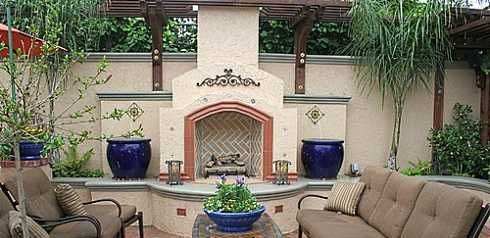 Spanish Style Fireplaces in Stone
Another  popular  material used to create  Spanish style fireplaces is natural  stone . . . . .  particularly limestone  and  Cantera stone,  a
strong  and  porous,    yet   light-
weight  stone mined primarily from regions of southern Mexico. Found naturally  in  a wide variety of col-
ors and textures, it is very durable
and has been used on architectur-
al  facades  all  over  the world for hundreds of years.    Mexican Can-
tera is used in the four elegant de-
signs below.
The beautiful mantel and overman-
tel at right are made from Yucatan limestone.   Note the lovely colora-
tion and markings in the stone.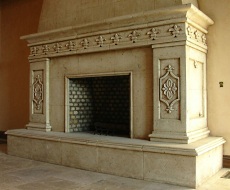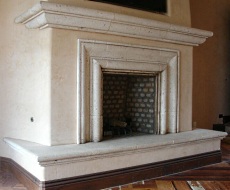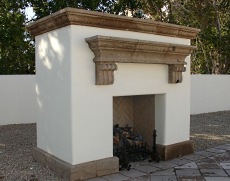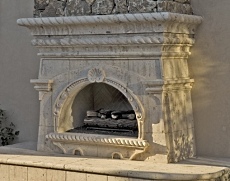 Please click here to view more Cantera stone fireplaces.
The rich and vibrant culture of Spain has left its imprint on architecture and design around the globe.  As a result, the design of important arch- itectural elements such as the fireplace has been significantly influenced in many parts of the world.    Though there may be stylistic distinctions or differences from region to region, the infusion of Spanish culture is clearly evident in each . . . . leaving a rich and colorful legacy for generations to come!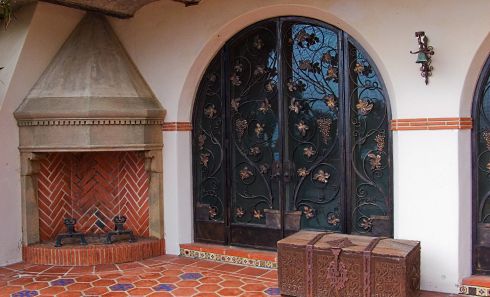 Please check back often or subscribe to our  RSS feed,  as  we  fre-
quently add new images of Spanish-inspired fireplaces to our site.
YOU MAY ALSO LIKE:





MORE Kivas & Spanish Style
Fireplace Designs!





Standout Fireplace Tile Designs -
Signs of Their Times!
Back to Fireplace Tile Designs
Back to Fireplace Mantel Designs
Back to Fireplace Design Overview
Back to Standout Fireplace Designs Home Page
Didn't find what you were looking for?
Use this search feature to find it.
LIKE THIS PAGE?