Fireplace Mantels Wood...
Extraordinary Custom Designs!
Fireplace mantels wood . . . the warmth and beauty of wood is undeniable. Infused with lovely grain patterns and other distinctive features,  it  be-
comes more beautiful with age as it mellows to a rich, warm glow.
Throughout history, awe-inspiring fireplace surrounds have been created with this amazing organic material . . . . . a practice that continues today. The extraordinary designs featured here provide a glimpse into what can be achieved when wood is used as an artistic medium!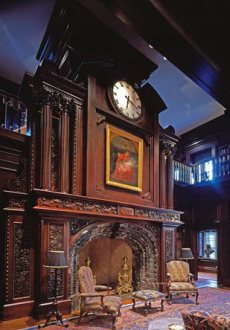 Pictured at left is a stunning present
day example of the woodcrafter's art. A  monumental  two  story  fireplace surround  anchors  an equally monu-
mental library (below)  in  a  private Dallas  residence.     Built for Texas businessman and real estate magnate, Harlan Crow,  the  library  houses  a treasure-trove of rare books,  manu-
scripts and other historic items col-
lected by Mr. Crow during the last 30 years.
The palatial home, which also includes the  soaring  wood fireplace surround pictured above, right, was designed by architects  Richard  Giegengack  and D.C. Broadstone.    John Phifer Marrs collaborated on the interior design.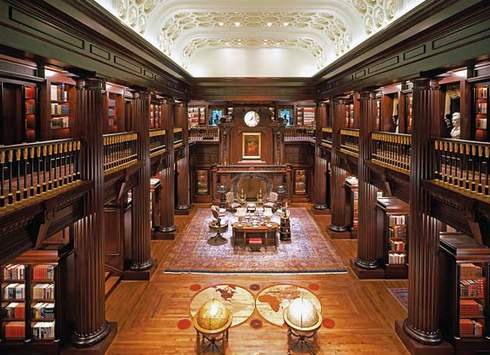 A Versatile Natural Resource
For millennia, wood has been used for everything from fuel to furniture. A carbon-neutral renewable resource, its applications are many and varied.
Beyond its important and ubiquitous structural functions,  wood has been used as a finishing material on virtually every surface of a room.    Floors, ceilings and walls have been handsomely decorated with every manner of wood type and graining.    Custom work, in particular, has produced some outstanding  examples  of  the  woodworker's art,  including the exquisite paneling, cabinetry and coffered ceiling below.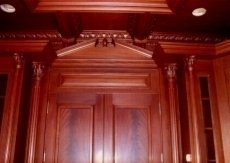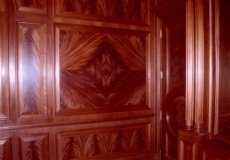 More Fireplace Mantels Wood
Not  to  be  left  out, custom fireplace mantels and overmantels fashioned from  finely  grained  woods  continue  to  be produced today, such as the outstanding  example,  pictured below,  from Ipswich Cabinetry in Ipswich, Massachusetts. Note the carefully arranged, matching bands of veneer on the overmantel of this see-through fireplace in the photo at right, below.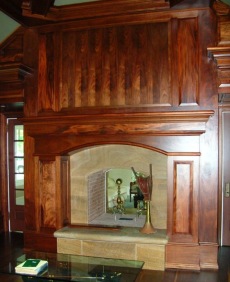 Hand carving,  another  time honored technique, continues to be employed in custom wood mantels. The richly carved mahogany mantel and surround pictured  below  incorporates  Celtic  themes  and  motifs to celebrate the owner's Scottish heritage.    Carved by Ernest Bryant,  a woodworker from Check,  Virginia,  it  is  an  extraordinary present-day example of the wood carver's art!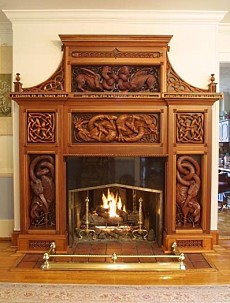 The following exquisitely detailed mantel is carved from solid  Claro walnut. A highly figured wood with a rich brown color and striking grain patterns, it is frequently used to make fine furniture.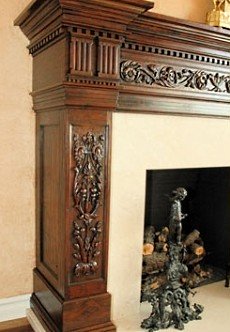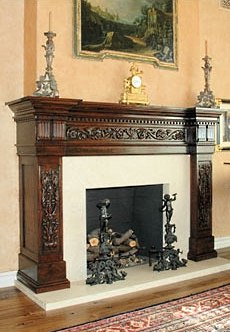 The fine English oak fire surrounds and hand carved overmantels in the two photos  below are just a couple of the extraordinary examples of traditional English  fireplace  mantels  wood  joinery created by a modern day team of designers and woodworking artisans.    Crafted by Deacon & Sandys Archi-
tectural Joinery,  based in Kent,  England,  it's the next best thing . . . . . . perhaps even better . . . than the real (i.e., original) deal!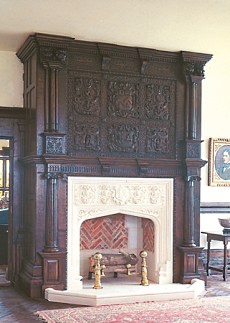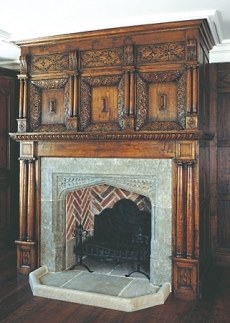 And finally, the striking design that follows is from Thomas Riley Artisans' Guild, based in Naples, Florida.  It features a massive, elaborately paneled butternut fireplace mantel and overmantel, flanked by display cabinets with leaded glass doors.  Surrounding the arched firebox opening is a beautifully colored marble, crowned by a large keystone.
If  you're  looking  for  the  best  there is in present-day custom fireplace mantels wood,  you  need  look  no  further  than  the highly skilled wood-
crafters behind the incredible examples shown here.  For more information about  any  of  these amazing artisans and their custom fireplace mantels, please contact us.
Please check back often or subscribe to our RSS feed,  for  we  fre- quently add photos of wood fireplace mantels as we discover exceptional new designs to bring to  you.  Also, if you know of a skilled designer or artisan that you believe should be featured here, please let us know.
YOU MAY ALSO LIKE:





MORE Extraordinary Fireplace
Mantels Wood Designs!





Fireplace Surround Designs -
Period Perfection!





Fireplaces Mantles & Magnificence -
Masterworks In Wood!





The Custom Wood Fireplace Hearth -
Truly Heart(h)-Warming!
Back to Wood Fireplace Mantels
Back to Custom Fireplace Designs
Back to Standout Fireplace Designs Home Page
Didn't find what you were looking for?
Use this search feature to find it.
LIKE THIS PAGE?