Outdoor Stone Fireplace
Design Ideas & Tips
Outdoor stone fireplace design has come a long way in recent years.  The immense popularity of outdoor rooms has resulted in some very creative fireplace design ideas, giving homeowners numerous opportunities to personalize their outdoor fire spaces.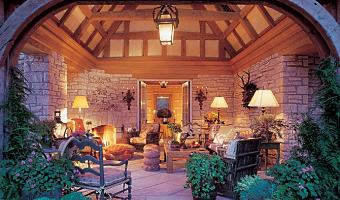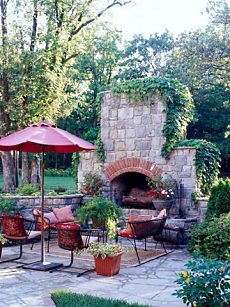 Stone is a wonderful medium for cre-
ative expression. It comes in a wide range of sizes,  shapes,  colors  and textures  and can be used to create some  very  distinctive  outdoor fire-
place designs.    By varying the size
and shape of the stones,  as well as mixing textures and colors,  you can build  a  uniquely  personal  outdoor
stone fireplace design   that  is  the
envy of your neighbors.
Fortunately,   it  doesn't  take  that
much  to  transform  a  "so so" com-
position  into  a  stunning, attention-grabbing work of art.    For example,
the  stonework  on  the fireplace at
right  consists  of  stones  that  are
fairly similar in size,  shape,  color & texture . . . . . . as  does the stone-
work on the fireplace directly below. However, in both examples, the stra-
tegic  placement of a small number of bricks in a sharply contrasting color makes a striking difference!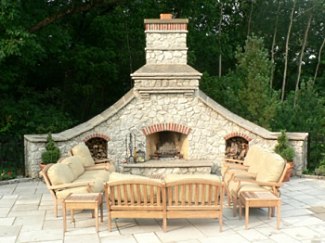 Note the variations in stone color in each of the two fireplaces below, as well as the way the stone frames the firebox opening below left. Contrasts such as these lend both visual and architectural interest to the designs.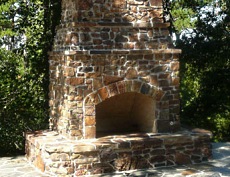 The following example (below left) uses stones of varying textures and colors for visual impact. Below right, a series of moulded recesses in the smoothly finished stone mantel and surround lends an air of elegance and sophistication to this fireplace design.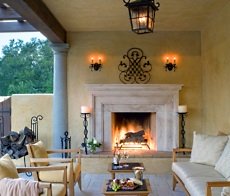 The following two examples show how a little customization can infuse your design with a lot of personalization when creating your outdoor stone fire-
place. Note the built-in niches on the fireplace below (left) and the design above the firebox opening on the fireplace to the right.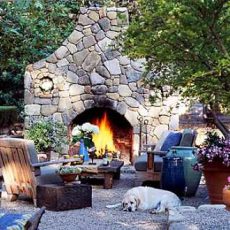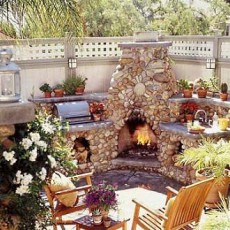 The photos below demonstrate how special lighting can add visual impact and drama to an outdoor stone fireplace design.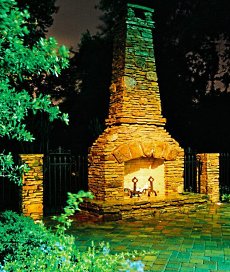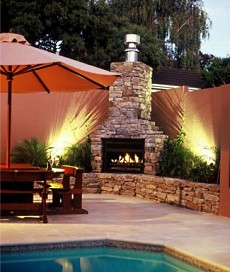 More Outdoor Stone Fireplace Designs
Another important consideration is where to position an outdoor fireplace on your property, as well as how to delineate the space for your outdoor "room." The two examples below make very efficient use of outdoor space. Built into the side of a hill, they are ideal for backyards with a limited area and effectively utilize space that would otherwise not be used.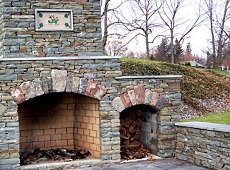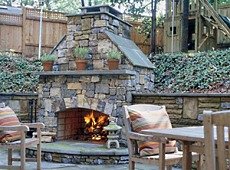 More Tips on Positioning an Outdoor Fireplace
One way to effectively delineate the space for an outdoor room is to ex-
tend a low stone wall outward from both sides of the fireplace, as in the two examples below.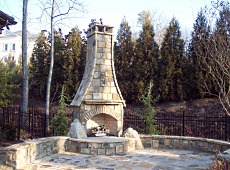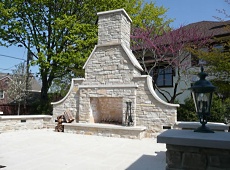 Another method is to erect a pergola over the area designated for your room, as shown below.    Not only is it an attractive way to "frame" an outdoor living room, but it provides a sense of privacy, as well as partial shade from the hot summer sun.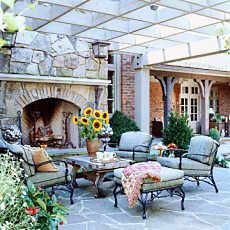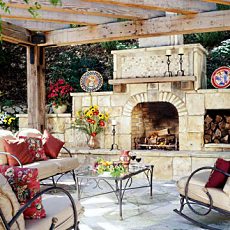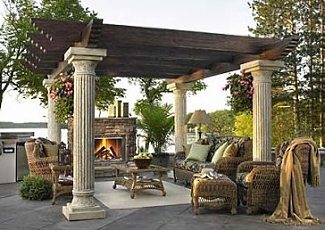 Please click on above image for more information
about pergola.
Get  a vast array of exciting fireplace design ideas by subscribing to our free monthly e-newsletter. Simply enter your information in the form below and click on "Subscribe" so you won't miss out on a  sin-
gle future issue! Also, when you subscribe, you'll have access to all back issues!
For More Information About Our Monthly e-Newsletter, Please Click Here.
Please check back often or subscribe to our RSS feed,   as  we  fre- quently add new outdoor stone fireplace designs to our site.
More Outdoor Stone Fireplace Design Ideas

Outdoor Gas Fireplaces
Back to Fireplace Design Ideas
Back to Outdoor Fireplace Designs

Back to Standout Fireplace Designs Home Page
Didn't find what you were looking for?
Use this search feature to find it.
LIKE THIS PAGE?