Regal Fireplace Mantel Designs
Fit for a King...OR a Queen!
The extraordinary fireplace mantel designs pictured here are -- quite lit-
erally -- fit for royalty . . . . .
From a stunning antique surround once (almost) owned by Napoleon . . . to a striking reproduction of the elegant marble surround in the Queen's Dining Room at Hampton Court Palace, they are now available for purchase by mere "commoners" . . . . . like you and me!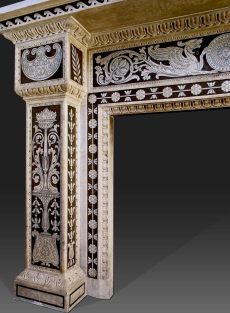 If only the fabulous 17th century an-
tique mantelpiece  pictured  at  right
and below could talk . . . . . what  a
story it would tell!      Enshrined in a palace in northern  Portugal,  it  was seized as bounty  by  Napoleon's  in-
vading army in 1808 and destined for the Imperial House of Napoleon. How-
ever, while enroute to the Portugese border,  it  was intercepted and sent
to Lisbon. Not knowing from where it came,  the  King  gave it to the Duke
of Palmela,  who installed it in his pal-
ace in Calhariz, Lisbon.  Around 1935, when the palace was sold,  the  man-
telpiece was also removed  and  sold, and has been privately  owned  since that time. Currently available for sale and  in  remarkable  condition,   it  is crafted from black and  white  Italian marble  --  made all the more  excep-
tional by its combination of inlays and high-relief!
Please contact us for more information about this stunning antique fireplace surround!
Pictured below is a fabulous 19th century style Louis XV fireplace in  mala-
chite veneering with very rich and fine ormulu and curved side panels. Sim-
ilar unique fireplaces can be found in the Kremlin in Moscow, the Hermitage Palace  in  St. Petersburg  and  the  Museo dell'Opificio delle Pietre Dure in Florence.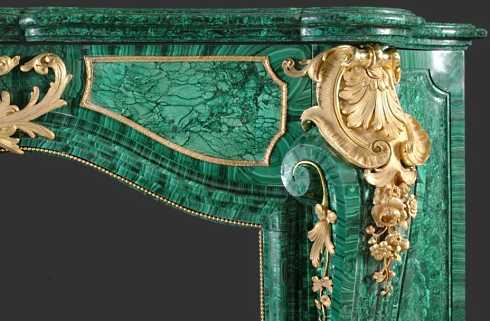 The monumental French antique fireplace mantel pictured below dates from 1850 and consists of beautifully veined marble with bronze accents.   Rest-
ing on the shoulders of the massive projecting scrolls of this impressive de-
sign is a pair of finely cast bronze mounts in the form of lion masks.     This form  of  Rococo  inspired  fireplace  remained popular in France throughout the 18th and 19th centuries. Lions, with their symbolic associations in both religious and secular art,  have  been a constant decorative motif on chim-
neypieces and fine furniture throughout the ages. The qualities of fortitude and strength reflected in the use of the lion  motif  are  epitomized  in  the fireplace design created for the Hercules Salon at  the  Palace of Versailles in the early 1730s.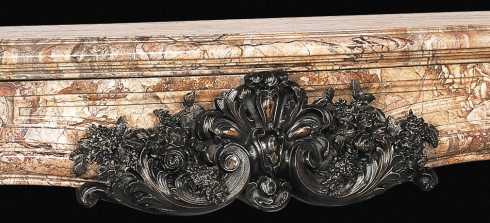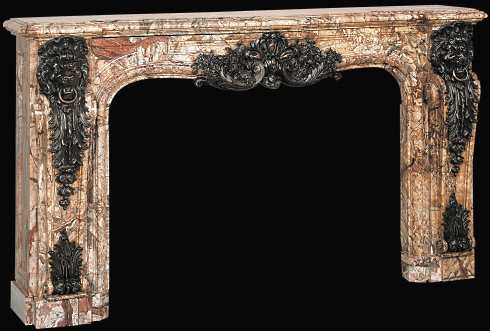 (All Fireplace Mantels Pictured Above From Montefizi)
Moving from France to England,  the  following  mantelpieces are reproduc-
tions -- or originals which can be reproduced to your custom specifications --  of  striking designs currently existing in some of the royal homes of Brit-
ain.  Situated in the Public Dining Room at Hampton Court Palace, the mag-
nificent chimneypiece pictured below, left,  bears the arms of George I and is one of the last pieces from the workshop of Grinling Gibbons.  The Dutch craftsman's work was much in demand among the aristocracy.    The stun-
ning marble surround pictured below,  right,  is from one of the Queen's Pri-
vate Chambers at Hampton Court Palace.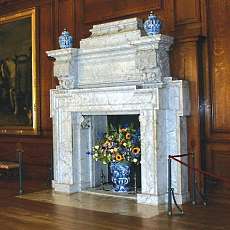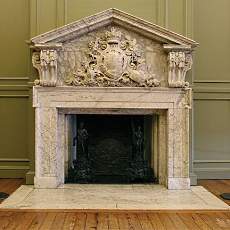 Below,  right,  is  another striking marble surround from Hampton Court Pal-
ace. It is located in the Queen's Dining Room. The fireplace pictured below, left, is in the State Saloon at Woburn Abbey.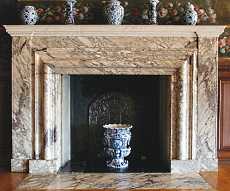 The impressive fire surround pictured at left,  below,  is  from  a  suite  of rooms at Hampton Court Palace built for the Duke of Cumberland, the sec-
ond son of George II, when he was just ten years old.    The surround pic-
tured below, right, is from the King's Gallery at Kensington Palace.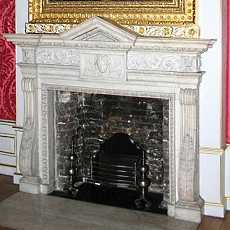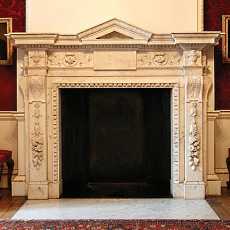 Each of the monumental fireplace mantel designs that  follow  includes  an impressive overmantel.      On the left is the Cupola Fire Surround from the Cupola Room at Kensington Palace.     The  painting  of  the  Cupola  Room (bottom) depicts the surround on the far wall. Pictured in the photo below, right, is the West Hall South Fireplace at Woburn Abbey.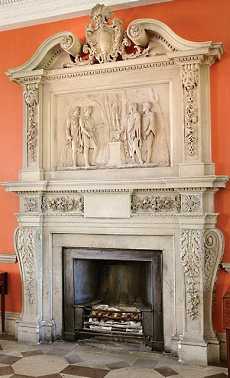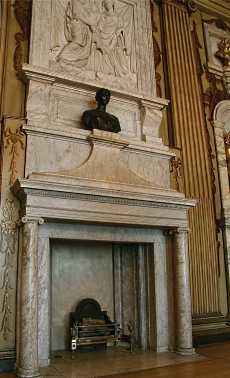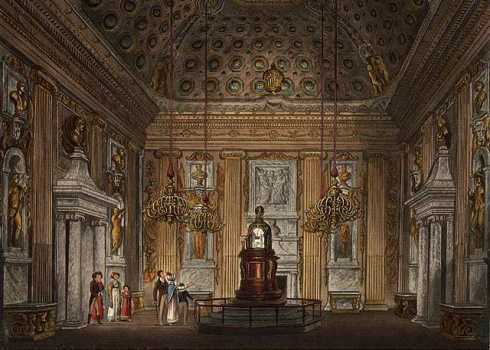 Each of the fireplace mantel designs pictured above can be repro-
duced to your specifications. Highly skilled French and English craftsmen painstakingly carve and finish each mantelpiece by hand. If you'd like more information about any of the designs featured here -- or if you have a design of your own in mind and would like to have it skillfully executed in stone -- please contact us.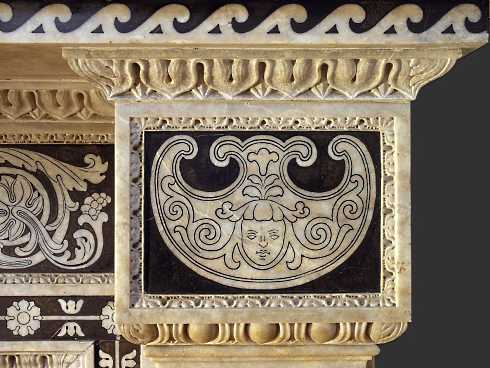 Please check back often or subscribe to our  RSS feed,  as  we  fre- quently add new images of handcrafted fireplace mantel designs to our site.
More Regal Fireplace Mantel Designs



Antique Fireplace Mantels -
Gilded Age Glory!




The Custom Stone Fireplace Mantle -
A Masterpiece In Stone!
Back to Fireplace Mantel Designs
Back to Antique Fireplace Mantels
Back to Standout Fireplace Designs Home Page
Didn't find what you were looking for?
Use this search feature to find it.
LIKE THIS PAGE?