The Hobbit Fireplace...
Settle IN with Tolkien!
A heartwarming hobbit fireplace plus your favorite chair equals a perfect place to curl up with a book by J.R.R.Tolkien.  Simply stated:  hob fire + fav chair = perfect place to curl up w/book

Escape the hectic pace of modern-day life -- at least momentarily -- and transport yourself to the bucolic Shire.  Meet the illustrious inhabitants of Hobbiton, including Bilbo Baggins, Frodo Baggins, and Samwise Gamgee as you relax by a crackling fire . . . . .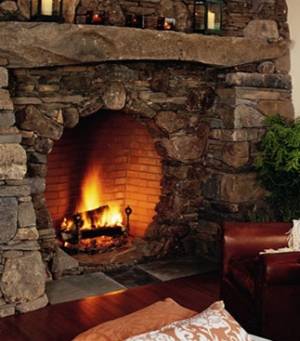 And what better way to savor the moment  than  in  the  glow  of  a hobbit-inspired hearth?  Pictured above, left, is a fireplace design with a round (firebox) opening -- a hallmark of window and door shapes in hobbit house architecture.

Rounded stones and curved edges evoke the look of a hobbit hearth in the fireplace design below,  despite its lack of a circular firebox opening.    A large dragon keeps a watchful eye as it encircles this enchanting pile of dry laid (without mortar) stonework.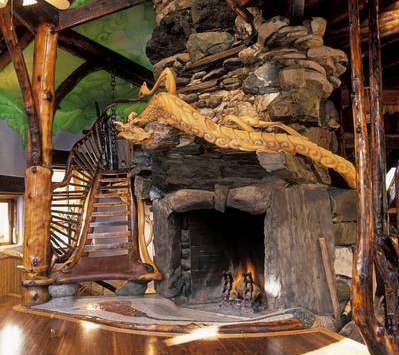 Above: Interior of the "Mushroom House" in Whistler, BC

In stark contrast to the design above, the hobbit fireplace pictured below has a more "polished" look and feel.  Precisely laid brickwork in a stepped pattern outlines a round firebox opening . . . . .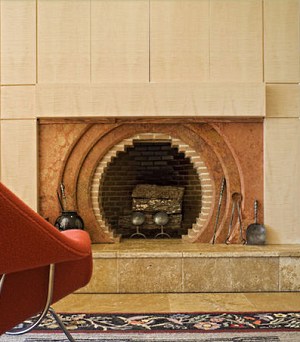 Three successive layers of marble overlay  the  brick- work.   Cut and finished to echo the opening's circular shape, each layer of marble is  narrower  than the pre- ceding one to create more depth and visual interest.

A lightly finished timber man- tel  shelf  and  wood "siding" frame  the  top and sides of the firebox surround.  Stone tiles cover the raised hearth of this design in Berwyn, PA by Archer & Buchanan Arch- itecture.

Above Design: Archer & Buchanan Architects

The hobbit fireplace that follows has a distinctive Southwest flavor.    Its sculpted surround forms part of a curved adobe wall.  Narrow strips of clay tile frame the circular firebox opening.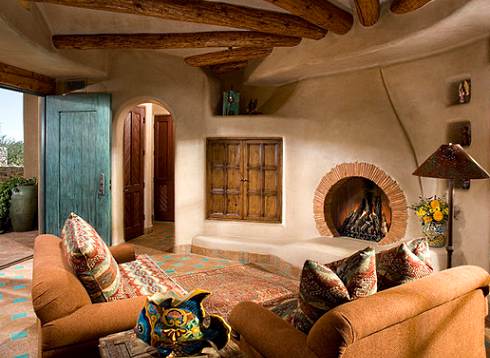 Photo Credit (above): Bess Jones Interiors, Scottsdale, AZ
More Hobbit Fireplaces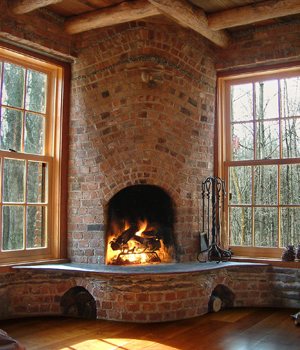 Anchoring the storybook cottage, pictured below, is a charming brick fireplace.  Undulating courses of brickwork echo the arched firebox opening.  Tucked neatly beneath the raised hearth are 2 "hobbit holes" for storing logs.

As the firewood crackles, billows of smoke rise from a round brick and stone chimney (below). The wavy roof line, pierced by a round dormer window, makes this country cottage outside Rhinebeck, New York, an ideal hobbit habitat!

   Photo Credit (above): Kimberly Brainerd
Photo Credit (above): Kimberly Brainerd

The imaginative fireplace design that follows looks like it leapt from the pages of a Brothers Grimm fairytale.  The focal point of a magical cottage in a Boston suburb, its massive hearthstone extends diagonally across one end of the room.

An oversize carved stone mantel shelf is supported by large blocks of cut stone with corbels.  Resting on each end of the mantel shelf, piers made of cut stone blocks rise to the rafters (i.e., ceiling beams).  Wood bifold doors with recessed panels, cross braces, and charming cutouts span the area between the stone piers to conceal a wide screen TV.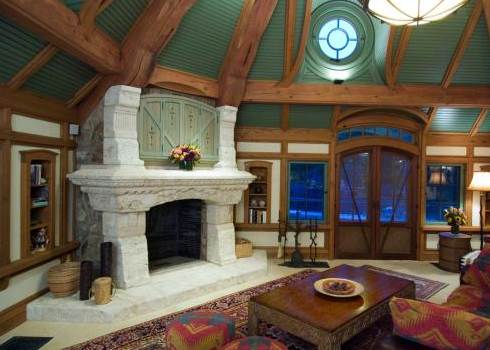 Design above by Meyer and Meyer Architects, Boston, MA


A soaring chimney vents the indoor fireplace, as well as a massive outdoor stone fireplace (below).    Clad with split faced stone in a random mosaic pattern, the chimney is capped with smoothly finished dimensional stone and a pair of decorative clay chimney pots.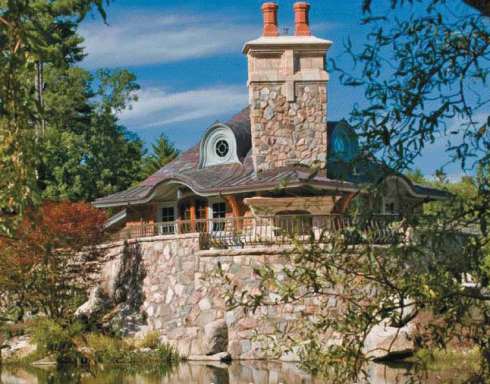 Design above by Meyer and Meyer Architects, Boston, MA

See More of this Enchanting Design at our
Sister Site, Standout-Cabin-Designs.com


Another striking outdoor design, the hobbit fireplace below is crafted from widely contrasting stone sizes and shapes.  Resting on a large stone slab anchored by huge boulders at each end,  the firebox features a circular opening distinctively outlined with long, narrow flat stones.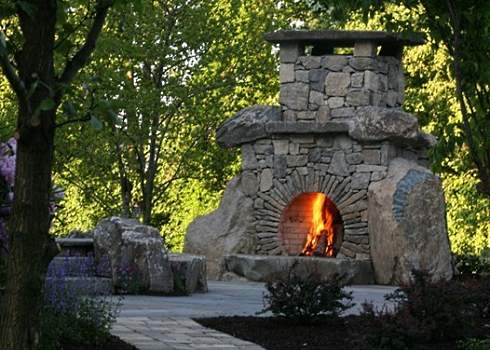 Design above by Landscape Aesthetics, Bernardsville, NJ

More Stone Outdoor Fireplaces

And finally, for the hobbit -- or human -- seeking a more contemporary look,  the  fireplace  that  follows  may provide just the right amount of modern-day flair.  Crafted with tiny river rocks arranged in a wavy mosaic pattern,  the wall-size composition curves inward to form a round firebox opening near the floor.  Two little stools in the foreground "anxiously await" their hearthside hobbits!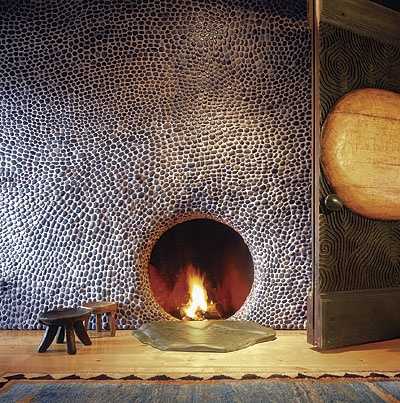 Above photo via Fine Homebuilding

See Hobbit Fireplace in Storybook Cottage, pictured below,
by visiting our sister site at Standout-Cabin-Designs.com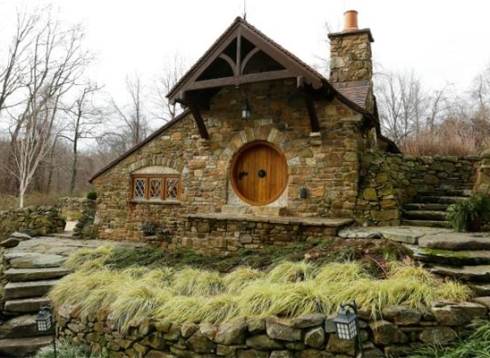 Hobbit House Design above by Archer & Buchanan Architecture

Please check back often or subscribe to our RSS feed,  as we frequently add new images of unique fireplace designs to our site.

YOU MAY ALSO LIKE:
Standout River Rock Fireplaces -
Cottage Cuties!




Building a Stone Fireplace -
Think Outside the (Fire)Box!

Back to Fireplace Design Ideas
Back to Fireplace Design Overview
Back to Standout Fireplace Designs Home Page


Didn't find what you were looking for?
Use this search feature to find it.
LIKE THIS PAGE?