Stone Fireplace Hearth Ideas...
Outstanding Custom Designs!
Custom stone fireplace hearth ideas come from a long and rich legacy  of stone fireplace design.  As man's first building material, natural stone has been used to erect fireplaces for hundreds of years.  Despite that fact --
or perhaps, because of it -- there appears to be no shortage of fresh and innovative ideas for new hearth designs!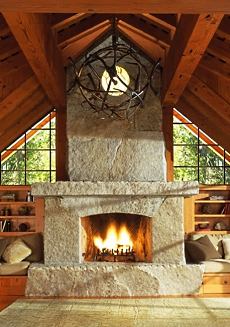 Whether  made  from massive slabs
of  stone  carefully  set  into place,
such  as  shown  in  the example at
right by Walker/Warner Architects . .
. . . . . . . . . or a series of randomly shaped  and  sized  stones  skillfully assembled like the pieces of a large  and intricate puzzle (below) . . . . .   the designs are as timeless and en-
during  as  the  stone,  itself,  from
which it is made!
The river stones in the rugged stone fireplace designs pictured below were also skillfully arranged to fit together like the pieces of a puzzle.   Note the lack  of  any visible mortar between the stones . . . a clear sign that these impressive  stone  hearths  are the work of an experienced and highly com-
petent stone mason.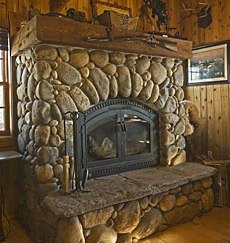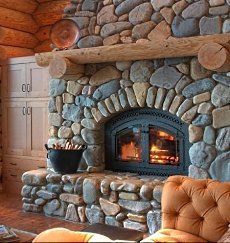 More River Stone Fireplace Designs
Similarly,  the  fieldstone hearth pictured below, left . . . . . as well as the fieldstone and river rock fireplace pictured below, right, were painstakingly assembled without any mortar joints.     Also note the pieces of driftwood that have been skillfully worked into the rounded design in the example on the right.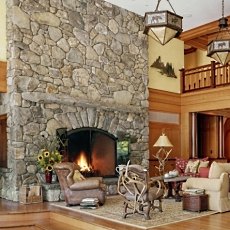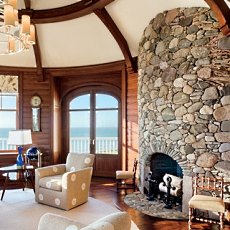 More Fieldstone Fireplace Designs
More Fireplace Hearth Ideas
Another way to lend a distinctive touch -- and contrast -- to a stone fire-
place is with a mantel shelf.    In the following examples,  three of the fire-
places use large wooden timbers as mantel shelves.    The fourth fireplace (top row, right) incorporates a smooth, cantilevered stone mantel shelf.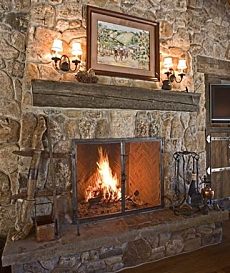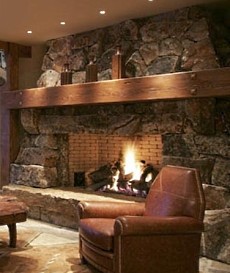 More Fireplace Mantel Shelves

Custom Wood Fireplace Mantel Shelves
The large and imposing Craftsman Style fireplace below,  left, is fitted with a beautifully crafted wooden mantel shelf supported by large stone corbels. The  much  simpler  mantel  shelf  in  the  example below, right, is made of stone.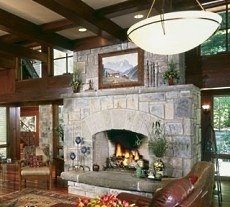 More Craftsman Fireplace Mantel Shelf Designs
Once  again,  timbers  are used for mantel shelves in the two examples on the right, below (top and bottom rows).  The steel "mantel shelf" pictured below,  left (top row),  is also a lintel,  or supporting member, that carries the weight of the structure above it.  The fireplace pictured below that is fitted with a highly profiled dimensional stone mantel shelf.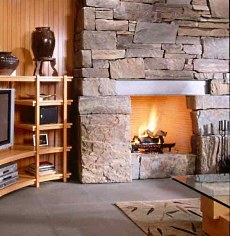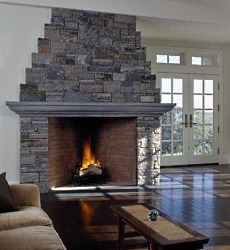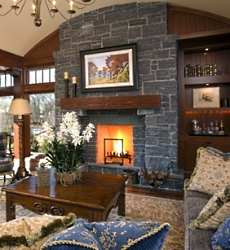 In the following two examples, no mantel shelf is used.   Instead, contrast-
ing shapes, sizes, patterns and textures of stone are incorporated to frame the opening and lend a very distinctive custom look.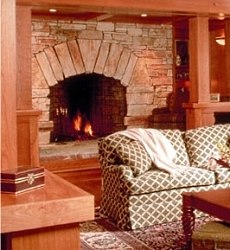 More Custom Fireplace Hearth Ideas with Contrasting Stonework
And finally, the two soaring, floor to ceiling stone fireplace hearths pictured below utilize relatively simple mantel shelves that have been "accessorized" to add the finishing touch.  On the left, the squared-off timber mantel shelf is supported by large wooden corbels. In the example below, right, a gently curved wooden facing member is carefully tucked beneath the simple stone mantel  shelf  to  emphasize the elegant curve of the stonework above the firebox opening.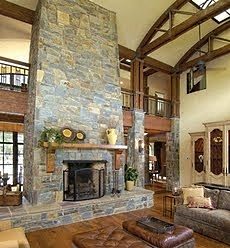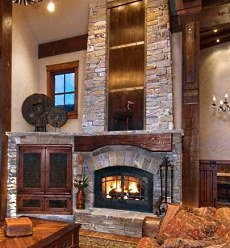 Please click here for more fireplace hearth ideas.
If you're looking for the best there is in a present day custom stone fireplace hearth, you need look no further than the highly skilled designers and artisans behind the incredible examples shown here.     For  more information about any of these talented individuals and their work, or for more custom stone fireplace hearth ideas, please contact us.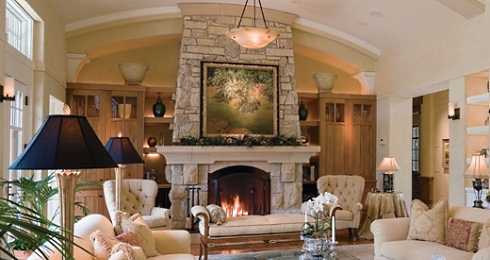 Please check back often or subscribe to our RSS feed,  for we fre-
quently add new images as we discover exceptional new talent to bring to you. Also, if you know of a skilled designer or artisan that you believe should be featured here, please let us know.
Get  a vast array of exciting fireplace hearth ideas by subscribing to our  free  e-newsletter.    Simply   enter   your   information   in   the form below and click on "Subscribe" so you won't miss out on a  sin-
gle future issue!  Also, when you subscribe, you'll have access to all back issues!
For More Information about our e-Newsletter, please click here.
YOU MAY ALSO LIKE:



Building Outdoor Fireplace Ideas -
Gravity-Defying Stonework!







Building A Stone Fireplace -
Think Outside The (Fire)Box!








Ideas For Building A Fireplace
That Really Rocks!










The Stone Surround Fireplace With
Built Ins.....Have It YOUR Way!









Monumental Stone Fireplace Designs -
SUPER SIZE IT!







Vibrant Stone Fireplace Designs -
A Rainbow Of Color!









Extraordinary Stone Fireplace Designs!








More Custom Stone Fireplace Hearth Ideas!
Return to Custom Fireplace Designs
Return to Stone Fireplace Designs Guide

Return to Stone Fireplace Designs Overview
Return to Standout Fireplace Designs Home Page
Didn't find what you were looking for?
Use this search feature to find it.
LIKE THIS PAGE?